Yokohama-born astronaut Noguchi tells children about space and ramen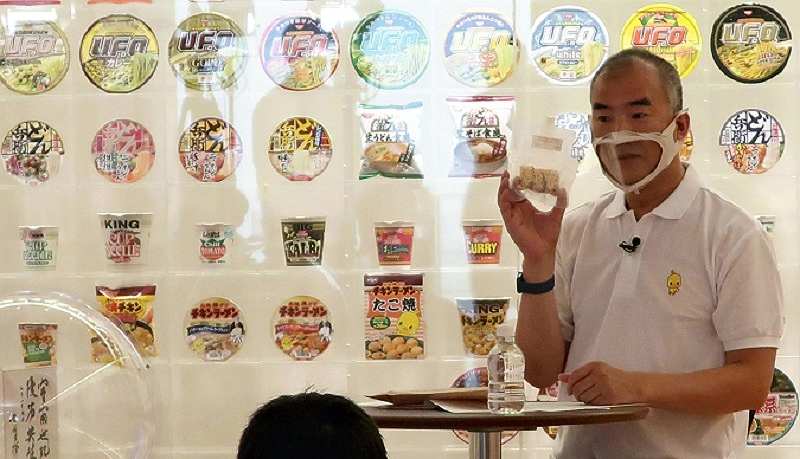 12:00 JST, December 11, 2022
YOKOHAMA — Astronaut Soichi Noguchi has been appointed the honorary director of the Cupnoodles museums, located in Yokohama and Osaka.
Noguchi, 57, from Yokohama, has been highly active since leaving the Japan Aerospace Exploration Agency (JAXA). He has served as a university professor and appeared in TV shows and commercials. "I would like to do a job giving dreams to children, who will lead the next generation," he said.
Noguchi made his first space flight on the space shuttle Discovery in 2005. He had always wanted to eat ramen in space, so he took with him instant noodles that had been jointly developed by Nissin Food Products Co. and JAXA. He is now known as the first person to eat ramen in space. He has been to space three times, and is officially certified by Guinness World Records as the first astronaut to reenter Earth three different ways — runway, ground and ocean.
Sharing the philosophy of Nissin's founder to "convey the importance of invention and discovery to children," Noguchi became the honorary director of the museums in June. He hosted a "space and food" seminar at the Cupnoodles Museum in Yokohama in August to inspire the next generation, where he explained the development of space ramen. Fifteen fifth- and sixth-grade students chosen by lottery attended in person, and about 450 participated online.
Children asked questions one after another, such as, "Which do you prefer, Earth ramen or space ramen?" "Do the noodles get soft after being soaked in soup for a long time in space?" and "Do you think aliens exist?"
Noguchi made children laugh by emphasizing, "Earth ramen is much better than space ramen," while he answered carefully about aliens, saying, "There might be more advanced aliens than us in space, but they would not come to the solar system, which is small. So I don't think we will meet them."
A fifth grader from Isehara, Kanagawa Prefecture, who participated in the seminar, said enthusiastically: "It was interesting that Noguchi had wanted to eat ramen in space. Now I want to go to space someday."
Add TheJapanNews to your Google News feed.