Ibaraki: Rubbing of text expresses Kairakuen creator's fondness of plum blossoms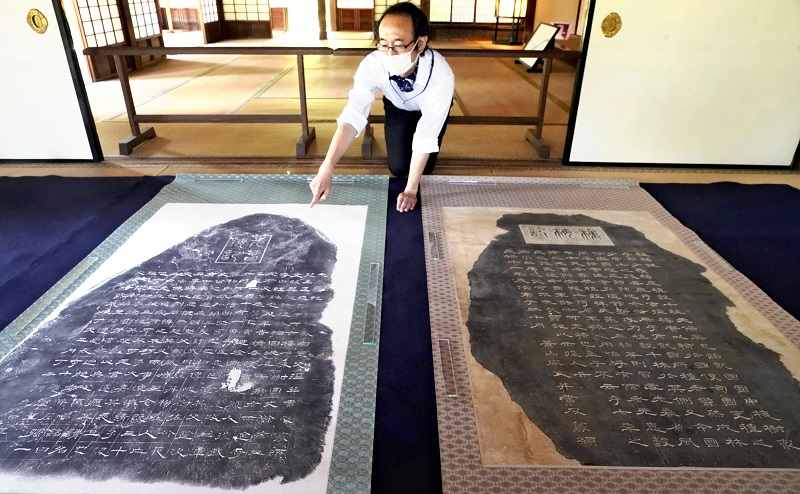 9:16 JST, August 7, 2022
MITO — A rubbed copy of a stone monument engraved with text written by the daimyo feudal lord who created Kairakuen, one of Japan's three famed gardens, has gone on display for the first time to mark the 180th anniversary since the garden opened in Mito.
The rubbed copy is displayed at Kodokan, a school established by Tokugawa Nariaki (1800-1860), also in Mito.
The rubbing is of a text about plum blossoms in spring that Nariaki apparently wrote before he became the ninth lord of the Mito domain. The text describes the spectacular plum flowers Nariaki's grandfather, Tokugawa Harumori (1751-1805), the domain's sixth lord, viewed at a senior statesman's residence.
According to the text, a retainer who later became head of the residence asked Nariaki to write the text that would convey those scenes to future generations. Nariaki accepted this request and wrote about the place where his grandfather enjoyed relaxing. This text was then engraved in a large stone.
"This is a precious material that illustrates just how much Nariaki and previous feudal lords cherished plum blossoms," an exhibition official said.
A rubbed copy of another text Nariaki wrote after becoming a daimyo is displayed alongside this rubbing at the Kodokan. This second text expresses Nariaki's fondness of plum blossoms, and gives details about the plum trees planted at Kairakuen and around Kodokan. "I hope visitors will compare the differences in the writing style of Nariaki before he became a feudal lord and after," the official said.
Add TheJapanNews to your Google News feed.