Endangered sea turtles damaging rare plants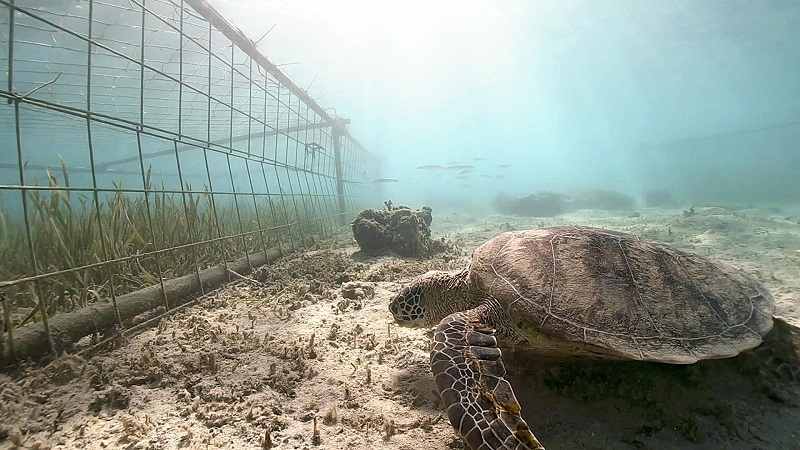 10:36 JST, August 6, 2022
FUKUOKA — The recent surge in the number of endangered green sea turtles poses serious problems, including the loss of rare marine plants.
The turtles inhabit tropical and subtropical seas including around the Nansei Islands in Japan — Okinawa and other islands between Kyushu and Taiwan — and are on the Environment Ministry's Red List of threatened species.
One issue that has arisen is that the turtles are devouring endangered tape seagrass that grows especially around Iriomote Island. They are also impacting the fishing industry, so experts stress the necessity of trying to control their population.
Captured for food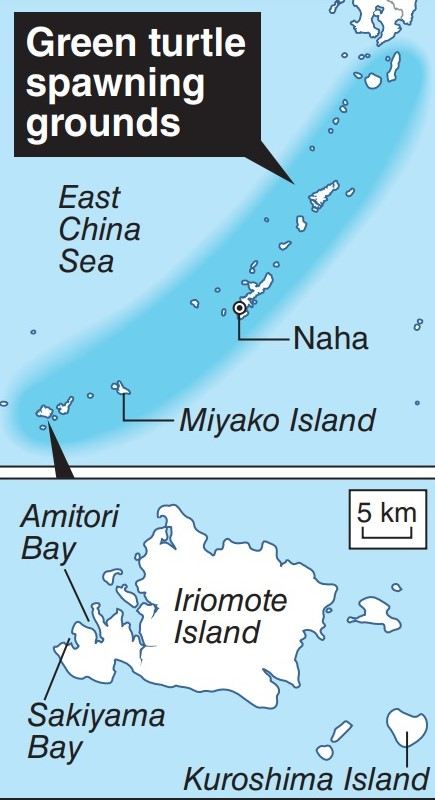 "The area has become a paradise for green turtles since they are protected and have no predators," said Kazunari Kameda, who studies their population on Kuroshima island, near Iriomote Island. He mainly researches sea turtles at the Kuroshima Research Institute.
Sea turtles, including green sea turtles, have long been considered edible. Their numbers have declined as a result of overhunting and environmental deterioration of their spawning grounds, according to the Environment Ministry.
Consequently, the ministry issued a handbook to protect them in 2006 that built momentum for protection of the turtles, especially their eggs.
The population of green turtles on Kuroshima doubled from about 200 in 2010 to about 400 in 2019. One possible contributing factor is that a fishing cooperative has been exterminating sharks that prey on the turtles.
The same is true in the Ogasawara Islands that are home to the nation's largest green turtle spawning ground. Natural hatching numbers have increased from nearly 5,000 in 1984 to more than 50,000 in 2015, according to the Ogasawara Marine Center, which is involved in conservation efforts.
Disappearing sea snow
While conservation efforts by the public and private sectors have been successful, the green turtles' negative impact on the surrounding environment has been increasing. Particularly serious is the drastic decrease in the amount of tape seagrass, whose colonies are only found around Japan's Yaeyama Islands, comprising Iriomote, Ishigaki and other islands.
The marine seed plant is known for its numerous white flowers that float to the surface of the sea, appearing like accumulated snow. This summer scene used to attract many people, but the sight is rarely seen these days.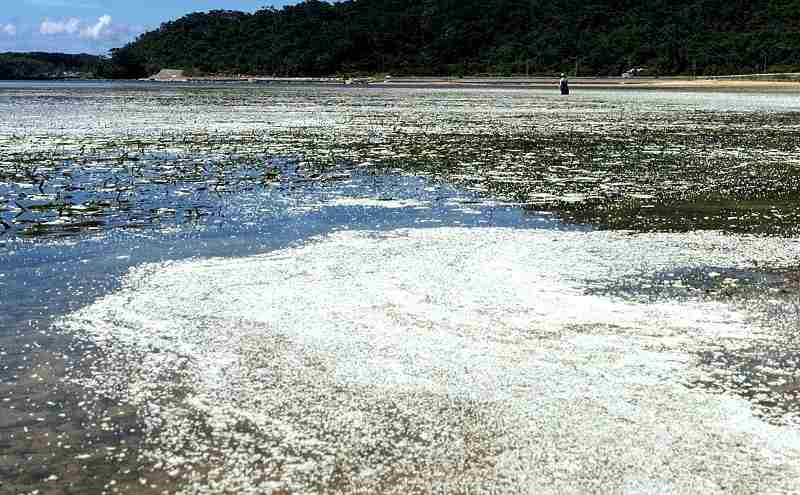 According to the ministry, there were colonies of about 2 hectares in Amitori Bay in the southwestern part of Iriomote Island, but they began to decline in 2009 and all but disappeared by 2013. In neighboring Sakiyama Bay, colonies shrunk by half from about 24 hectares between 2004 and 2011. The ribbon-like leaves of the plant were confirmed to have shortened in all observed areas in 2018.
Island Ecosystem Research, an organization working toward nature conservation on Iriomote Island, took aerial photos with a drone from 2019-2021 and found an average of six green turtles swimming per 100-meter square area of colonies.
The ministry installed a wire mesh enclosure as a trial test around a 700-square-meter colony in Sakiyama Bay in 2019. The plant's leaves, which had been shortened to 7 to 8 centimeters long, recovered to about 40 centimeters just one year after installation, suggesting that the trial enclosure was effective.
Fish hauls threatened
The increase in green turtles has also affected the fishing industry. Seagrass colonies act as a cradle for various lives, including not only tape seagrass but also fish and squid spawning grounds and habitats.
According to the Yaeyama fishery cooperative based on Ishigaki Island, the rabbitfish catch measured 0.9 tons in fiscal 2021, significantly down from 6.9 tons four years earlier. The fish, which are often used in local cuisine, live on seagrass.
"Fish support the fishermen's livelihoods, but green sea turtles are not for sale. With fewer fish caught, they are becoming a nuisance for us," said the cooperative's executive director.
Once a protected species, green sea turtles have become a species for which the need for population control is under discussion. In February, the Environment Ministry released a draft of its ecosystem restoration plan that included possible future population control. The ministry said that it is also eyeing the use of the turtles as food.
"It is possible that their impact is more widespread than is apparent and is affecting other parts of the Nansei islands and Ogasawara islands," said Okayama University of Science Prof. Naoki Kamezaki. "It is necessary to control their population to an appropriate level."
Kamezaki was involved in compiling the ministry's handbook to protect green sea turtles, but is now forced to propose measures to control the population such as loosening the capture limit set by each prefecture.
Green sea turtles
Their main spawning grounds in Japan are the Nansei Islands and Ogasawara Islands. Their shells can reach a maximum length of nearly 1 meter and they can weigh over 100 kilograms. As the only herbivore among sea turtles, they eat seaweed and seagrass. Loggerhead turtles — another species of sea turtle which lay eggs as far as Honshu island — are more seriously at risk of extinction than green sea turtles and their population is declining.