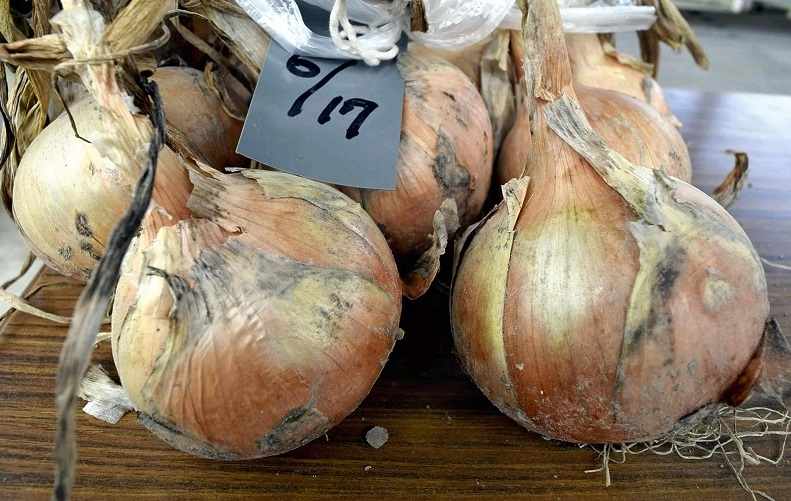 10:43 JST, July 24, 2022
MINAMI-AWAJI, Hyogo — Having boldly gone where few vegetables have gone before, a specially grown brand of onion is being touted as the next agricultural star of Awaji Island.
The onions currently being cultivated were grown from seeds that were launched into space as part of a project aimed at helping earthquake affected municipalities.
The first batch of the "space onions" was harvested in mid-June and unveiled at a taste-testing event on July 5 at an agricultural research center in Minami-Awaji, Hyogo Prefecture.
The project invited communities to have local specialties sent into space, thus adding value to the brand upon their return to Earth and helping the area bounce back from the disaster.
Awaji Island is known as one of Japan's top onion-producing areas, and was hard-hit by the 1995 Great Hanshin Earthquake. So three cities in the island participated in the project by providing seeds from a local brand of onion.
Five grams of seeds were launched into space in June last year from the Kennedy Space Center in Florida, and were stored for about a month on the International Space Station before returning to Earth.
About 100 seeds were planted by the agricultural research center, which produced about 80 onions in June. The space onions were praised at the taste-testing event, drawing such comments as, "It's sweet even when eaten raw" and "It would be good in a salad." One official joked it had an "aroma of space."
The officials plan to take about 20 of the most optimally shaped onions and sow them in a greenhouse for the purpose of producing about 20,000 seeds next summer — and gaining a brand that is out of this world.
Add TheJapanNews to your Google News feed.