Shizuoka toasts 40th anniversary of friendship with Zhejiang Province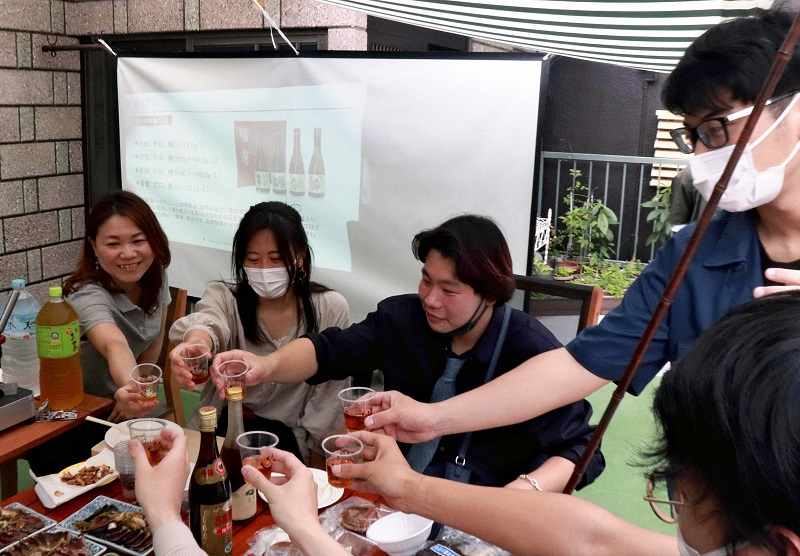 8:55 JST, July 6, 2022
SHIZUOKA — The friendship alliance between Shizuoka Prefecture and Zhejiang Province, China, marks its 40th anniversary this year. In addition, it has been 50 years since diplomatic relations between Japan and China were normalized in 1972. The prefecture is planning a variety of commemorative events that will let people experience the food and culture of the province. On June 10, an online talk was held to introduce the appeal of the province's Shaoxing wine.
"Cheers!" said participants on the same day as they raised a toast of Shaoxing wine at Shizuoka ATLAS, an international exchange salon in Aoi Ward, Shizuoka City. They enjoyed the rich taste of the wine while watching an online talk by the director of Gu Yue Long Shan's Tokyo Office, a Shaoxing wine manufacturer.
Shoki Wada, a 21-year-old student from Tokai University's School of Marine Science and Technology who participated in the event, remarked with a smile: "It was easier to drink than I thought. I've taken an interest in Chinese liquor."
The prefecture formed a friendship alliance with Zhejiang Province in April 1982 and has deepened relations over the years. For the 40th anniversary, exchange students from the province have created and posted on the internet a promotion video for Shizuoka Prefecture, while the prefecture's website features recipe for Zhejiang cuisine. Exhibitions introducing Zhejiang's culture are scheduled to be held throughout the prefecture in July.
Add TheJapanNews to your Google News feed.