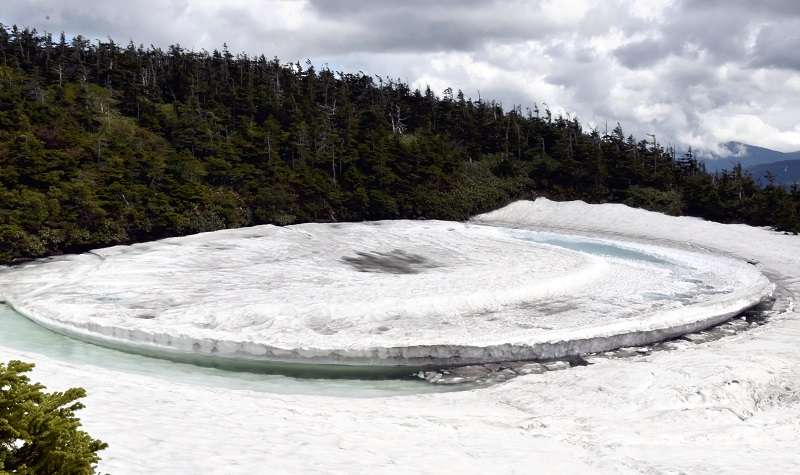 8:19 JST, July 6, 2022
HACHIMANTAI, Iwate — Snowboarders have reportedly disrupted a natural phenomenon at Kagaminuma pond in Hachimantai, Iwate Prefecture.
The circular pond located at the top of Mt. Hachimantai, which is 1,613 meters high and straddles Iwate and Akita prefectures, is nicknamed "Dragon Eye" as it resembles the eye of a massive dragon when the snow at the edge of the pond begins to melt.
On June 10, it was learned that snowboarders reportedly disturbed the still-frozen pond by sliding across the surface in May.
According to the city's tourist association, the incident occurred at around 5 a.m. on May 25. An official of the association saw snowboarders cross the rope surrounding the pond. The snowboarders went toward the center of the pond, started hitting the snow with their boards and slid down the slope.
It was reported to the association that snowboarders were seen sliding down the nearby Gamanuma pond the same morning.
Both ponds are designated by the Environment Ministry as special conservation areas. Though it is not illegal to enter, the association reported the cases to the ministry.
As of mid-June, the snow on the edge of the pond was starting to melt and the dragon eye was about to "open."
A spokesperson for the association said: "Many people are looking forward to seeing the dragon eye, so it's regrettable that the phenomenon was artificially disturbed. Such actions are dangerous and could have led to an accident, so we'd like to discuss the issue."
Add TheJapanNews to your Google News feed.