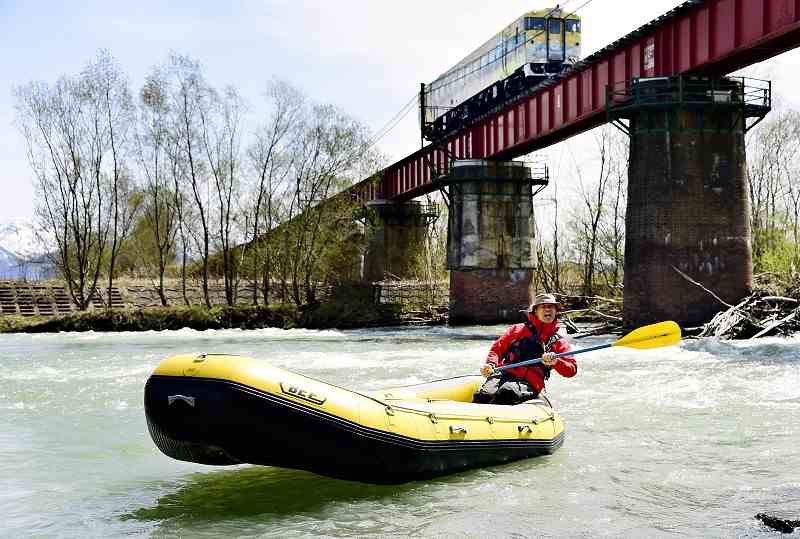 9:44 JST, June 29, 2022
FURANO, Hokkaido — The boat travels through a valley as majestic mountains tower above. The vibration of the river's current can be felt, and wind and birdsong echoes all around. This is the charm of rafting: experiencing the breadth of nature in all its grandeur.
Wokkys, a tourism company in Furano, Hokkaido, offers rafting tours on an eight-passenger boat (4 meters long and 1.6 meters wide) down a 4-kilometer stretch of the middle reaches of the Sorachi River. Rafting has been associated with the thrill of whitewater rafting, but the current is gentle here, making it suitable for beginners. The main customers are families with children and elderly couples, and pets are also welcome.
"I was enchanted by the charm of the river," said Toshihiro Kato, the head of Wokkys.
Kato is from Kosai, Shizuoka Prefecture. Since elementary school, he has loved the outdoors so much that he would pitch a tent in his family's yard and spend the night there. After becoming a working adult, he started canoeing and kayaking, inspired by TV programs. He took time off work to paddle the nearby Kiso and Nagara rivers, and even obtained certification to be an instructor.
When he was 30 years old, he reached a turning point. He spent 10 days kayaking down the Yukon River in Canada, where he experienced nature on a grand scale and thought, "This is no time to be a company employee." He began working as a rafting guide in Shintoku, Hokkaido, through an introduction from a friend he met at his certification test.
When he got married, he moved to Furano and established Wokkys at the age of 34. He began rafting in areas with gentle currents. "There is an age limit on rafting on dangerous rapids, and even if you come as a family, you cannot enjoy it together, which is a shame," he said. He chose the Sorachi River as his course because it has few man-made structures and the surrounding mountains resemble those along the Yukon River.
The Sorachi River originates at Mt. Kami-Horokamettoku (1,920 meters), passes through Furano and joins the Ishikari River in the city of Takikawa. The trees along the river offer a beautiful contrast of cherry blossoms and buds in spring, and in autumn the river is covered with autumn leaves. Lucky visitors may encounter Yezo sika deer, foxes, kingfishers and white-tailed eagles.
Kato's goal for rafting through such wilderness is to "let people enjoy nature with all five senses." The tour is a private one, and customers can spend their time as they like, jumping into the river, paddling and enjoying the smells and sounds of the natural splendor.
Although the river is suitable for beginners, there are still dangers. Kato controls the boat with a single paddle while using his wealth of experience to read and understand the river's currents, but he also makes it a point to wear a life jacket just in case. "Even though the river may look calm, the current can be very strong," he said. "I want people to feel the charm of nature, including this aspect of the river, which is not found in city life."
Rafting tours are the perfect entry point to the charm of the outdoors. Wokkys' tours are available from late April to the end of October.
Add TheJapanNews to your Google News feed.