Free school on remote island helps children recover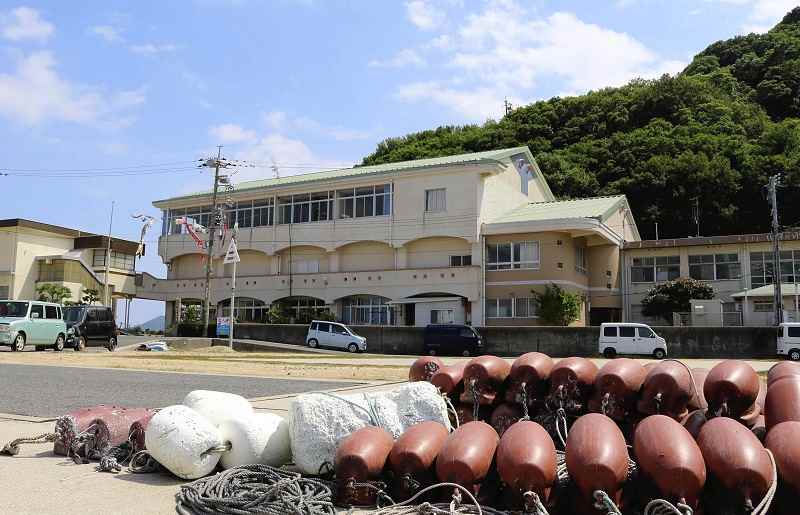 12:49 JST, June 18, 2022
KASAOKA, Okayama — The warm laughter of children has returned to abandoned schools on a remote island in the Seto Inland Sea that had been closed due to depopulation, after a free school opened in spring last year using the vacant school buildings.
Free school Hugkumi — pronounced hagukumi (fostering) — on Obishima island in Kasaoka, Okayama Prefecture, is a private facility for children who refuse to go to school or have other problems. The two Chinese characters used for the school name mean "fostering sea."
As its name suggests, the nature-rich location surrounded by the sea is perhaps the perfect place for children who have experienced problems in urban areas such as difficulty in fitting in to school life.
I set out on a journey to the island and saw children spending a pleasant time there, while the staff stayed close to them to provide learning support and experiences of nature.
Planting seeds of education
Obishima island is one of the Kasaoka Islands, located about 40 minutes by passenger ship from Kasaoka Port on Honshu.
More than 40 years ago, a sandbar was said to have extended from Obishima's sandy beach to a nearby island, Kobishima, like a bridge, although it is no longer visible due to changes in the tidal currents.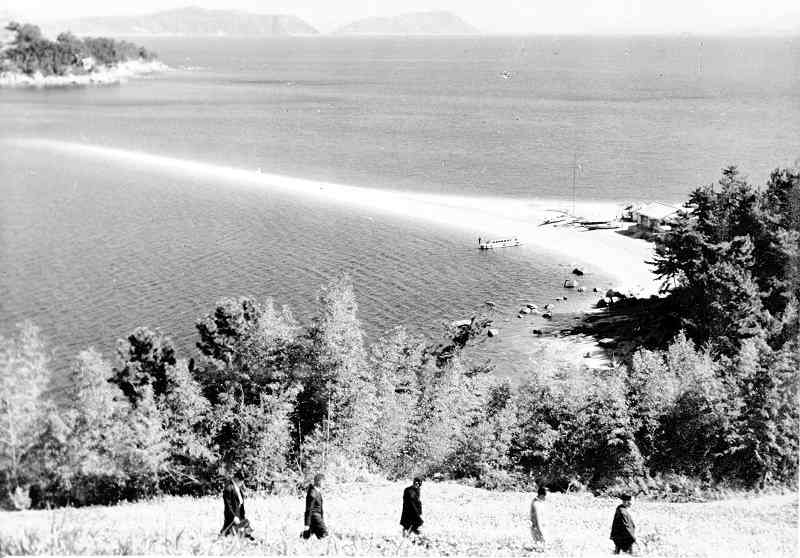 A few minutes' walk from the port brought us to Hugkumi. It opened April last year in the buildings of a former elementary school and junior high school, both of which were abandoned one after the other. Currently, around 10 children study here, living in dormitories or staying for short periods of time.
Since it was originally a school, the hall on the first floor is lined with biographies of great people written for children, a remnant of the school's earlier days. There are also sofas and kotatsu heated tables, where children can spend their free time.
Hugkumi's educational policy is to let children do what they like. There is no timetable, and children decide for themselves what to do. In general, the staff provides gentle but unobtrusive support.
In a small field plowed in a corner of the schoolyard, a school staff member, Miyuki Hioki, 27, said, "Could someone find me some peas?"
A school-age girl came forward to say she would do it and began looking for peas, while Hioki worked beside her with scissors in hand.
Many of the children, who come here from different backgrounds, are too cautious to open up when they first arrive. But the staff do not force them to go faster than their own pace.
"Deep in their hearts, children have the desire to change. The important thing is to watch them trying to take the first step," said Hiroyuki Dono, 51, the president of Hishima Gakuen, which manages the facility for the free school.
Blessed with people
Near the girl looking for peas, several students led by Yuma Komoto, 15, were working on cleaning the goat shed.
Komoto is a third-year junior high school student who came from Okayama City last fall. Since elementary school, he had often refused to go to school. He said that he was afraid of being seen, making it difficult for him to go out. However, after coming to the island and interacting with the islanders and staff, his feelings changed.
"My time here has been invaluable, blessed with good people," the boy said.
Dono, who himself played truant in his younger days, said, "It is important to provide them with an environment where they can feel safe and secure."
A couple who operate the only lodging facility on the island, Ile d'or Cafe & Guest house, also promote an island environment free of bothersome stress.
Takakazu Kanashima and his wife Kayoko, both 58, had no connection to the island, but when they first visited about eight years ago, they were captivated by the faint sound of waves and the fantastic morning and evening sun. They opened the guest house in 2016.
"We can relax because there is none of the noise from cars or construction that you hear in a city," the couple said.
The area around the island used to be a key point of maritime transportation, bustling with boats waiting for the tide. However, as time went by and the area depopulated, the schools were closed and the laughter of children disappeared.
"I felt sad every time I saw the empty buildings after the school was closed," said Kikuno Yamakawa, 73.
She is one of the residents who got to know Komoto as they saw each other on a regular basis.
"Now I get energy from the children."
Note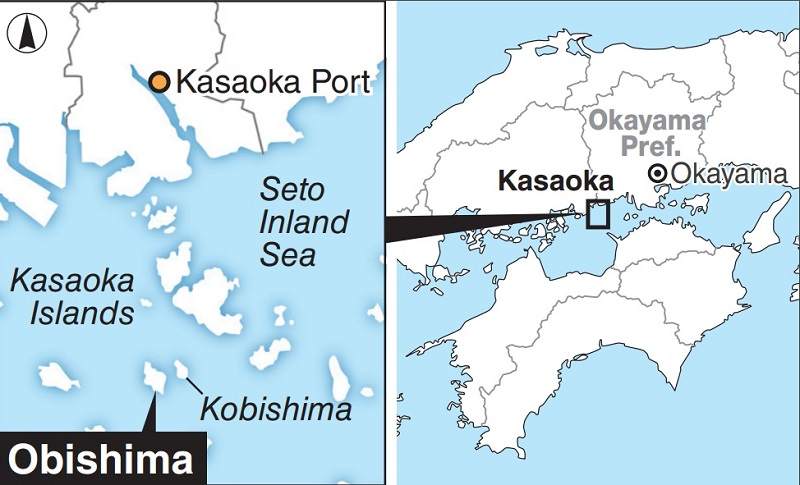 Obishima island is located about 20 kilometers offshore from Kasaoka Port in Kasaoka. Hishima is the collective name for Obishima and Kobishima. Obishima means "large Hishima" and Kobishima means "small Hishima." Obishima has an area of about 1 square kilometer and Kobishima about 0.3 square kilometers. Currently, the population of both islands is about 70, with more than 80% of the population 65 or older. The islands are accessible by a passenger ship operated by Sanyo Kisen Co.