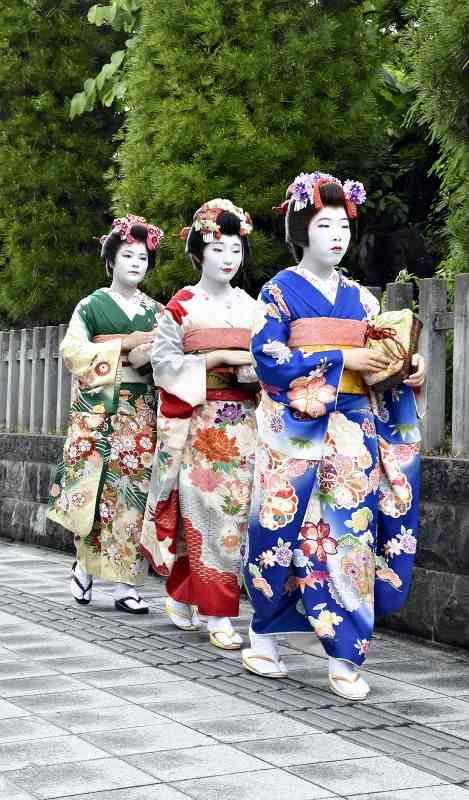 14:40 JST, June 14, 2022
YAMAGATA — High school students in maiko costumes strolled through the center of Yamagata City on May 21 in an event that let them try on the attire of apprentice geisha.
Geisha culture in Yamagata began after the Meiji Restoration in the 19th century when the last feudal retainer of the domain established a ryotei Japanese-style restaurant. It was highly praised by writers, artists and important figures in the political and business world. Over time, however, the number of ryotei and geisha gradually diminished, and the culture faced a crisis of survival.
The Yamagata traditional performing arts promotion group, which trains maiko, started the event in 2020 for high school students in the prefecture to raise interest in the traditional culture. Three participants from the city joined the event on that day.
Getting dressed up and applying white makeup, the three put on wigs that weigh about 1 kilogram, received instruction in maiko behavior — such as not showing their teeth when smiling — and then walked around the city. They took pictures with passersby.
"I had a great time," said Mai Nishida, a second-year student at Yamagata Nishi High School who is interested in traditional Japanese culture and was looking forward to the makeover. "My interest in maiko grew more through the event."
Her mother, Yuko, 57, took many photos of her daughter as they went on their walk.
"She's so beautiful. It became a good memory for my family," Yuko said.
Add TheJapanNews to your Google News feed.