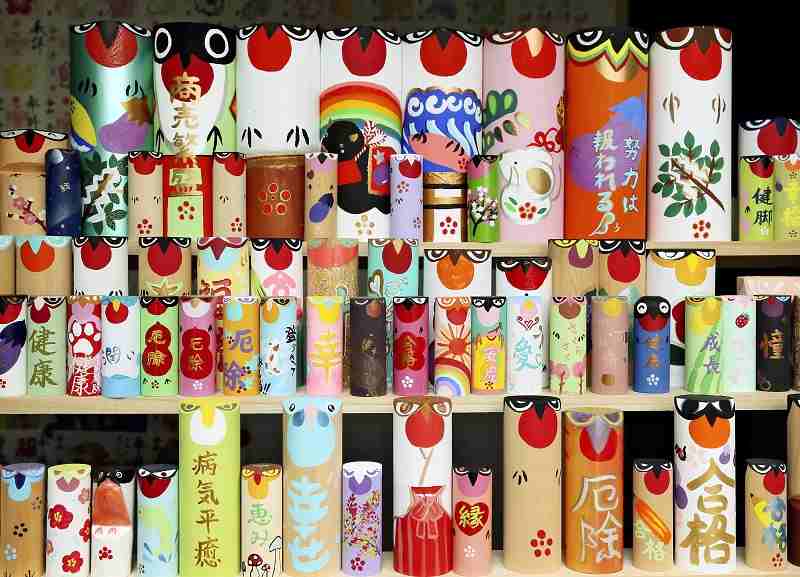 13:02 JST, June 11, 2022
KOBE — A statue of Sugawara no Michizane as a child holding a surfboard stands in the precincts of a shrine overlooking Suma Beach, a spot crowded with beachgoers during the summer.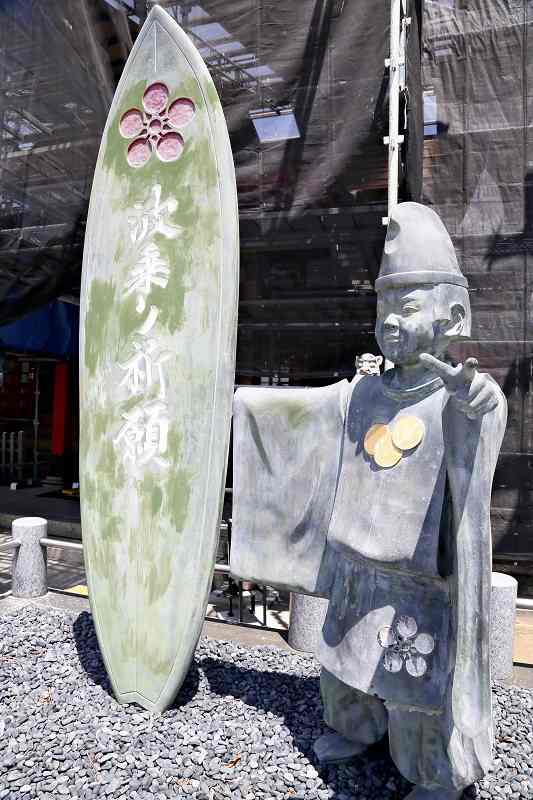 Sugawara no Michizane, a powerful aristocrat who lived in the late ninth to early 10th century, was deified after his death and is widely worshipped throughout Japan as Tenjin, the patron deity of academics. Because of the popularity of this deity, Tsunashiki Tenmangu shrine in Kobe is known to many locals as Tenjin of Suma, and many students visit to pray for success on entrance exams. But why does the patron deity of academics hold a surfboard? Is it because the shrine is near a beach?
Riding on the waves of life
Michizane was an influential politician and scholar in Kyoto, but was transferred to Dazaifu in the Kyushu region because of a false rumor that he was plotting treason. It is said that as he was sailing to Kyushu, he was met with rough seas caused by a storm off Suma and he took shelter in the area. Legend has it that the local residents made a round seat cushion out of rope to serve as a rug for Michizane and there entertained him.
This episode is the origin of the shrine's name, Tsunashiki, which means "to lay a rope" in Japanese.
Tsunashiki Tenmangu was founded in 979. It has a relatively long history even compared to the many other shrines throughout Japan named Tenmangu or Tenjin shrine, all of which enshrine Sugawara no Michizane.
Despite this lofty pedigree, one can see humorous objects here and there in the precincts of the shrine. Michizane holding a surfboard is one such example. It takes for its motif the legend that he overcame rough seas to arrive in Kyushu, according to Keita Kunogi, the 56-year-old priest of the shrine.
"He's praying that we may ride the waves of life," said Kunogi.
Humorous lucky charms
In the stone pavement leading to the precincts of the temple, there are just two surfboard-shaped stones. They are lucky charms; if you stand on these stones, you will be able to catch a good wave, according to the shrine.
In front of the main shrine building, there is an artistic reproduction of Michizane's legendary round seat of rope, but even more eye-catching is a giant purple eggplant. It is also a lucky charm, touted to make any wish come true if you sit on it, according to the shrine.
"Eggplant blossoms bear fruit without any wasted energy. You will achieve your great desire," said Kunogi, laughing at a pun on the Japanese word for eggplant.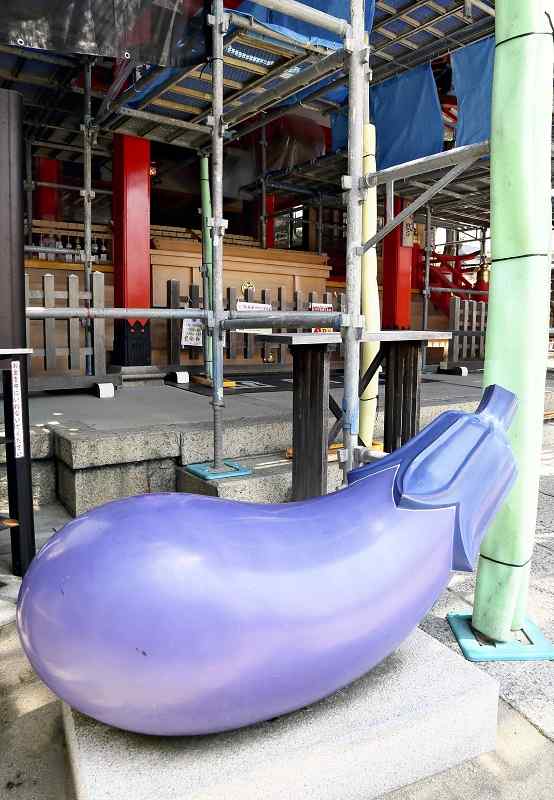 More than 50 colorful wooden statuettes of uso, or Eurasian bullfinches, are lined up at the amulet and lucky charm stand. The uso's connection with Michizane derives from the legend that when Michizane was attacked by a swarm of bees he was saved by the bird.
The statuettes are popular for their social media appeal, and there is no end to the number of people snapping pictures of them. The adorable statuettes have been made by hand by the female staff of the shrine for the past five years and are available year-round.
Bringing people laughter
It was around the time of the 1995 Great Hanshin Earthquake that the shrine began to devise various ways to attract more people. Kunogi had taken over the shrine at the age of 29, a year before the earthquake caused severe damage to the shrine, including causing the collapse of the main shrine building and the torii gate. Kunogi was determined to offer upbeat topics for conversation, trying to cheer up the community and pull it out of its dejection.
"I want people to feel close to the shrine, and I hope those who visit our shrine feel motivated to do their best again," Kunogi said.
When visiting shrines and temples, visitors can get a stamp called a goshuin to commemorate the visit, and Tsunashiki Tenmangu has about 70 different goshuin, with the design being changed every month.
In the Shichi-go-san festival celebrating the growth of children, children can wear clothes like those of Michizane or a junihitoe, the formal attire of ancient female nobles. There is an inexhaustible fount of ideas for entertaining visitors.
I can't wait to see what kind of playful spirit I will encounter on my next visit.
— How to get there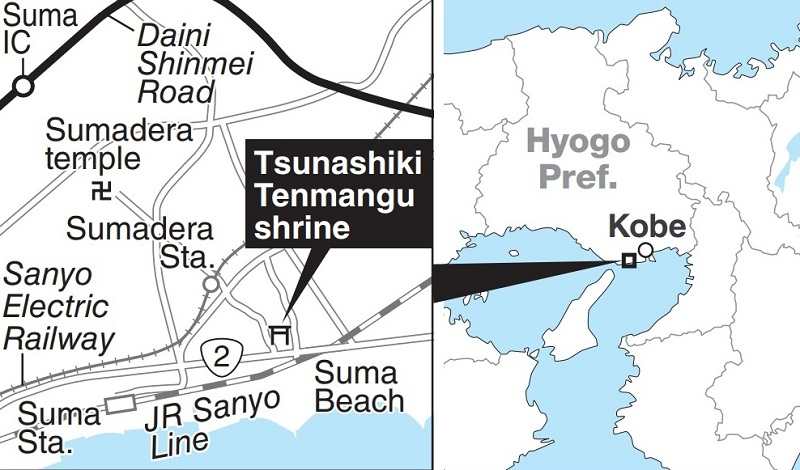 Tsunashiki Tenmangu shrine is an 8-minute walk from Suma Station on the JR Sanyo Line or a 3-minute walk from Sumadera Station on the Sanyo Electric Railway. The main hall of the shrine has been undergoing major renovations since last year for the first time in about 100 years. The road connecting the shrine and the nearby Sumadera temple is named "Suma Chie no Michi" (Suma wisdom street).
Add TheJapanNews to your Google News feed.