Local Toyama railway celebrates girl, age 6, as its 100-millionth passenger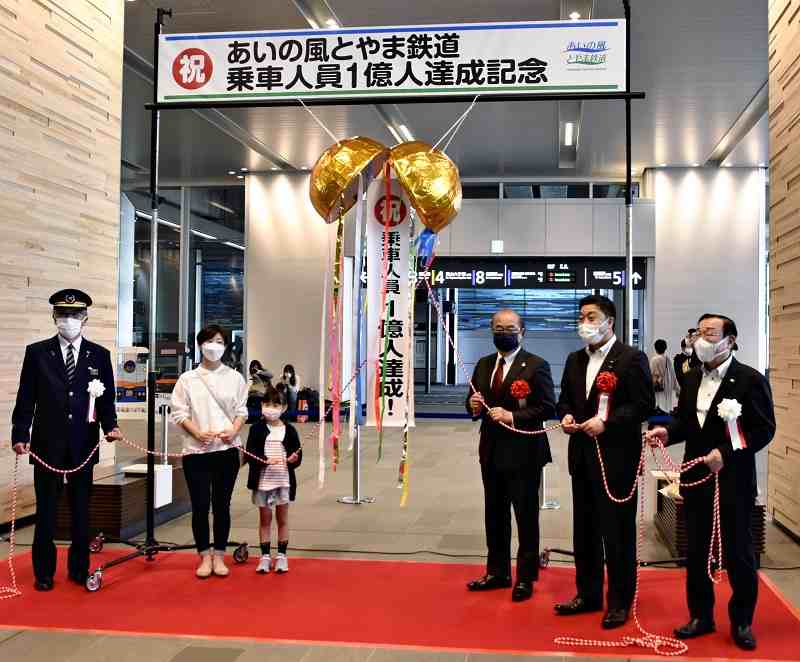 14:40 JST, May 31, 2022
TOYAMA — Ainokaze Toyama Railway celebrated its 100-millionth passenger since its opening in March 2015 by holding an event at Toyama Station on May 7 to commemorate the milestone.
The number of passengers had been steady since its opening, but declined due to the spread of the coronavirus. The number exceeded the 100 million mark about six months later than expected.
The event was attended by Toyama Gov. Hachiro Nitta and station manager Ryoichi Miyaguchi, among others.
Six-year-old Natsuki Usui was recognized as the 100-millionth passenger when she and her mother, Yuko Usui, 44, used the railway to visit Maroot mall in front of the station.
They celebrated the milestone by breaking open a decorative paper ball.
"The scenery from the Ainokaze [trains] is beautiful. I am happy to be the 100-millionth passenger," Natsuki said.
The railroad took over management from East Japan Railway Co. of a regular railway line, which began to be operated as a conventional line parallel to the Shinkansen line when the Hokuriku Shinkansen began service in March 2015.
The number of passengers was around 41,000 per day until fiscal year 2019, but it decreased to 31,155 in fiscal 2020 amid the pandemic.
The number recovered to about 35,000 from April through October last year. According to the railroad, when the total number of passengers reached 70 million in November 2019, the firm expected the number to surpass 100 million around November 2021. However, this achievement was delayed due to the impact of the virus.
With expenses expected to increase due to aging facilities, the company plans to raise fares in the spring of 2023.
"We will continue to carefully explain the fare structure and strive to improve convenience," Ainokaze Toyama Railway President Toshiyuki Hiyoshi said.
Add TheJapanNews to your Google News feed.