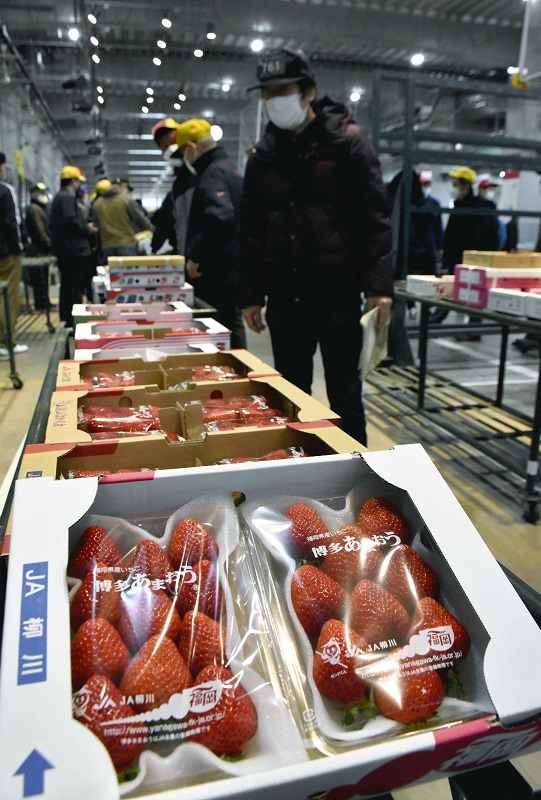 15:07 JST, May 28, 2022
FUKUOKA — Concerned parties in Fukuoka Prefecture have been making efforts to maintain the Amaou strawberry brand after exclusive rights to the fruit expire in 2025.
The Fukuoka prefectural government, Amaou's developer, currently enjoys a monopoly on its cultivation, but other prefectures could start raising such strawberries within their borders after 2025.
The Amaou brand faces other challenges — an aging agricultural workforce and a lack of willing and able successors who can take over the cultivation of the strawberry.
Aging strawberry farmers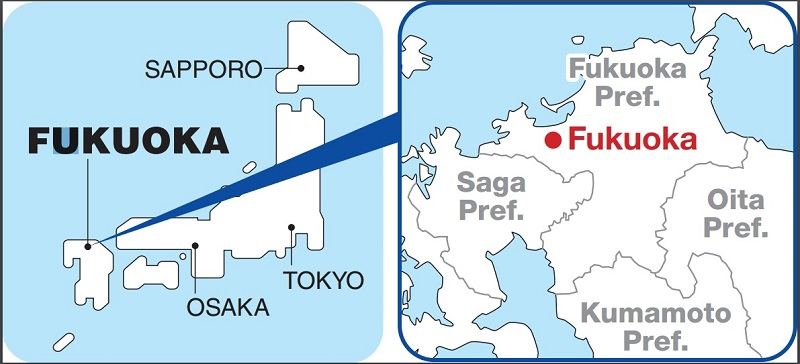 JA Zennou Fukuren, an agricultural organization operating in Fukuoka Prefecture, has a contract with the prefectural government to cultivate Amaou strawberries and has exclusively sold the seedlings to farmers within the prefecture. To control quality, Fukuren has standardized the shipping period from November to May — the ideal time to ensure the strawberries' high level of sweetness is maintained.
But the fruit could be facing an uncertain future.
"There are many elderly farmers who have no successors," said Yukio Yoshida, 59, the strawberry division leader at JA-Fukuoka Yame, a local farmers' cooperative in Yame, Fukuoka Prefecture. He explained that higher production costs resulting from rising oil prices and a series of torrential rain disasters in recent years have likely had significant negative impacts on the region's famers.
According to a 2017 survey, 37% of farmers growing Amaou strawberries were 65 years old or older, and the number of Amaou farmers fell by 13% over 10 years to 1,474 in fiscal 2021 — from April 2021 to March 2022. Land used for the cultivation of Amaou also contracted from about 347 hectares in fiscal 2011 to about 305 hectares in fiscal 2021.
Complicating Fukuoka Prefecture's strawberry business is the slated end to its Amaou monopoly after 2025. From then on, anyone will be able to grow the fruit. Although the Amaou brand name is a protected registered trademark, strawberries grown in other prefectures from the same seedlings might start appearing on the market
Thorough quality control is important to protect the value of Fukuoka-grown products.
Robot rescue
The prefectural government has launched a three-year plan starting this year to utilize robots and artificial intelligence to simplify and streamline strawberry harvesting and shipping operations, which are considered particularly burdensome tasks for farmers.
Through these efforts, Fukuoka aims to make farming more attractive to newcomers and provide additional assistance to its elderly farmers.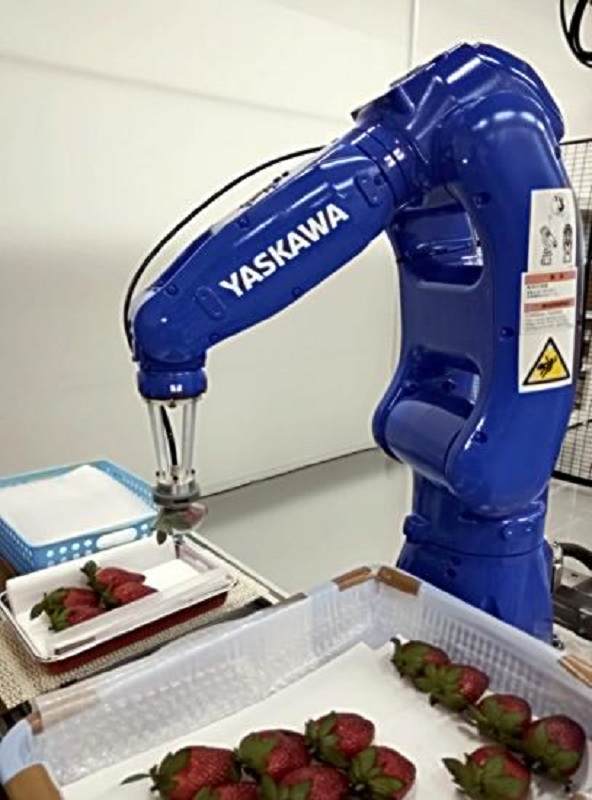 With the support of the prefectural government, Yaskawa Electric Corp., a Kitakyushu-based industrial robot manufacturer, has been conducting research and development for a robot that can identify the shape and size of strawberries and pack them without damaging them.
"It's important to create a system that can handle the quality and price of Fukuoka's Amaou strawberries in the future," Yoshida said.
"We will support farmers as much as possible," said an official at the Fukuoka prefectural government.
Amaou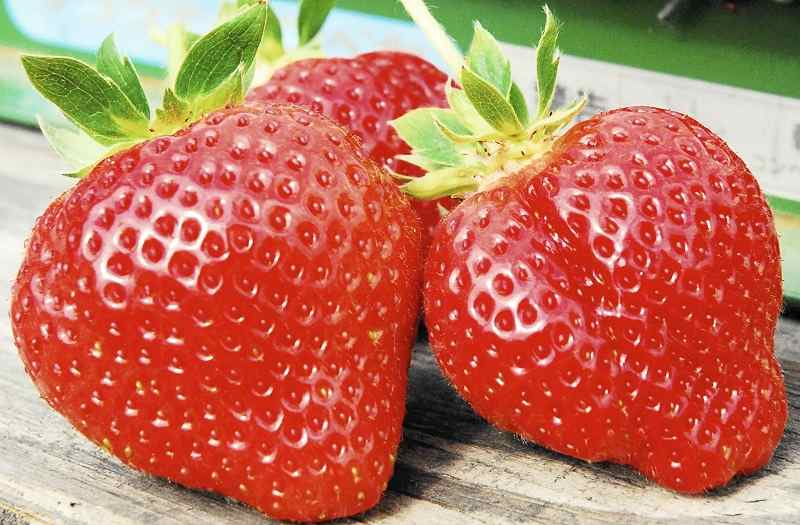 Amaou brand strawberries were developed in 2001 by the prefectural Fukuoka Agricultural Research Center, and full-scale sales began in 2003. In addition to its taste, one of its characteristics is its big size, which can reach chicken-egg proportions. The name Amaou is derived from a combination of the first syllables of four Japanese adjectives: akai (red), marui (spherical), okii (large) and umai (tasty).
Amaou is currently one of Japan's leading strawberry brands and more than 300 products, including Glico's popular chocolate-coated Pocky crackers, have been released in collaboration with the brand.
Add TheJapanNews to your Google News feed.