Aomori: Explore vast expanses of Earth's rocky history at Shimokita Geopark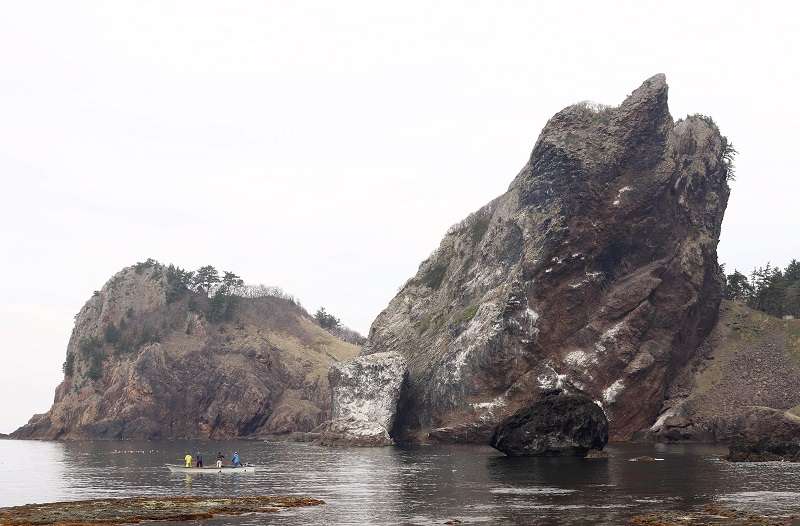 14:44 JST, May 24, 2022
AOMORI — The fascinating history of the Earth's geological structure is laid bare in the Shimokita region in Aomori Prefecture. Here, visitors can gaze in wonder at geological strata and rock formations that help explain the physical makeup of our home planet.
In 2016, 53 such sites were collectively designated as Shimokita Geopark.
Osorezan, a mountain in Mutsu, and Hotokegaura, a chain of sea cliffs in Sai Village, number among the more well-known locations. On my latest trip, however, I opted to visit lesser-known spots that still have the power to charm and intrigue, despite lacking the big-name pull of the other locations.
I initially headed for the north coast area along the Tsugaru Strait, which boasts strata some 20-meters-high. These sediment strata were exposed by wave erosion during a period about 120,000 to 400,000 years ago.
Remarkably, these strata stretch into the distance for about 8 kilometers, from Higashidori Village to neighboring Mutsu City. A path leading to this location starts in the village. Such is the length of the strata formation, however, that its endpoint cannot be seen from the village.
I walked about 1 kilometer along the secluded beach, noting that the shape and color of each stratum is different. Some are straight, while some undulate; each pattern speaks of the geographical features of ancient eras.
With waves crashing loudly onto the beach, my mind conjured up imaginary scenes from long ago, and I felt a strange sensation of timelessness.
Next, I headed west to the Gankakeiwa rocks in Sai Village. The pair of huge rocks comprise Otoko Gankake (men's votive rock), which is 103 meters tall, and Onna Gankake (women's votive rock), which is 90 meters high.
The rocks have been attracting visitors who pray for matchmaking-related "assistance" since the Edo period (1603-1867).
Onna Gankake, has a rounded shape, while Otoko Gankake, leaning toward the land, hangs over National Route 338, which runs near by.
Observing the rock up close made me feel as though it might topple toward me — it is a magnificent view.
There are paths on both rocks that facilitate a climb to their respective tops. It took me about five minutes to summit Otoko Gankake, leaving me out of breath. Though it was somewhat unnerving to watch the rough waves below, I could make out the shores of Hokkaido across the sea, and I felt refreshed.
Experts say that the Gankakeiwa rocks were formed by magma that rose up through the Earth and cooled under the soil about 8 million years ago. Since then, the waves have been eating away strata around these volcanic rocks, giving rise to their current appearance.
There are a number of other geologically rich sites between the Gankakeiwa rocks and the north coast area, including the Chijirihama area in Mutsu City, home to uniquely shaped rocky stretches of land, and the Tsubanazaki area in Oma Town, where columnar joints — pillar-like rocks — come together to make unusual scenery.
Sadly, people driving past here on national routes will find it difficult to see these sights, as they are not very visible from the road. Many of these locations have yet to be made into tourist-friendly spots, but I would encourage people to search out their personal favorites from among the wide range of entrancing locations to be found here.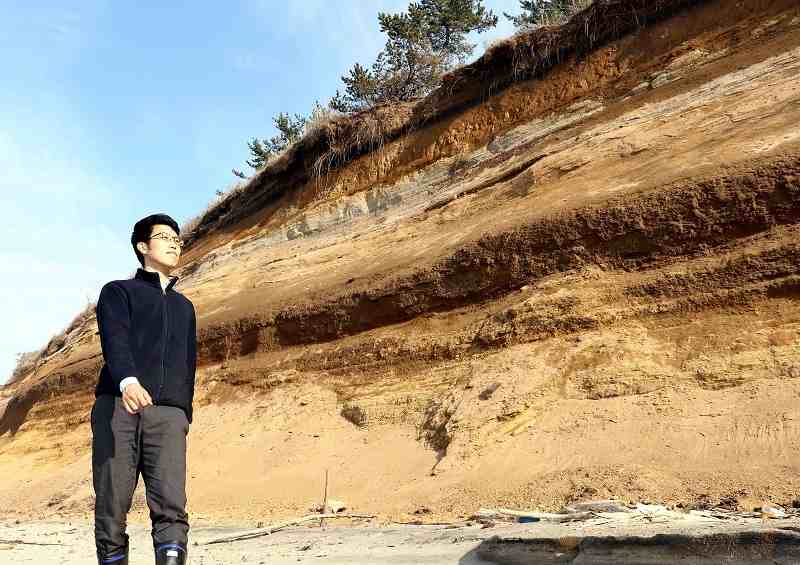 The north coast area is about a 30-minute drive from JR Shimokita Station. It is about a 90-minute drive from Shimokita Station or the north coast area to the Gankakeiwa rocks, which have parking lots for visitors. Visitors to the north coast area can park at the Ishimochi fishing port in Higashidori Village, near the entrance to the beach.