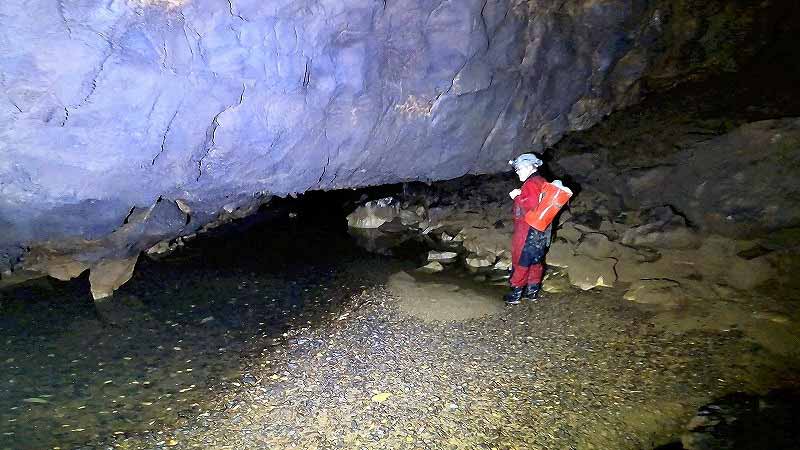 16:05 JST, April 16, 2022
MINE, Yamaguchi — It has been 100 years since one of Japan's largest limestone caves, Akiyoshido in Yamaguchi Prefecture, was designated as a natural monument.
The cave expands beneath Akiyoshidai, one of the largest karst plateaus in Japan, and serves as a valuable resource for tourism. There are still many unexplored parts in the underground cave. Geologists, biologists and other researchers from Japan and abroad have been visiting the site to unearth the mysteries.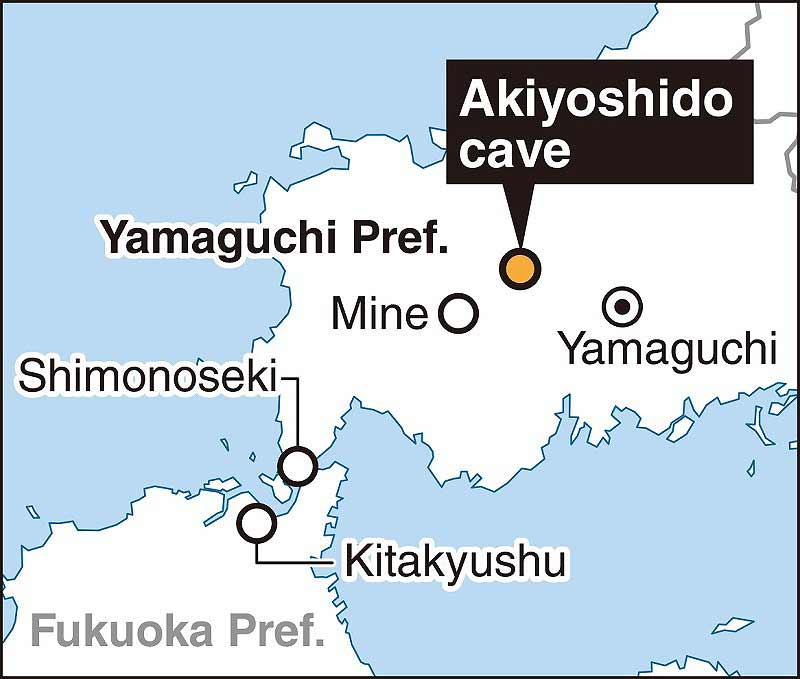 Exploring the unknown
The existence of Akiyoshido became widely known after Edward Gauntlett (1868-1956), a member of the British Royal Geographical Society, explored the cave in 1907. It was then given the designation of a national natural monument as a historic scenic site in 1922.
It was originally called Takiana, or waterfall hole, but was renamed Akiyoshido by Emperor Showa in 1926 when he was crown prince.
The Speleological Survey Group of Yamaguchi University, which was formed in 1960 by faculty and several students, has been exploring and conducting research on Akiyoshidai for more than 60 years and has produced data that is still used today.
From late February to early March, Takashi Murakami entered an unexplored cave in Akiyoshido and recorded videos of it for the first time.
Murakami, 45, works for the Cultural Properties Protection Division of the Mine city education authority but is also a former member of the survey group at Yamaguchi University.
The newly explored cave is difficult to reach, as the only way in is through a submerged passage. But as a result of the drought this winter, the water level dropped, and people were able to enter the cave for the first time in 23 years.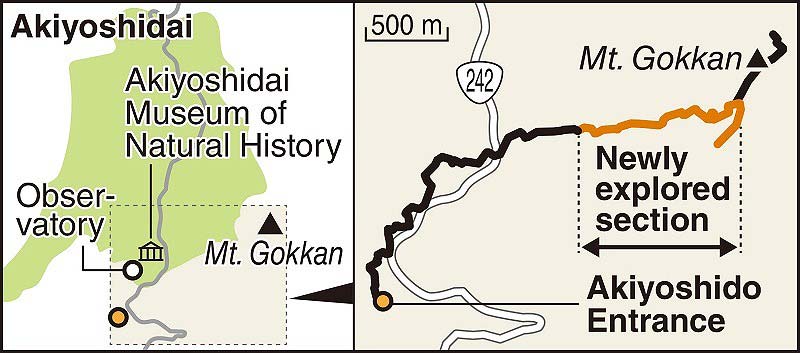 Murakami surveyed the cave with about 10 people over three days. The total length of Akiyoshido was estimated to be 11.07 kilometers as of December 2020, but through Murakami's research, it was found to be 140 meters longer than previously suspected.
"As the videos give us a lot of information, there is a good chance that we will learn new things about the cave through multiple viewings," Murakami said.
He is set to release his data about the additional 140 meters.
However, even thus extended Akiyoshido is sure to be only a section of the entirety.
"No more than about 30% has been explored," Murakami said. "I think Akiyoshido is attractive to researchers because it is still so mysterious."
Attracting tourists
Akiyoshido started becoming popular among tourists about 120 years ago.
According to a booklet compiled by the Akiyoshidai Museum of Natural History in Mine, a miner from Shiga Prefecture paved the way for the cave to become a tourist destination.
Bunjiro Umehara (1873-1937) visited the region in 1904 to mine iron and copper, the value of which had been soaring during the 1904-05 Russo-Japanese War. Umehara, who was fascinated by the appearance of the cave, introduced a ferry and began developing the area, including building a path to make it easier to walk through the cave.
In 1909, Umehara held a grand opening ceremony to welcome tourists to the cave. He promoted the cave by erecting flags at major stations nationwide, organized a race with famous horses at Akiyoshidai and held an event making traditional rice cakes at the cave.
A photo issued by a municipal information outlet in September 1974 shows many people — apparently tourists — lined up at the entrance of the Akiyoshido cave.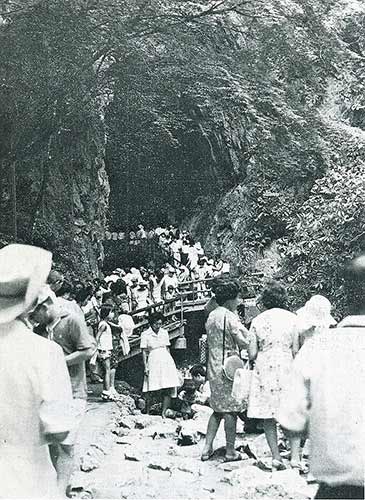 "A lot of people on business trips and field trips visited my shop during that time," said a 67-year-old souvenir shop owner. "I had almost no time to rest."
The number of visitors to the cave reached a record high when the Sanyo Shinkansen Line station was established nearby in March 1975. The shopping district near the cave entrance became crowded with passersby with the opening of about 50 souvenir shops and restaurants.
However, according to a book about the city's history, the number of visitors has been gradually decreasing since 1975, primarily because people nowadays tend to prefer to go to large tourist facilities in other areas of Japan or travel abroad.
Until about 1984, the annual number of visitors remained between 1.5 million and 1.6 million but fell to 1 million around 1998 and dropped to below 500,000 around 2014.
As a result of the coronavirus pandemic, the annual number of visitors between April 2020 and March 2021 was at about 210,000, about a 10th of what it was at its peak.
Preservation
Efforts to revive Akiyoshido cave as a tourist destination for the next 100 years are already underway.
Takeshi Murase, also a former member of the survey group at Yamaguchi University, started a cave tour business in March 2020. The 26-year-old said he had been thinking about starting the business since he was a university student.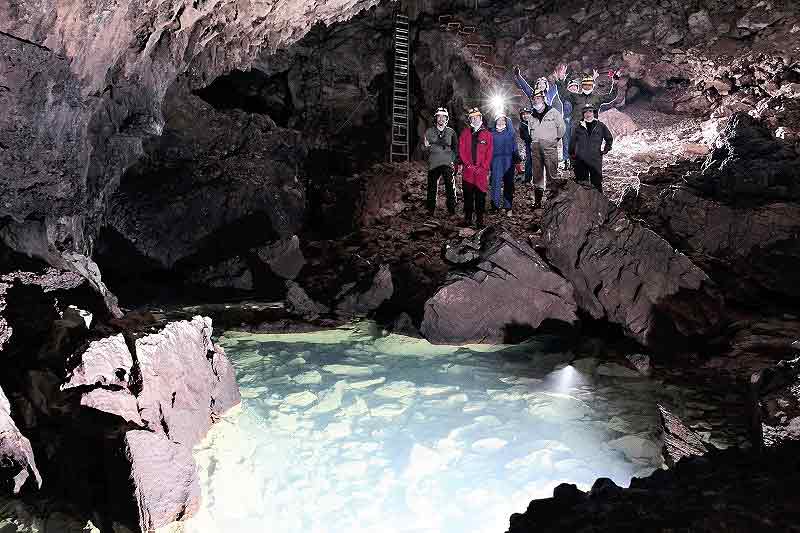 Participants on the tour learn about how the limestone cave was created and experience what it is like to be on an expedition, such as working their way through the cave and rafting on the underground lake. Murase said that 90% of the participants are women.
"I want everyone to have fun in this extraordinary place and love the cave," Murase said.
In 2016, the local Mine municipal government established the Mine-Akiyoshidai Karst Plateau Geopark Center where visitors can overlook the karst plateau. Guides at the center speak to visitors about the geological values of the karst plateau.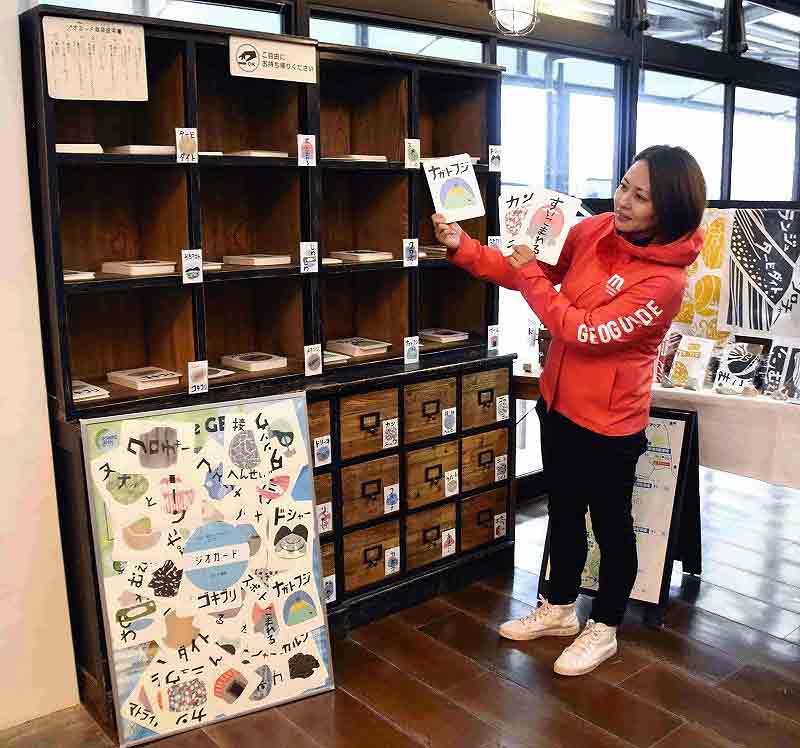 Inside the cave, plants, algae and fungi have started to grow, and parts of the milky white stalactite have turned green as a result of the LEDs that have been set up.
"I hope visitors will see how humans have affected the environment and think about what they can do to protect it," said Yuko Katayama, a guide at the center. "I want to help protect Akiyoshidai for future generations."
Add TheJapanNews to your Google News feed.