Shizuoka: 2 Japan college students create booklet, map to promote Shizuoka Pref. hometown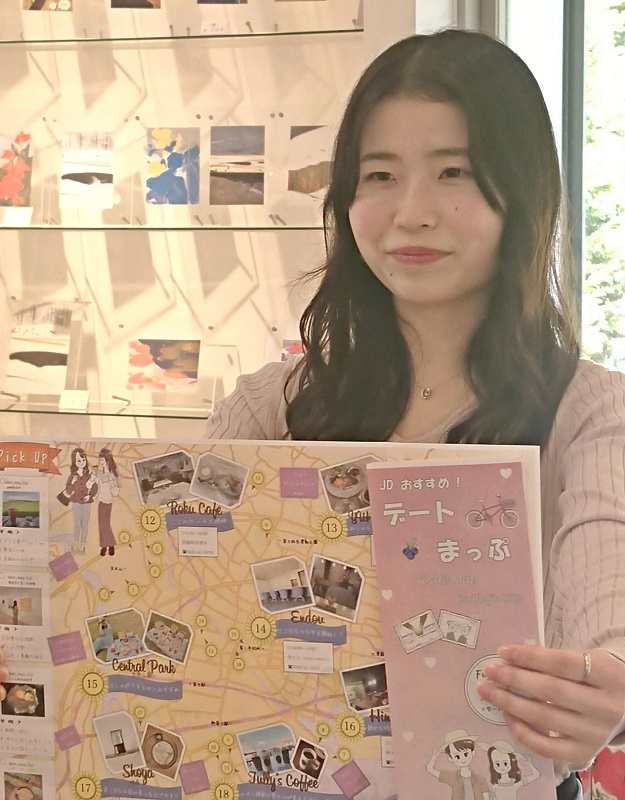 12:16 JST, April 12, 2022
FUJI, Shizuoka — Two college students who grew up in Fuji, Shizuoka Prefecture, have created a booklet and a map that showcase local gourmet foods and other attractions from the perspective of young women.
Their unrelated projects were sparked by a shared passion for Fuji that became even stronger after they moved from the city. The women hope their efforts will help local specialties gain popularity beyond the confines of the city and rekindle prosperity in the region.
Noodle tour
Mayu Okada, 22, a senior at Shizuoka University of Art and Culture, created the booklet, "Tsuke Naporitan Meguri" (Tour of tsuke Napolitan dipping noodles), to introduces delicacies found in the city's Yoshiwara shopping district.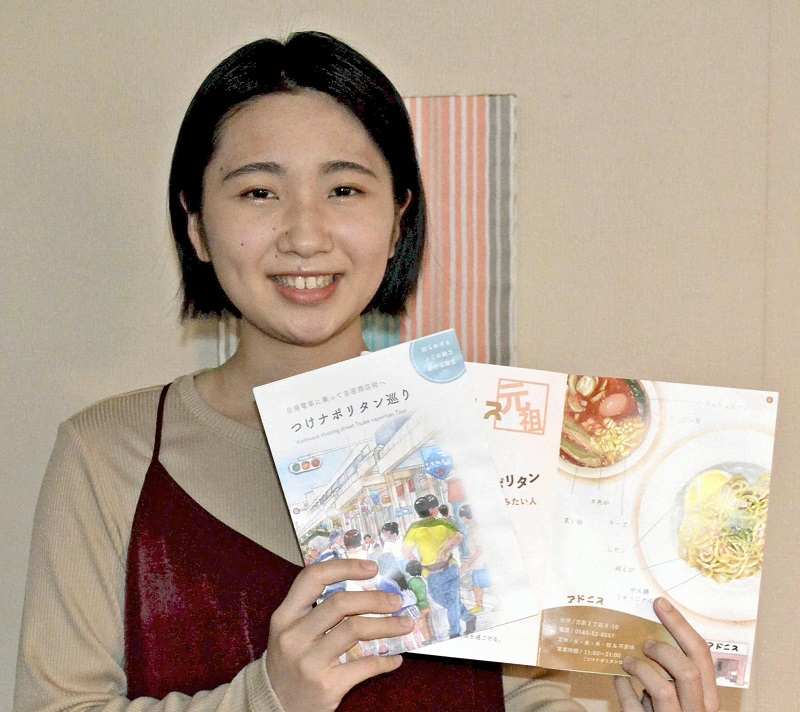 Okada, who studies design at the university in Hamamatsu in the prefecture, was surprised and chagrined that her friends were unaware of her hometown delicacies, prompting her to theme a seminar assignment around such foods.
Instead of photographs, she used 30 illustrations to depict the food and shops in the booklet, painting them in warm watercolors. "I hope I was able to capture the 'flavor' of the dishes and the charm of the good old-fashioned shops," Okada said.
Instagrammable locations
Miyu Fujiyoshi, 21, a junior at Japan Women's University, meanwhile, put together "JD Osusume! Deto Mappu" (JD recommends! Dating map), an A3-size date-themed map. (In informal Japanese, JD stands for "joshi daisei," meaning female college student).
Fujiyoshi chose 18 Instagrammable stores, parks, museums and other locations in the city where couples or friends can enjoy eating, shopping and other activities while traveling by car or rented bicycle.
Fujiyoshi moved back to Fuji two years ago after her university in Tokyo introduced online lectures due to the coronavirus pandemic. She said she was motivated to create the map after hearing that friends from her hometown were keen to visit places outside the city or the prefecture for shopping and other activities. "I wanted to show that Fuji city, too, has many wonderful places to visit," Fujiyoshi said.
Though Okada and Fujiyoshi's efforts are unrelated, the Fuji Chamber of Commerce and Industry and the Fuji city government offered to turn both of their inspirational concepts into physical products after hearing of their ideas.
Hidetaka Kamio, chief of the chamber of commerce's commerce and tourism division, praised their creations as "something completely new and innovative that appeals to women." Kamio hopes the products will help revitalize the local community.
The first 2,000 copies of "Tsuke Naporitan Meguri" were set to be distributed for free at the chamber of commerce and tourist information centers in the city from April. The dating map is available free of charge at Fuji's city hall and the 18 facilities listed on the map. It also can be downloaded from the city's official website.
Add TheJapanNews to your Google News feed.