Tokushima: Pedaling toward healthy life with bus for cyclists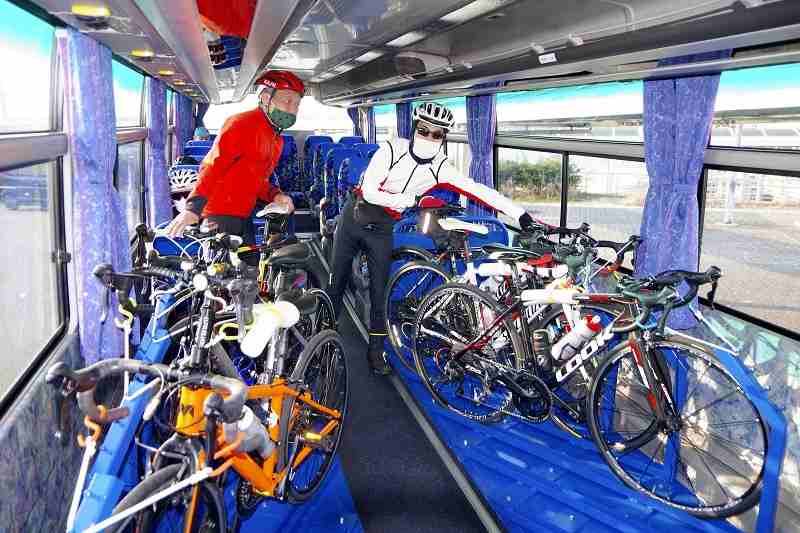 11:07 JST, April 2, 2022
TOKUSHIMA — To encourage residents to live healthier lifestyles, the Tokushima prefectural government has introduced a bus that caters specifically to cyclists.
The bus Cycle Cabin could be used during an event, for example, in which participants are shuttled to a location and then ride their bicycles back. Such events would encourage people to take part, even if they are not confident they have the stamina for a round trip.
The blue and white bus, completed last year, allows cyclists to bring their bikes on board without having to disassemble them. It has enough space for 19 bicycles in the front and can seat up to 25 passengers in the back.
It is said that this type of bus is uncommon as most buses would require cyclists to fold their bicycles or disassemble them prior to boarding.
Before Cycle Cabin, the government collaborated with JR Shikoku Railway Co. to see if a train could be used to transport cyclists and their bicycles from JR Tokushima Station.
To promote healthy living and tourism, the prefectural government is focusing on cycling-related projects and has established 25 cycling routes that are even suitable for beginners. In addition, it is working to develop cycling leaders and organize events using the routes.
Great for long distances
On the morning of Feb. 27, seven cyclists boarded Cycle Cabin with their bicycles from a location on the coast in Tokushima City to participate in an event organized by the prefectural government.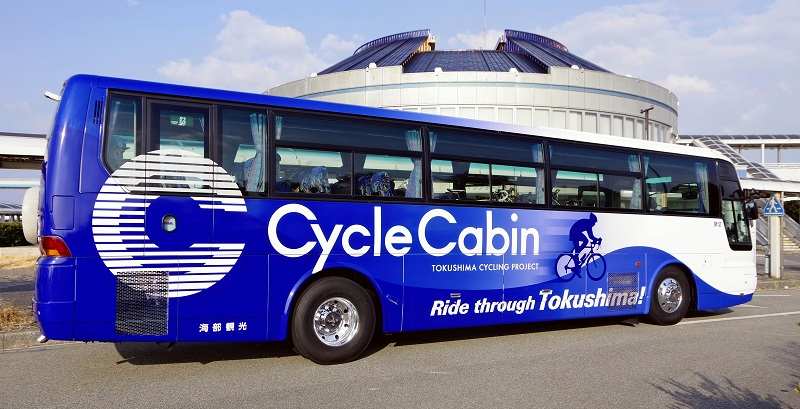 The cyclists were taken to a sports facility in Naruto, a neighboring city, and from there, they cycled the 26 kilometers back to Tokushima City. The route, which included a coastal road and a few hills, took about three hours.
"This kind of bus reduces the burden on cyclists when there is a long-distance event," said a 28-year-old man from Naruto who has cycled for sport for more than 10 years.
It was the second time Cycle Cabin was used since it debuted at an event in November 2021. During the first event, the bus transported cyclists and their bicycles from Tokushima City to Kamiyama, a town to the southwest.
Cycling has increased in popularity amid the pandemic as an activity in which it is easy to avoid crowds.
The bus is owned by Kaifu Kanko Co., an Anan-based bus company. The firm remodeled a sightseeing bus to create Cycle Cabin at the request of the prefectural government. Kaifu Kanko hopes to organize similar events independently and shuttle cyclists to wherever they want to go.
A prefectural government official said: "The bus can take cyclists up to higher places that are harder to bike to. It also provides a place for cyclists to leave their belongings, such as if they buy souvenirs at a Michi no Eki or other places. It will allow people to enjoy cycling in new ways."
The Tokushima prefectural government will continue using the bus for various events and hopes to attract cyclists from both at home and abroad.