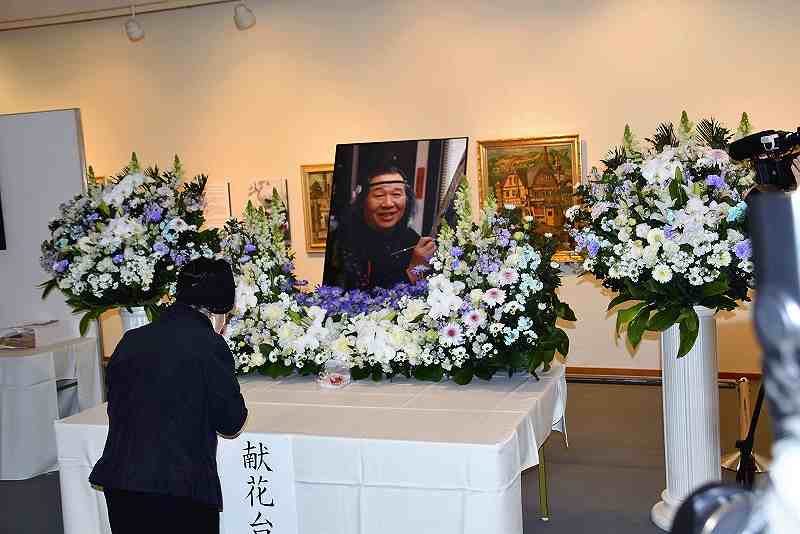 16:01 JST, March 29, 2022
SUWA, Nagano — Mourners prayed for the soul of late painter Taizi Harada in front of an altar and set up for floral tributes at the Taizi Harada Art Museum in Suwa, Nagano Prefecture, on March 8.
Harada, who painted archetypal images of Japan with a simple touch, died on March 2. He was 81.
Following his death, the museum set up the altar for the Suwa native.
Among many fans visiting the museum March 8 was Hiromasa Oguchi, 74, a real estate company owner in Okaya in the prefecture.
"Mr. Harada made me a flyer when I opened my shop," Oguchi said after praying before the stand. "It was in unique colors and had images expressing the charm of the community. I respected the way he conveyed the beauty of nature and his hometown. I sincerely wish for his soul to rest in peace."
Yui Hirabayashi, 77, is a Suwa native and a member of the friends of the museum association.
"I display postcards sent from the museum in the entrance hall of my home," Hirabayashi said. "The rural landscape Harada depicted is just like the countryside of Fujimi [in the prefecture] where I grew up. I think his personality was reflected in the pictures of children's cute faces and the wonderful scenery he painted."
The museum, which had been closed while coronavirus-related quasi-emergency priority measures were in place, resumed operations on March 8. An ongoing exhibition titled, "Harada Taizi ga egaku furusato Shinshu no shiki" (Four seasons of the Nagano Prefecture painted by Taizi Harada), will run through April 9, 2023. The event was planned before his death.
"We hope visitors will take the time to look back at his works of Shinshu [Nagano Prefecture], the root of Harada," said the museum curator Harumi Chiba.
Admission is free for those who bring floral offerings, and the altar will remain until the last week of April.
Add TheJapanNews to your Google News feed.