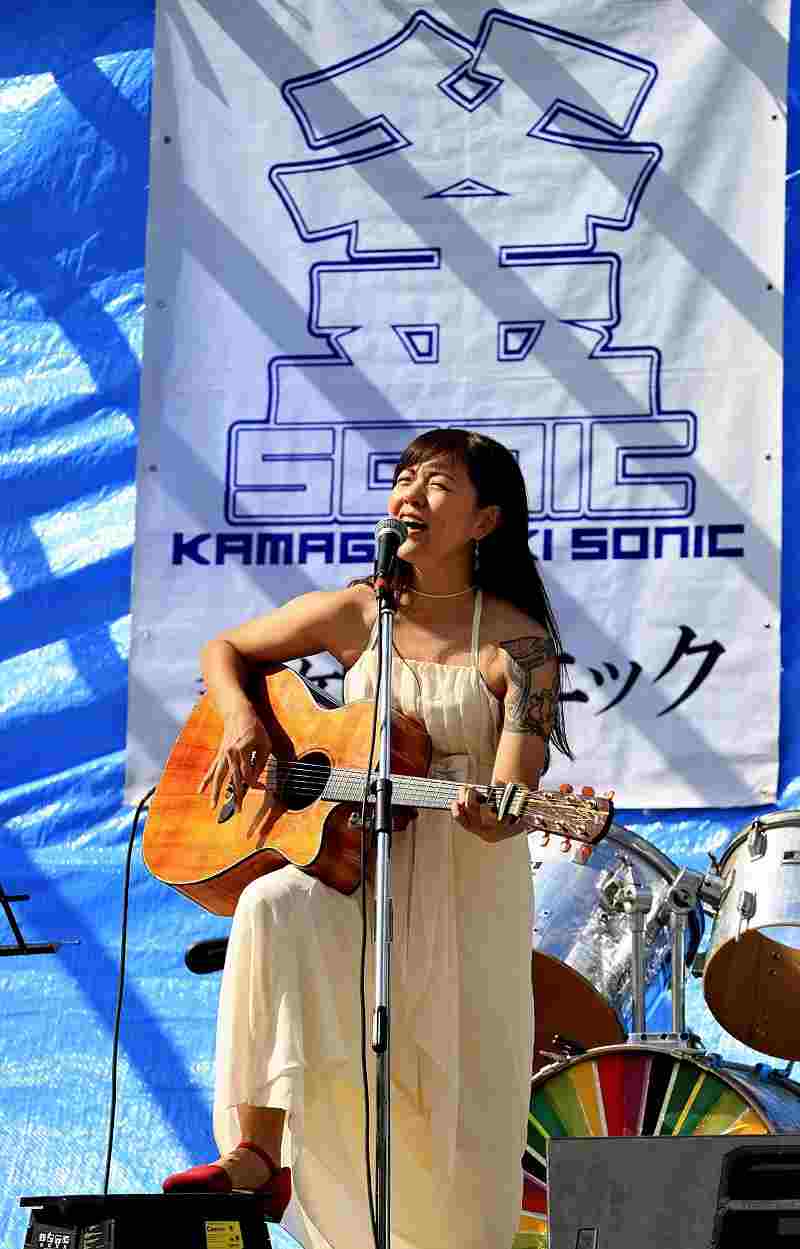 11:11 JST, October 31, 2021
OSAKA — "Let's make it a fun festival, everyone!"
As soon as singer-songwriter Machewqoque took to the stage to speak and strum her guitar, applause arose from the more than 100 spectators.
The 10th Kamagasaki Sonic music event was held on Oct. 9 under a clear autumn sky in a park, commonly known as Triangle Park, in the Airin district of Nishinari Ward, Osaka City. The district also goes by its former name, Kamagasaki and is known as a town of daily-hire laborers.
Machewqoque, also known as the Nishinari Diva, said she will continue singing to revitalize the Airin district, which helped her career and is where she is based.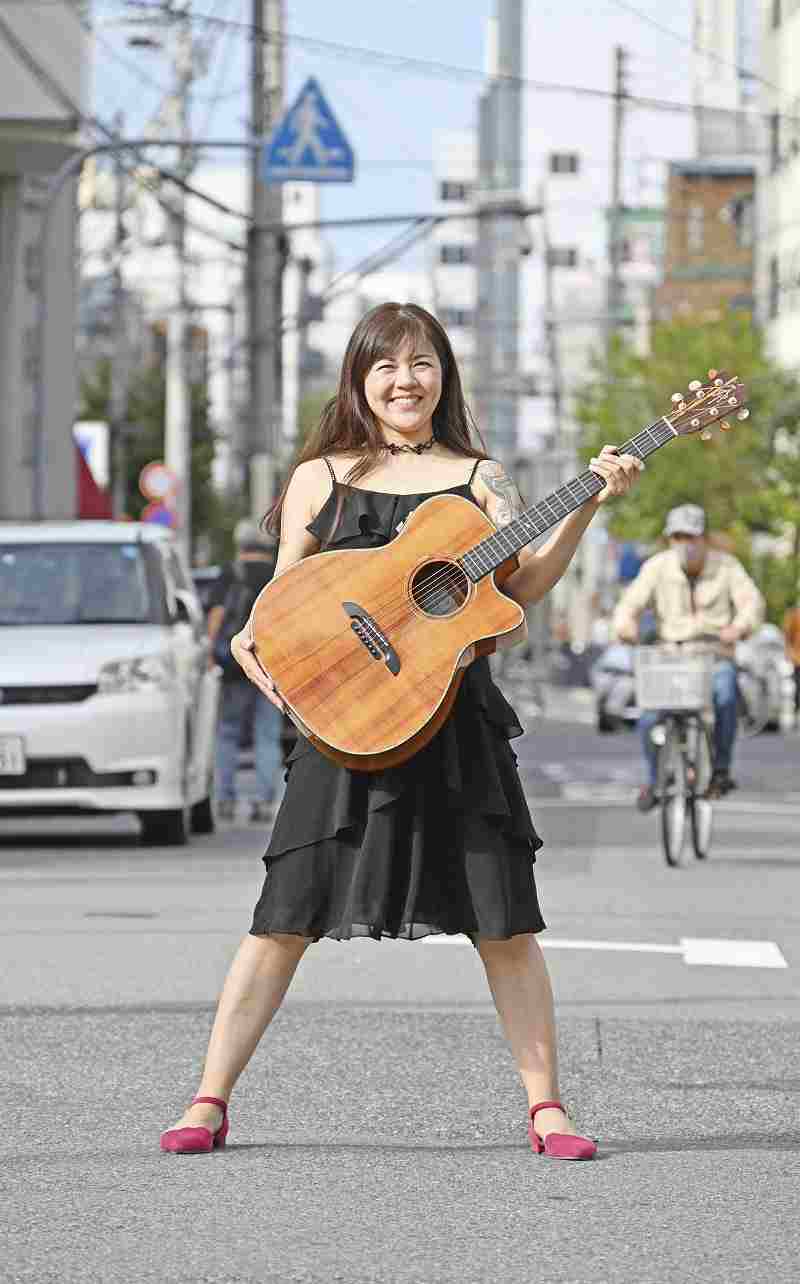 The Nishinari Diva is originally from Nishinomiya, Hyogo Prefecture. She has loved singing so much since her childhood that she decided to become a singer after graduating from high school.
About 20 years ago, she started living alone in a cheap apartment near Kamagasaki simply because of the low rent and low prices at nearby stores. It was also easy to get to central Osaka.
Her mother tried to persuade her to stop living there, saying it was dangerous. Indeed, there have been many labor riots in the past in Kamagasaki.
However, her personality seems to fit the district. She likes the closeness of a person-to-person relationship, with many strangers greeting her like a longtime acquaintance.
At Triangle Park, various groups held soup-serving events and festivals to support the homeless. She soon began to sing there.
She was initially not accepted. When she sang her own song at the 2004 summer festival, old men who were expecting their familiar song began booing.
"Just listen to me!" she yelled, and was met with an uproar of shouting.
Machewqoque was saddened, above all, to have heard someone say, "Did you just come to discriminate against us?"
She continued singing even at standing bars in the district while performing at live houses nationwide. She said she didn't want to give up.
Eventually, she came to better understand the loneliness the old men in the district had — a former prisoner who had arrived in the district, another who had lost his parents when he was young and was lonely his entire life. Many men here have lost their way.
A memorial service is held every year at Triangle Park for those who have died on the streets. After hearing one man say, "Everyone can see me off, so I'll be able to die in peace," Machewqoque decided to sing songs depicting those guys.
She sang about the backs of cyclists who collect empty cans and the loneliness when they return to a cheap hotel. She also wrote lyrics about workers' rugged thick palms, which she has felt. People began to say to her, "Thank you for singing about us."
As Kamagasaki suffered an aging population and gradually lost its vitality, Machewqoque was determined to take over an event that had ended the previous year. Kamagasaki Sonic began in October 2012 with fellow musicians whom she asked to participate.
She said she wanted to brighten Kamagasaki.
The event is free and includes a song contest for old men.
The pandemic has been pushing vulnerable people into tougher situations since last spring. People in this district are no exception.
Due to nationwide economic stagnation, there were about 170,000 job openings for day laborers at the Nishinari Labor and Welfare Center last fiscal year, down about 30% from the previous year. People have been disappearing from the district.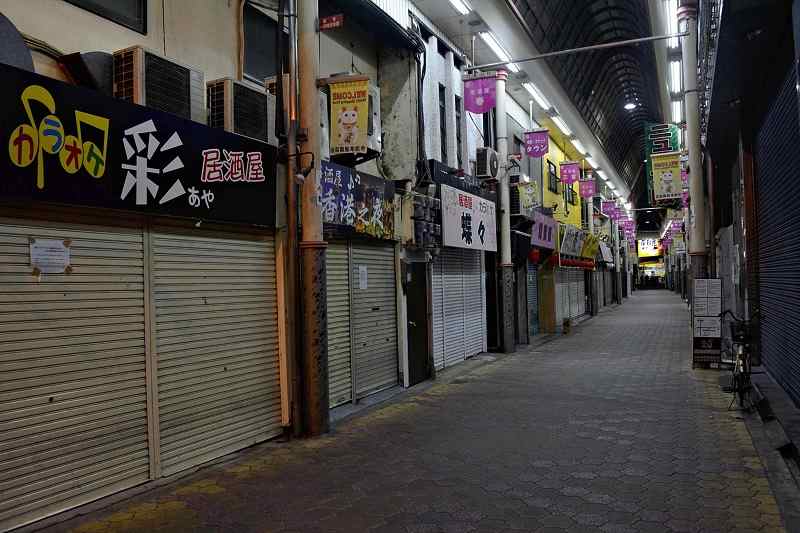 Last year, Machewqoque considered canceling the Kamagasaki Sonic event, but she held it by taking measures to prevent infections. She reduced the scale of the event, which also had no song contest. A spectator said to her, "Thank you for holding this."
Seeing the smiles on the old mens' faces, she felt that she had become accepted by the district, she said.
An 85-year-old man said he participates in the festival every year.
"The town is gloomy due to the pandemic, but her songs cheer me up," he said.
Machewqoque said: "Nishinari is my hometown as a musician. Now that everyone is suffering, I want to give back with my music. I believe this town will never be beaten by the pandemic."
KAMAGASAKI
The old name of the Airin district, which refers to Haginochaya and the surrounding area in Nishinari Ward, Osaka City. A slum took root there before World War II. After the war, cheap lodgings lined the streets, attracting day laborers.
In the 1960s, there were many riots by workers who were dissatisfied with poor working conditions. In 1966, the area was designated as the Airin district with the aim of renewing its image and improving the environment with the initiative of the Osaka prefectural government and the Osaka municipal government. The population, which was about 30,000 at its peak in 1990, has reportedly decreased by about 40%.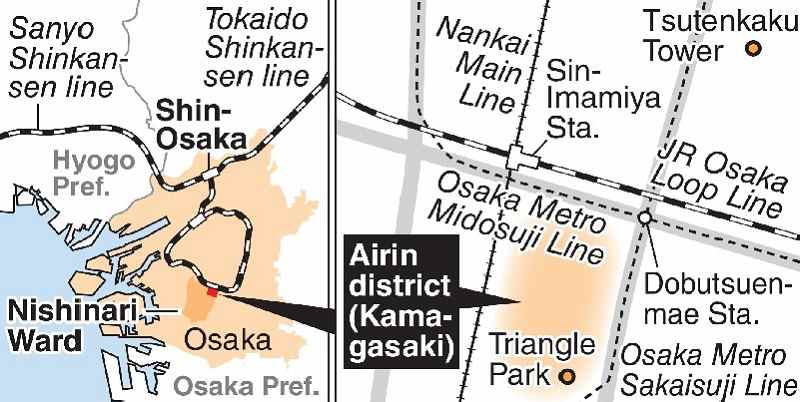 Add TheJapanNews to your Google News feed.