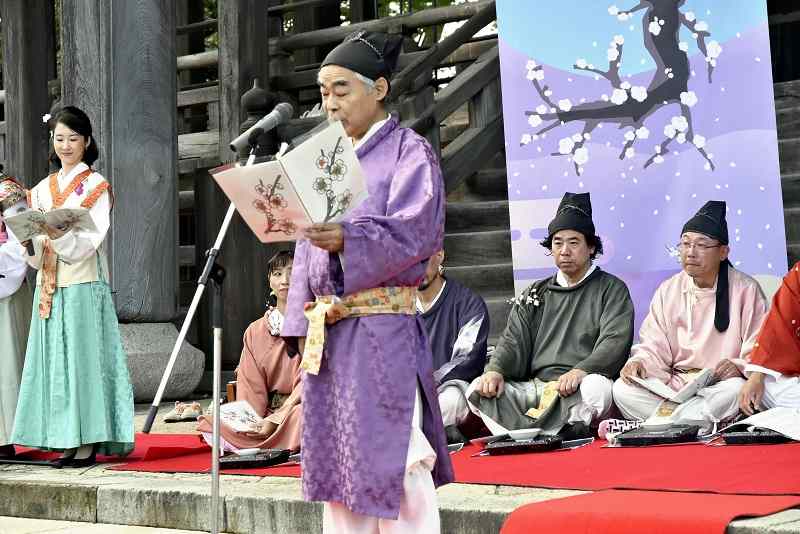 16:06 JST, October 19, 2021
TAKAOKA, Toyama — An annual grand tea ceremony was held on Oct. 2 in honor of Otomo no Yakamochi, an ancient poet said to have compiled the Manyoshu, Japan's oldest anthology of poems, in Takaoka, Toyama Prefecture. In attendance were around 80 people from seven municipalities with a connection to Yakamochi.
The Manyoshu has recently come into the limelight as it was used as the basis for the current Imperial era name. The two kanji characters — "rei" and "wa" — were taken from the collection's prologue for a set of 32 poems inspired by Japanese plum blossoms.
This year's event was held at Shoko Temple, which has been designated as a national important cultural property. A re-creation of the "Baika no Utage" (Plum blossom feast) — a banquet held by Yakamochi's father, Tabito, at his residence in 730 — took place in front of the temple's main hall. Former Takaoka Mayor Masaki Takahashi took on the role of Tabito, reciting plum blossom-inspired poems together with members of a local citizen group dressed in colorful clothing from the era.
Upon completing the poetic recitation, the group made their way inside the temple for a traditional tea ceremony. As one of the event's themes was environmental preservation, water for the tea was boiled using the power of hydrogen-fueled fuel cell vehicles.
Yakamochi became governor of Etchu Province — present-day Toyama Prefecture — in 746 and held the position for five years. He contributed 223 poems to the Manyoshu collection, each illustrating the nature and climate found in the province.
After the tea ceremony, participants visited Amaharashi Beach, which served as a backdrop for some of Yakamochi's poems.
The ceremony itself was held for the first time in Tokyo last year as a project subsidized by the Cultural Affairs Agency. From next year through 2025, plans are in place for the ceremony to be held in Tottori City, Dazaifu in Fukuoka Prefecture, Tagajo in Miyagi Prefecture and Asuka in Nara Prefecture in that order. These municipalities as well as two other local governments — Komae in Tokyo and Karuizawa in Nagano Prefecture — intend to deepen their collaborative efforts to advance regional development through the promotion of Manyoshu culture.
"I believe we showed Takaoka's potential [through the tea ceremony]," said Takaoka Mayor Yuki Kakuda after the event. "We would like to get ideas from the private sector so that we can collaborate with other municipalities to increase the appeal of the project."
Add TheJapanNews to your Google News feed.