Iwate: Junior high school students conduct marine survey with researchers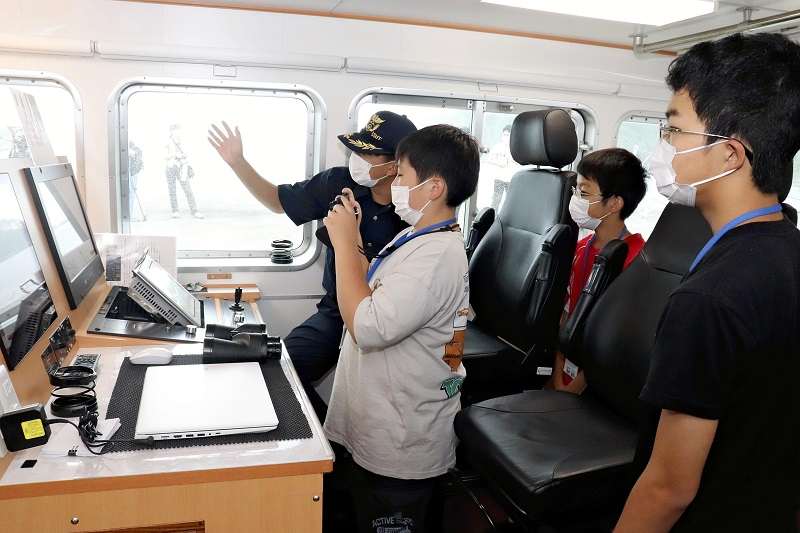 14:25 JST, September 21, 2021
MORIOKA — The Iwate prefectural government's coastal zone promotion bureau launched a program called Sanriku Marine College in December last year for junior high school students living in coastal areas.
Through the program, run jointly with the International Coastal Research Center, University of Tokyo's Atmosphere and Ocean Research Institute, in Otsuchi in the prefecture, the prefectural government aims to nurture future marine scientists by providing a wide range of education on coastal marine environments and marine-related jobs.
On July 31, Sanriku Marine College summer school was held at the Iwate University's Kamaishi campus and other locations, where 13 students participated. The students visited the adjacent Iwate Fisheries Technology Center and listened to center staff explain abalone seedling production and autumn salmon fry release projects.
Afterwards, a Kamaishi Coast Guard Office employee taught the students how to make a float out of a plastic bottle in case they fell overboard. They also boarded the prefecture's fishery patrol vessel "Ganju" and observed the cockpit and living quarters. The students looked impressed when they learned that a maritime surveillance camera can detect the movement of a person 5 kilometers away.
Takumi Okazaki, 14, a third-year student at Ofunato Daiichi Junior High School, said, "This was a good learning experience for me because I go swimming in the ocean and fishing a lot."
The program was organized by the prefectural government with the aim of fostering local human resources who have a close connection with the sea. It was also designed to improve understanding of the ocean through practical work, research activities and presentations similar to those conducted by researchers.
In the first session of the program, which started in December last year, six junior high school students participated in activities such as studying abalone shells to learn how octopus eat their prey, and making natural salt while staying overnight in accommodations at the University of Tokyo's research institute.
After setting their marine-related research themes, and under personal guidance of a professor and other staff members through email and phone, the students prepared materials for a presentation of their results in March this year.
Tsubasa Sato, 15, now a first-year student at Yamada High School, studied oysters on oyster shelves in Yamada Bay and other marine creatures by fishing for them in the bay. Sato took photos of kanpachi amberjack, ainame greenling and marbled sole, and made a presentation about the bay being a rich marine environment that is home to more than 22 diverse species. "It was a good opportunity for me to learn more about biology. I became interested in the Sanriku coast's entire environment," Sato said.
Today's junior high school students are of a generation that experienced the Great East Japan Earthquake as toddlers and have not spent much time swimming in the ocean or playing at the beach. Noriyuki Ogama, chief of the prefectural government's planning and promotion section, hopes that the children will not only fear the sea, and instead learn that the ocean can bring blessings to people's lives. "I hope this program will help them land jobs as researchers or fishermen in the future."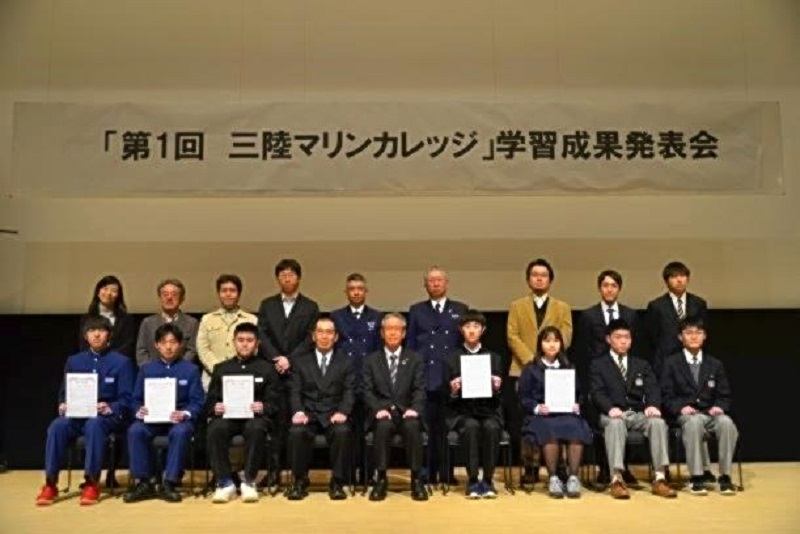 Add TheJapanNews to your Google News feed.