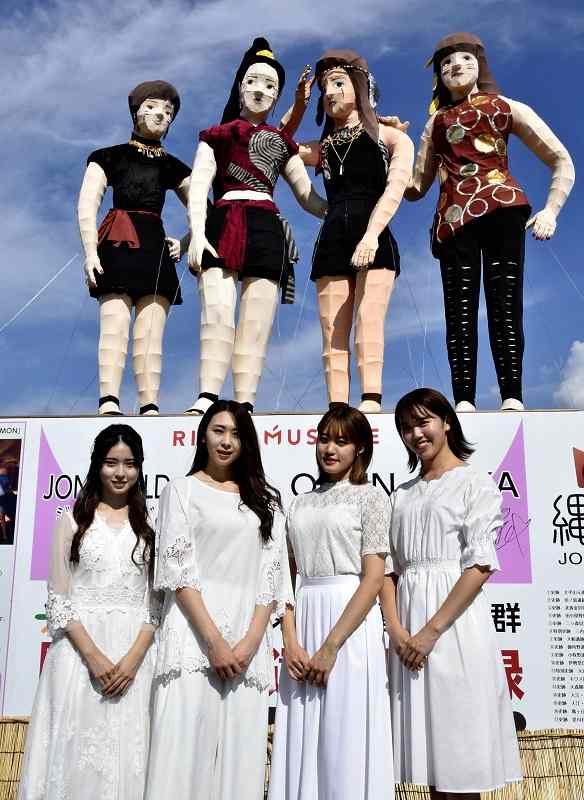 13:46 JST, September 14, 2021
AOMORI — Kakashi Road 280, an event that involves the display of decorative scarecrows along National Route 280, began on Aug. 29 in Aomori City. During this special occasion, people can enjoy the view of various types of scarecrows that line the side of the road.
This year's spotlight feature is Ringomusume, a group of local female idols, and as such, scarecrows modeled after its members are the event's main attraction. The idols were also in attendance at the festival's opening ceremony.
Kakashi Road 280 is held by an organizing committee of local residents and this year marks its 15th anniversary. The event continues through Sept. 30.
Along an about 50-kilometer-long section of National Route 280, which stretches from Aomori City to the Minmaya district of Sotogahama Town in Aomori Prefecture, about 400 uniquely designed scarecrows are lined up on display.
The scarecrows representing members of Ringomusume were produced by Renmei Kitamura, a craftsman of nebuta festival floats, as an expression of gratitude to the group for promoting the charms of Aomori Prefecture.
Kitamura spent about two months creating the four huge scarecrows, each of which is about 3 meters tall.
Ourin, a member of Ringomusume, said, "As I think the road [with the displays] can vitalize people, I hope everyone will enjoy seeing the scarecrows modeled after us."
Add TheJapanNews to your Google News feed.