Yamaguchi: Students make T-shirts using leftover threads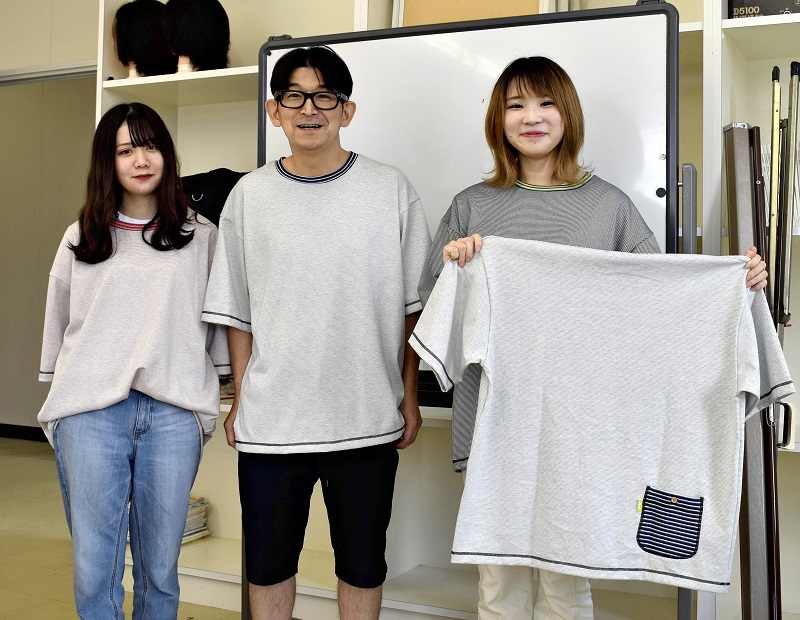 18:13 JST, August 22, 2021
SHIMONOSEKI, Yamaguchi — Students have developed T-shirts using leftover threads from a clothing-manufacturing factory and are selling them online.
The products, called "Nokoriito Shirt" (Leftover-thread shirt), were developed by two students at the University of East Asia in Shimonoseki, Yamaguchi Prefecture. Ami Sugimoto and Yuhi Yamakawa are sophomores in the Department of Total Beauty at the university, and they took on the challenge as part of their research into sustainable fashion.
Leftover threads are generated during the mass production of clothes in factories. Most is either discarded or turned into work gloves as it is believed that any color can be used for work gloves because they will soon get dirty.
The two started learning about leftover thread from the end of April under the guidance of Koji Hamai, a part-time lecturer at the university and a clothing designer who makes clothes using leftover threads. With his advice, they came up with designs and other ideas.
They used polyester cotton threads generated from a golf wear manufacturing factory in Tochigi Prefecture. The sewing was outsourced to a factory in Hofu, Yamaguchi Prefecture. They also attached buttons made from bamboo produced in Hagi in the prefecture to promote the prefecture.
Three types of T-shirts in black, gray and pink were completed at the end of June. All have a simple pattern around the collar and hem that can be worn by people of any age and gender, and are available only in large free sizes, in line with the current fashion trend. The two did not make different sizes, such as small, medium and large, to avoid having unsold products.
"It was difficult to come up with a neutral design, but it turned out better than I expected," said Yamakawa. "It doesn't have the university's logo, so everyone can wear it as part of their own wardrobe."
"I hope many will try wearing it tucked in or tying it in a knot to be as fashionable as they want," Sugimoto said.
There are plans for students of the university to wear the T-shirts at future events, including open campuses, to help promote their department. The shirt is ¥8,800 and available at https://etob.jp. Part of the proceeds will be used to support developing countries.
"I think they were able to convey the spirit of not wasting anything," Hamai said.