Students take real bite out of the Jomon period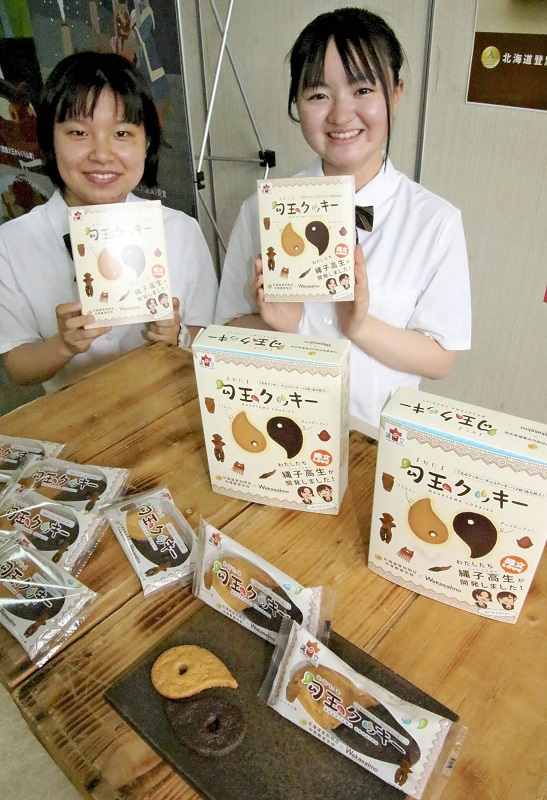 17:35 JST, August 17, 2021
NOBORIBETSU, Hokkaido — Two high school students in Noboribetsu, Hokkaido, and a local confectionery created cookies in the shape of magatama ornaments used in the Jomon period (ca 10,000 B.C.-ca 300 B.C.).
The cookies are becoming popular partly thanks to the Jomon Prehistoric Sites in Northern Japan — comprising archaeological ruins in Hokkaido and the northern Tohoku region — being registered as world heritage sites.
Midori Yamaya and Akari Sasaki, both 17, created the cookies. They are sixth-year students, or the equivalent to third-year high school students, at Noboribetsu Akebi Secondary School, which combines the curricula of junior and senior high schools.
They created the Magatama Cookies with Wakasaimo Honpo, based in Toyako Town, Hokkaido.
Magatama refers to comma-shaped beads used as ornaments in the Jomon period. The students are members of a circle that studies the Jomon period at school.
Yamaya first saw national treasure Chuku-Dogu (A Hollow Clay Figure) when she visited the Hakodate Jomon Culture Center on a family trip. The visit sparked her interest in the Jomon period.
Sasaki said she was deeply impressed when she saw a flame-type pottery, the shape of which resembles a rising flame, when she was a sixth grader.
Yamaya also thought the jade magatama beads look like green gummy candies. That gave her the idea to produce sweets that resembled magatama.
She visited Wakasaimo Honpo in March last year and pitched her idea to officials of the company.
President Kenji Wakasa quickly accepted her request for the joint arrangement.
"It is the obligation of a company based in this region to create something tangible out of youths' passions for the Jomon period," he said.
The final products are two cookies — one chocolate and the other plain with walnuts. Both are in the shape of magatama beads. It is believed people in the Jomon period ate walnuts.
The packaging for the cookies features caricatures of the two students and images of the Jomon period, such as illustrations of a hollow clay figure, Irie-style pottery, lacquered spouted pottery excavated at the prehistoric Jomon sites and a map of the ruins.
An event to introduce the new snack was held on July 27, during which the students told the audience the Jomon period holds clues to achieve the sustainable development goals (SDGs) dictated by the United Nations. People maintained stable societies for over 10,000 years during the period and the cookies come with the hope that as many people as possible will learn more about the Jomon period, the two said.
Magatama Cookies were pre-sold at shops directly run by Wakasaimo Honpo. From Aug. 1, they were also available in other retail sites such as the Date Rekishi no Mori roadside rest area in Date, Hokkaido. The cookies are also scheduled to be sold in municipalities where the world heritage sites are located.
The price per pack is ¥780, including tax.