17:52 JST, August 17, 2021
Sugiyama Waichi (1610-94) is said to be the man behind the spread of the kanshinjutsu acupuncture method, in which needles are inserted into thin tubes before being tapped all over a person's body. A doctor for the Tokugawa family in the Edo bakufu shogunate, Sugiyama helped popularize a technique that's been in practice through the centuries and into the present day.
With the aim of keeping Sugiyama's achievements alive for future generations, the Waichi Sugiyama Memorial Hall was established in Sumida Ward, Tokyo, in 2016 by the Waichi Sugiyama Memorial Association, a public interest organization run by volunteer acupuncturists and others.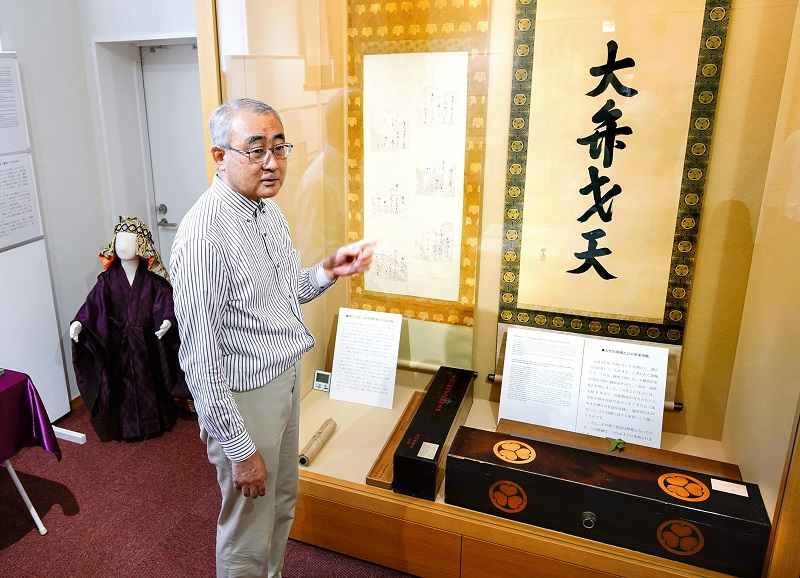 When visitors enter the memorial hall, they can learn about Sugiyama's background on a panel located on the first floor. Sugiyama was born into a samurai family in what is now the city of Tsu, Mie Prefecture, and an infection robbed him of his eyesight when he was very young. He later moved to Edo (present-day Tokyo) to earn a living by practicing acupuncture. But Sugiyama was so slow at learning the ropes that his master kicked him out when he was 20 years old.
***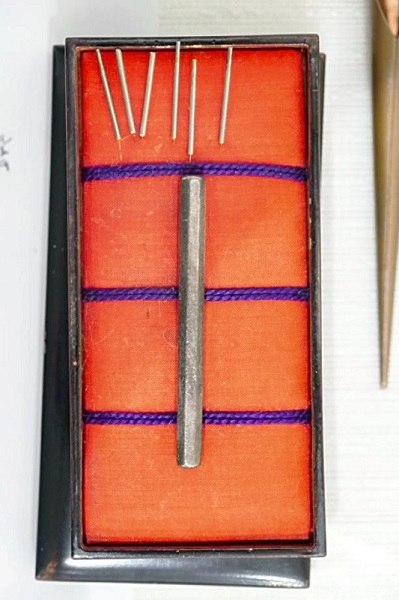 The setback would eventually lead him on a path of inspiration.
At the tail end of a 21-day fast at Enoshima Shrine, where the goddess Benzaiten is worshipped, in Fujisawa, Kanagawa Prefecture, Sugiyama tripped over a stone.
In the aftermath of his fall, he happened upon a pine needle wrapped in a leaf. Thinking on its tube-like shape, Sugiyama surmised that "By putting a thin needle into a tube, even a blind person would be able to practice acupuncture!"
While there are other theories on kanshinjutsu's origins, Hiromasa Oura, director of the association, said, "There is no doubt that Sugiyama greatly contributed to the spread of the technique with the approval of the shogunate government."
Sugiyama came to serve the bakufu government after he helped the fifth Tokugawa shogun, Tsunayoshi (1646-1709), ease the symptoms of a chronic illness. The land where the memorial hall is located was originally a plot awarded to Sugiyama from the bakufu government, showing that the blind acupuncturist commanded a high-degree of trust from the leaders of the day.
***
Among the hall's exhibits, a timeworn 80-centimeter-tall keiketsu doll covered in acupuncture points sticks out. Paper pasted on the wooden mold indicates acupuncture points with protrusions to help visually impaired learners understand where needles and moxa need to be applied.
Also on display are Sugiyama's key books authored by dictation.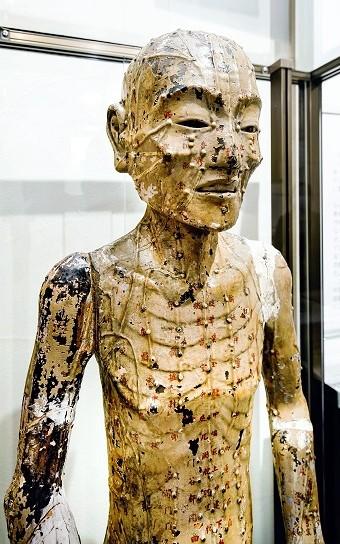 ***
Sugiyama is said to have been enthusiastic about training his successors. He paved the way for the visually impaired to make a living in acupuncture, moxibustion and massage. The memorial hall preserves and passes on his beliefs and contributions, as well as the history of acupuncture in Japan.
---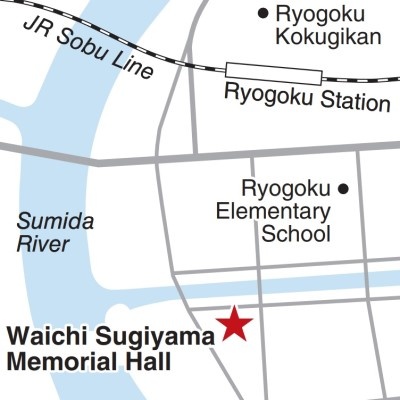 Waichi Sugiyama Memorial Hall
Ejima-Sugiyama Shrine, 1-8-2 Chitose, Sumida Ward, Tokyo
---
Add TheJapanNews to your Google News feed.