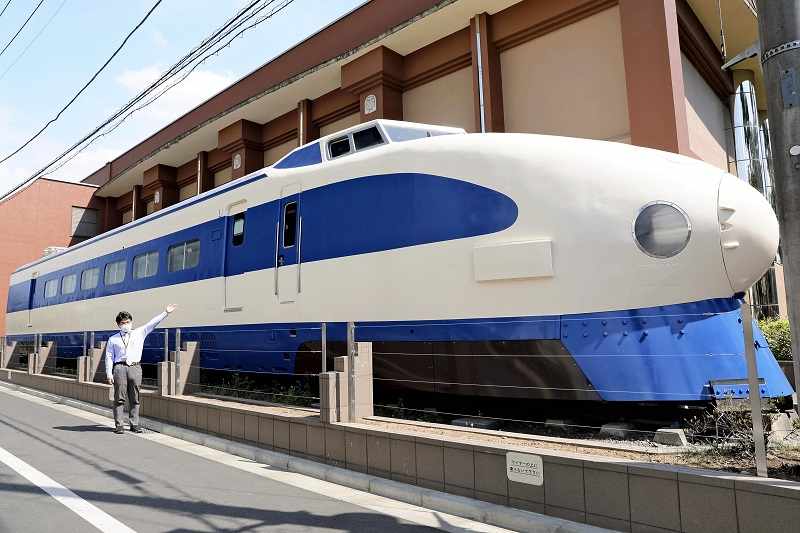 15:13 JST, June 22, 2021
As I was walking through a quiet residential area in Kokubunji, Tokyo, an old-fashioned Shinkansen train suddenly came into view.
A two-carriage Shinkansen is now used to house the Shinkansen Museum, allowing visitors to learn about the glorious history of the bullet train, one of Japan's most prominent technological advancements, which has received worldwide attention.
On display is a single car of the two-carriage train from the Class 951 Shinkansen, a prototype assembled in 1969 to increase the speed of Shinkansen trains.
The Tokaido Shinkansen Line, which began service between Tokyo and Shin-Osaka stations in 1964, had a maximum operating speed of 210 kph in those days. The prototype was used in a series of experiments to try and boost the speed of Shinkansen trains to 250 kph.
In 1972, the test train recorded the world's fastest train speed, 286 kph at that time, during a run between Nishi-Akashi and Himeji stations.
Visitors to the museum can hop into the conductor's cab of the Class 951 train, which is about 25 meters long, 3 meters wide, 4 meters high and weighs 61 tons and is the museum's main attraction. The various analogue gauges the train features remain in their original state.
"We want visitors to be free to toy around with the gauges, have a taste of the past and savor it," a Kokubunji municipal government official said.
Moving to the center of the carriage, there is a chronological table of the history of the Shinkansen. Looking at the timeline, visitors can gain tidbits of knowledge such as "Hikari bullet trains on the Tokaido and Sanyo Shinkansen lines started operating dining cars in 1974" and "the Tohoku Shinkansen Line connected Omiya and Morioka stations in 1982."
The museum also displays a wooden mold used in experiments to study how winds impact the trains during operation as well as a real Shinkansen train seat, and a diorama of Shinkansen and other trains of existing lines running through an imaginary city.
These exhibits are sure to entertain not only children but also railroad enthusiasts.
The town where the museum is located was renamed Hikari in 1966 after the Shinkansen Hikari train developed by the Railway Technical Research Institute located there.
The local residents, who are deeply associated with Shinkansen trains, are fond of the museum. The facility, which raised about ¥5.7 million through crowdfunding, reopened in April after the aging train car received a fresh coat of paint.
I enjoyed feeling like a train conductor while learning about the early days of the Shinkansen.
---
Shinkansen Museum, Hikari Plaza
1-46-8 Hikaricho, Kokubunji, Tokyo.
---
Add TheJapanNews to your Google News feed.