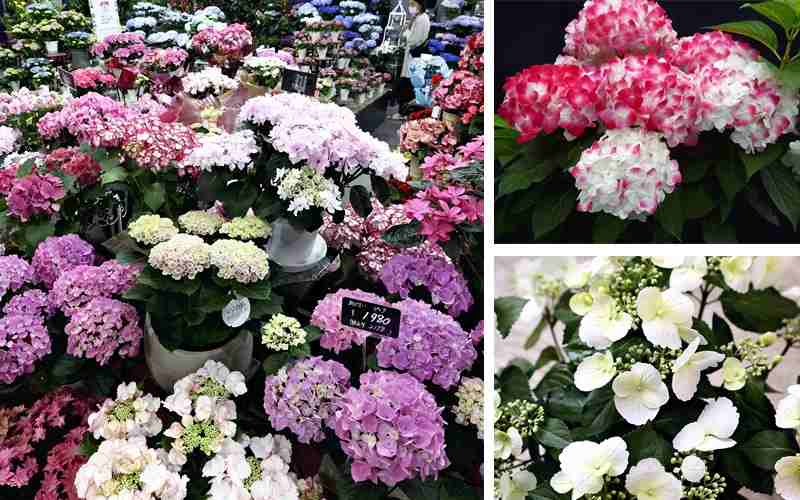 14:52 JST, May 4, 2021
FUKUOKA — Hydrangeas are increasingly popular gifts for Mother's Day, with newly developed varieties in a range of appealing shapes and colors proliferating recently. Their flowering season includes Mother's Day, which falls on May 9 this year.
At Japan Flower Selections, a competition for new flower breeds that will conduct its judging on May 11 this year, hydrangeas account for 30% of the about 50 entries in the potted plant division.
"There are many repeat customers who give their mothers a different hydrangea variety. Expensive hydrangeas priced at around ¥5,000 are appreciated as gifts. These factors seem to be behind the efforts to develop new varieties," a Japan Flower Selections official said.
JFTD Hana Cupid, a national network of florist shops, says hydrangeas started to become popular about five years ago, citing the growing number of new varieties and the fact that the flowers retain their beauty for as long as two or three months as among the reasons.
At Fukuoka Effect, a flower shop in Nishi Ward, Fukuoka, some varieties of hydrangeas are already blooming before Mother's Day. "Our shop is selling more than 100 hydrangea varieties this year," said shop manager Ryosuke Imabayashi, 35.
Distinctive flowers are gaining popularity. Imabayashi pays attention to varieties such as Hakujuko, which appeared in 2018 and has the appealing trait of changing from pure white to vivid red over time. Another variety, Luxrangea Bridal Shower, is unconventional in that flowers bloom all along its branches. It sells out soon after its arrival, according to the shop.
Prefectures famous for the production of hydrangeas include Aichi, Gunma and Shimane, with Fukuoka Prefecture more recently coming to be known as a production area. A Fukuoka producers' association founded in 2014 has been working to develop new varieties. Of the three varieties it released in 2019, the one called Fuwari was awarded the Best Flower prize for excellence in the 2019 Japan Flower Selections.
The Fuwari variety is white when it begins blooming, and the color gradually changes to pale pink.
"Since this is the same color as cherry blossoms, which are loved by Japanese people, the flower makes a perfect gift for Mother's Day," said Mitsuyoshi Kuboyama, an official at the Kurume flower market in Fukuoka Prefecture.
This year, 15 new varieties have been announced. Of them, the Gekko variety has been gaining attention for its beautiful color gradation of pink or blue, and orders have been placed from customers as far away as the Kansai and Kanto regions.
While about 6,000 pots were shipped last year, about 12,000 pots have been prepared for shipment this year.
"We would like to spread hydrangeas produced in Fukuoka Prefecture throughout the country," Kuboyama said.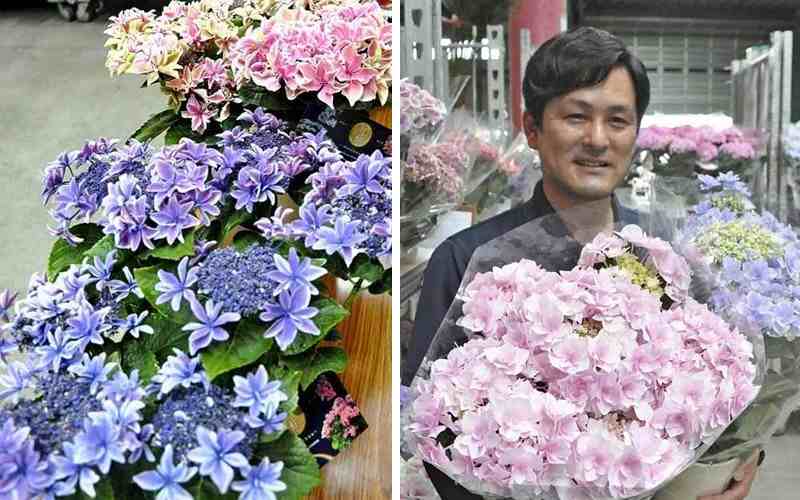 Add TheJapanNews to your Google News feed.