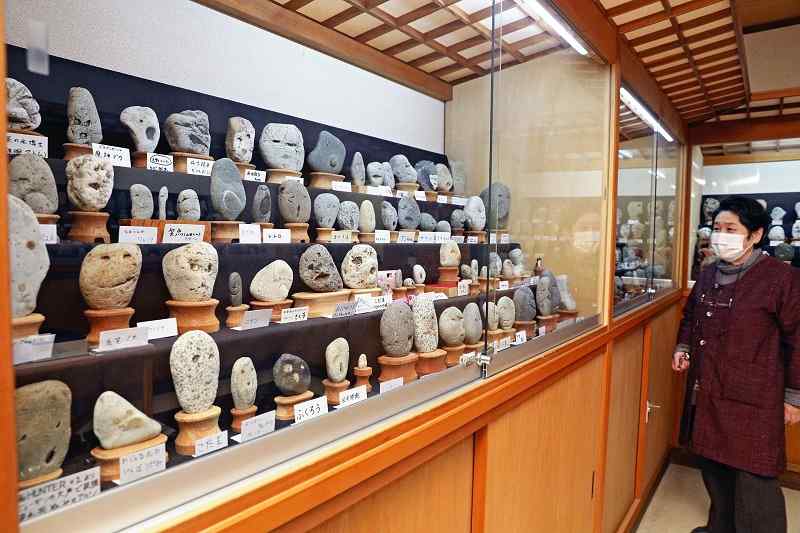 13:25 JST, April 27, 2021
CHICHIBU, Saitama — Chichibu Chinsekikan (Chichibu museum of rare stones) in Saitama Prefecture displays a large collection of rocks with features that make them resemble human faces — about 700, in fact.
Most were collected along the banks of the Arakawa river. All those "faces," shaped by river flow, wind and rain, are not perfect doppelgangers, but they still somehow look familiar. Visitors can have plenty of fun trying to guess who the rocks might resemble while wandering through the museum.
The museum was the brainchild of late stone collector Shoji Hayama, who opened it next to his house in 1990 after a fish with a human-looking face became the talk of Japan.
According to his daughter, Yoshiko, 72, her father was a textile industry worker when he received an unusual-looking fossil of a shellfish from a friend more than 40 years ago. He assigned it the moniker Kamiwarabe (child of the god) because it looked like the face of a child.
One day, the stone came to Hayama in a dream and said, "I have friends, so please gather them up and bring them here."
That was the starting point of Hayama's search for other stones with human facial features.
Hayama woke at 5 a.m. every day and diligently collected the stones, which all have unique characteristics.
The one that has a bump resembling a pompadour hairstyle somewhat mirrors the "King of Rock 'n' Roll" Elvis Presley. From a different angle, though, the curved coiffure looks more like the hairstyle of former U.S. President Donald Trump, with a unique flow on the sides and fluffy bangs.
Because another stone, with its distorted shape, is placed in front of a replica of Munch's masterpiece "The Scream," visitors can be convinced of the resemblance.
On the other hand, one might need a little imagination to find the similarity in some stones to see the likeness of a popular Japanese emcee with the trademark sunglasses or the legendary slugger who played in Japanese and U.S. professional baseball leagues.
The museum has another stone that looks like it's shedding tears when water is poured into one of its holes, and a rock whose surface looks like an image of a mother holding her child.
The museum has gained attention from foreign media outlets, and some stones were sent from countries including Denmark and Croatia for display.
Visitors also enjoy the fact that they are free to call the stones whatever they like.
Said Yoshiko: "The same stones can be named differently, depending on how people see them. It's fun to leave that up to the imagination of the visitors."
Chichibu Chinsekikan: 764-6 Kamikagemori, Chichibu, Saitama Prefecture
Add TheJapanNews to your Google News feed.