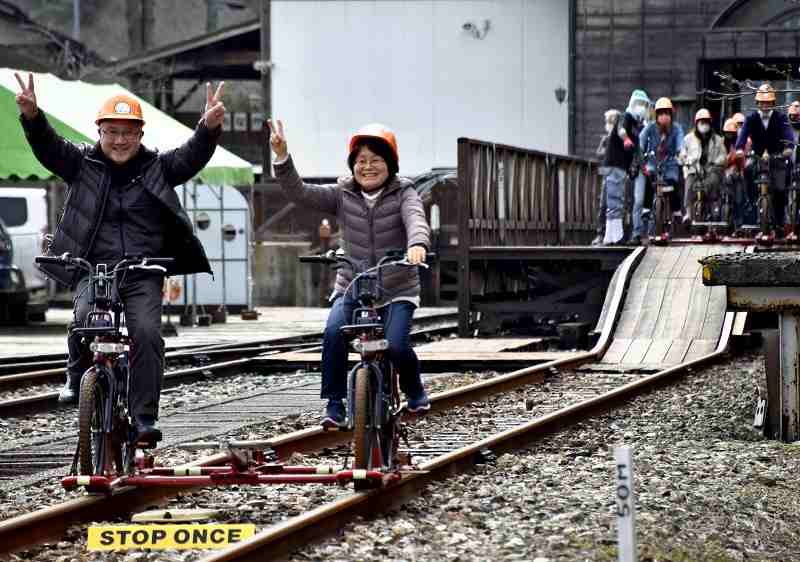 8:37 JST, April 10, 2021
HIDA, Gifu — People are once again able to enjoy rail mountain biking on the abandoned tracks of the former Kamioka Railway in Hida, Gifu Prefecture, as the attraction has reopened this season.
Rail Mountain Bike Gattan Go is an attraction started in 2007 by the local group NPO Kamioka-town Network. Basically, there are two mountain bikes fixed to a guide roller, a rolling mechanism that straddles the tracks, and while the front wheels are fixed on the roller, the back tires sit directly on the surface of the rail, so riders can go forward by pedaling.
The attraction draws about 40,000 people each year, but last year it was forced to suspend its operation several times due to the novel coronavirus outbreak. The group was only able to keep the operation going for about two-thirds of its usual period.
Gattan Go — a name derived from the vibrations and sounds you feel and hear as you ride along the rails — has two courses: the Town Course for beginners and the Canyon Course for repeaters, or those who want a bit more of an adventure.
The Town Course reopened on March 20, and about 200 people, including families, enjoyed the one-hour course that runs through Kamioka.
The 5.8-kilometer round trip from the former Okuhida Onsenguchi Station to the former Kamioka-Kozanmae Station offers a thrilling ride that includes station buildings, tunnels and elevated sections of the railroad.
From the Town Course, you can still see physical traces of how the railroad supported the city of Kamioka.
"It's wonderful to be able to experience the feeling of being at one with nature and being a train driver, which I've always wanted to be," a 63-year-old regular participant said.
The Canyon Course, a 6.6-kilometer round-trip with exhilarating sights and experiences, like crossing the Takahara River on an iron bridge, started on April 3.
Both courses are available by reservation only and will be open until late November.
"I'm sure many people are refraining from going out during the pandemic, but we take thorough measures to prevent infections. We hope that visitors will enjoy themselves safely and securely," said Yukako Taguchi, a member of the NPO Kamioka-town Network.
Details such as prices and timetables can be found on the NPO website(https://adssettings.google.com/authenticated?hl=en )
---
Kamioka Railway
The Kamioka district in Hida — now known for the particle detector Super-Kamiokande — was once a mining town, and one of the largest producers of zinc and lead in Japan. Kamioka Railway — initially the Kamioka Line of the Japanese National Railways — not only transported people but mineral products as well. However, when the mine closed in 2001, the railway lost its mainstay of business and was discontinued in 2006.
---
Add TheJapanNews to your Google News feed.