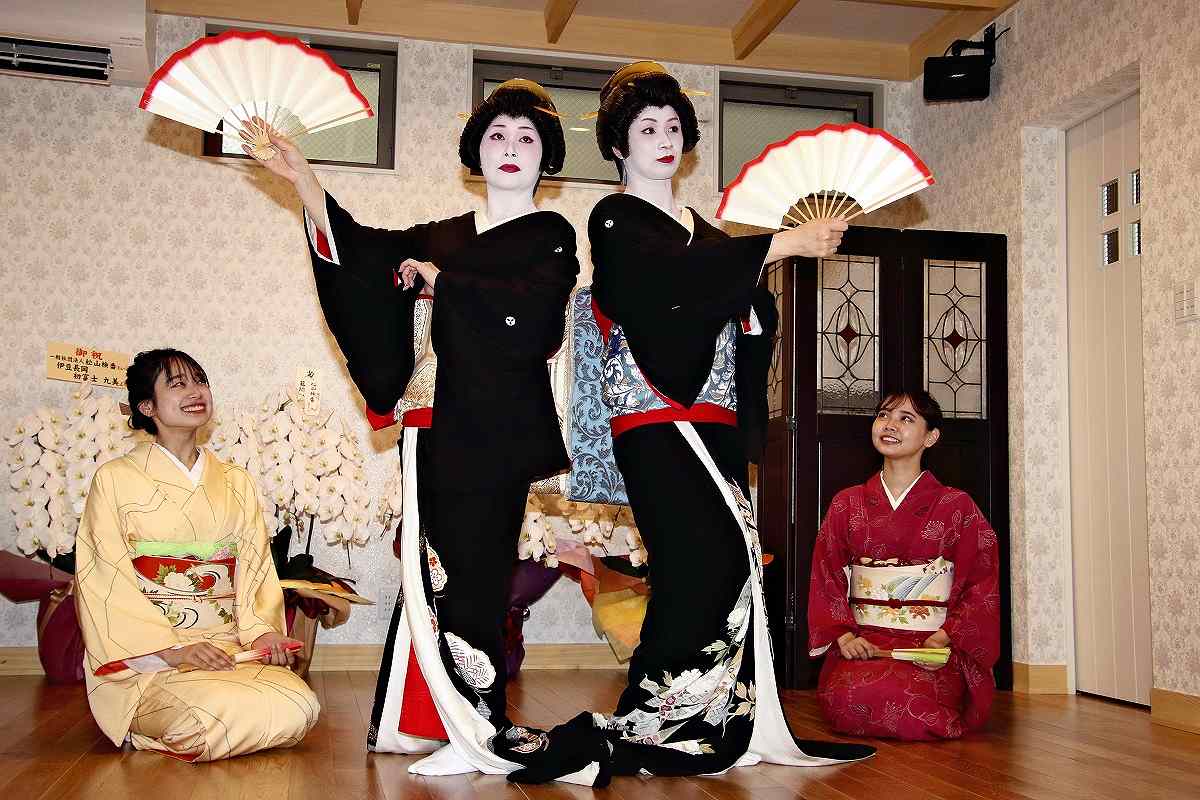 17:02 JST, January 29, 2021
MATSUYAMA — In a place filled with dramatic flourishes, two geisha in oshiroi snow-white powdered faces and hair tied up in a traditional Japanese style danced elegantly in black kimonos while holding fans.
Geisha culture in Matsuyama was revived last November with the opening of Matsuyama Yanagikan, a training hall for singing and dancing.
Matsuyama Kenban, a geisha call-office, was established in the Meiji period (1868-1912). A world of geisha called karyukai is said to have been formed mainly at ryotei high-end restaurants in the center of Matsuyama. However, World War II drove Matsuyama's geisha business down. Now, an attempt is being made to revive it for the first time in 75 years.
However, it is difficult to try reviving it in the midst of the coronavirus pandemic; the number of times the geisha were invited to ozashiki — rooms at restaurants and other places where geisha perform — has drastically fallen.
"Matsuyama Kenban has overcome adversity so many times," said Chiyoro, who is the current representative of the geisha office.
Looking up at the new Western-style training hall, she added, "This will be a base for boosting the geisha world while preserving tradition."
The Matsuyama Kenban office states 1,000 geisha belonged to it during its peak in the early 20th century — the Taisho (1912-1926) and early Showa (1926-1989) eras. There were over 400 geisha houses in which they lived and learned dancing and other performance.
Geisha were well versed in a variety of fields, and politicians, businessmen and cultural figures became their patrons.
However, that changed by World War II. One after another, ryotei went out of business, geisha houses were bombed in air raids and geisha were dispersed.
After the war, the geisha business revived to entertain officers from the U.S. Occupation army, and it grew for a while with the postwar economic development. However, the place for entertaining and socially gathering gradually shifted to clubs and bars, and the geisha world began to decline.
Matsuyama Kenban is now led by sisters Chiyoro and Yachiyoro. Chiyoro had been running a bar since she was a student, but she yearned for the skills of geisha and learned there were also geisha in Ehime Prefecture. In 2005, she invited her younger sister, then an apprentice sister at a convent, to join the Matsuyama Kenban office.
At that time, there were only 10 or so geisha belonging to the Kenban. In addition, none of them went out to ozashiki dressed as geisha, with their faces covered with white powder and their hair tied back. They used to say to the sisters, "You can't make a living as geisha these days."
Chiyoro and her younger sister did not give up, though. They practiced hard and even managed to learn the makeup. To draw the attention of passersby to geisha, they went out on the streets of Matsuyama dressed as geisha.
Some people laughed at them, asking if they were cosplayers. But they went out again and again.
Little by little, they were invited to ozashiki, which led to other businesses such as a sake collaboration with a brewing company and walking tours with geisha. The sisters invested their own money and finally opened a training hall.
It is not easy to train geisha successors as they must be not only beautiful, but also skilled in their performances, etiquette and speaking technique.
In the past, Matsuyama Kenban had two young geisha candidates it was training while paying their living expenses and training fees. However, they eventually left training.
"A lot of determination and courage is needed to make a living as geisha," Yachiyoro said.
Currently, the sisters have five university students they are training with the aim of having them learn about the work of geisha. The five are learning manners and etiquette in a free environment and are even invited to ozashiki with the sisters.
"It's useful to learn about the small gestures and manners," said Miu Isozaki, a second-year student in the Faculty of Education at Ehime University. "It was a valuable social experience as I was able to interact with people I'd never have met as a student."
The 20-year-old woman has been working under the name of Suzu since February 2019. After graduation from university, she hopes to become an elementary school teacher.
"I want to teach children about Matsuyama's geisha culture," she said with a smile.
Chiyoro said, "The training for geisha will definitely help them when they leave school."
She recognized that nowadays, geisha must keep up with the times while preserving tradition.
"I want to continue to pursue the unique image of what a geisha is," she said.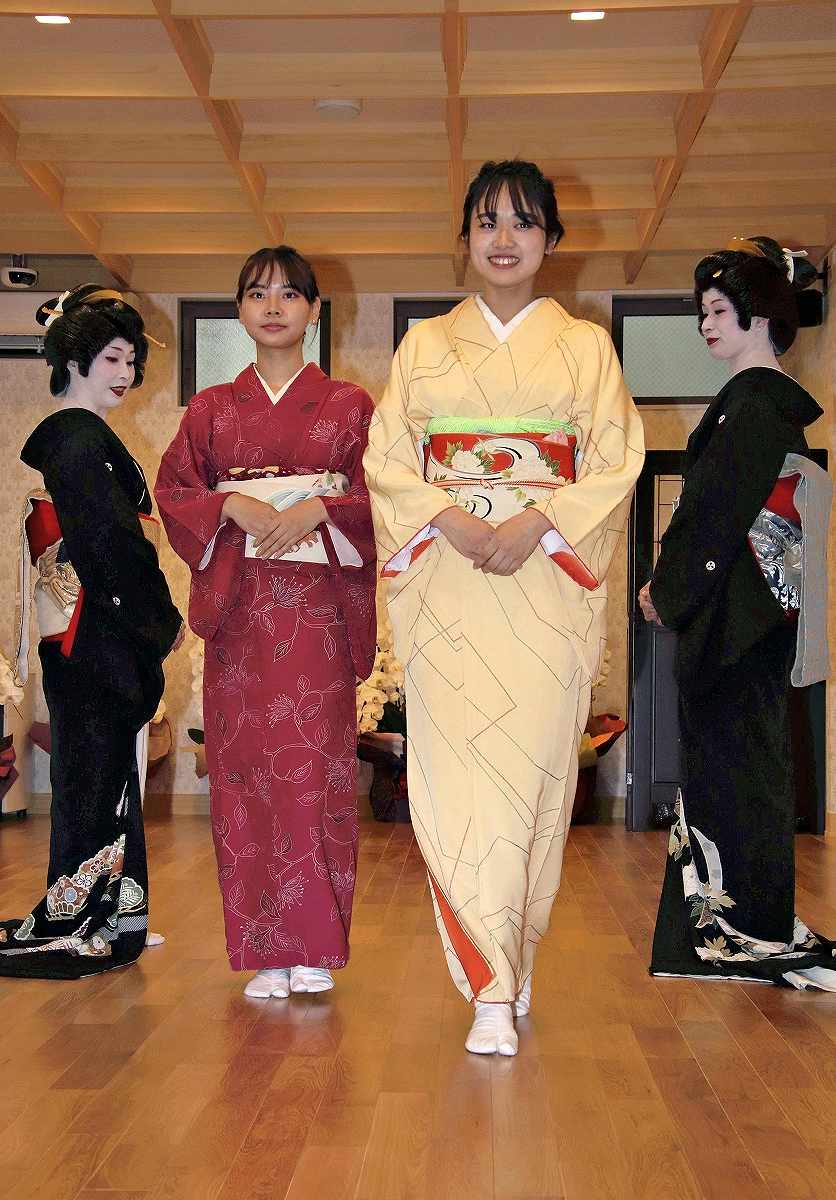 Add TheJapanNews to your Google News feed.