Open-faced Sushi Wrapped in Fried Tofu Steps into Limelight with Colorful New Concoctions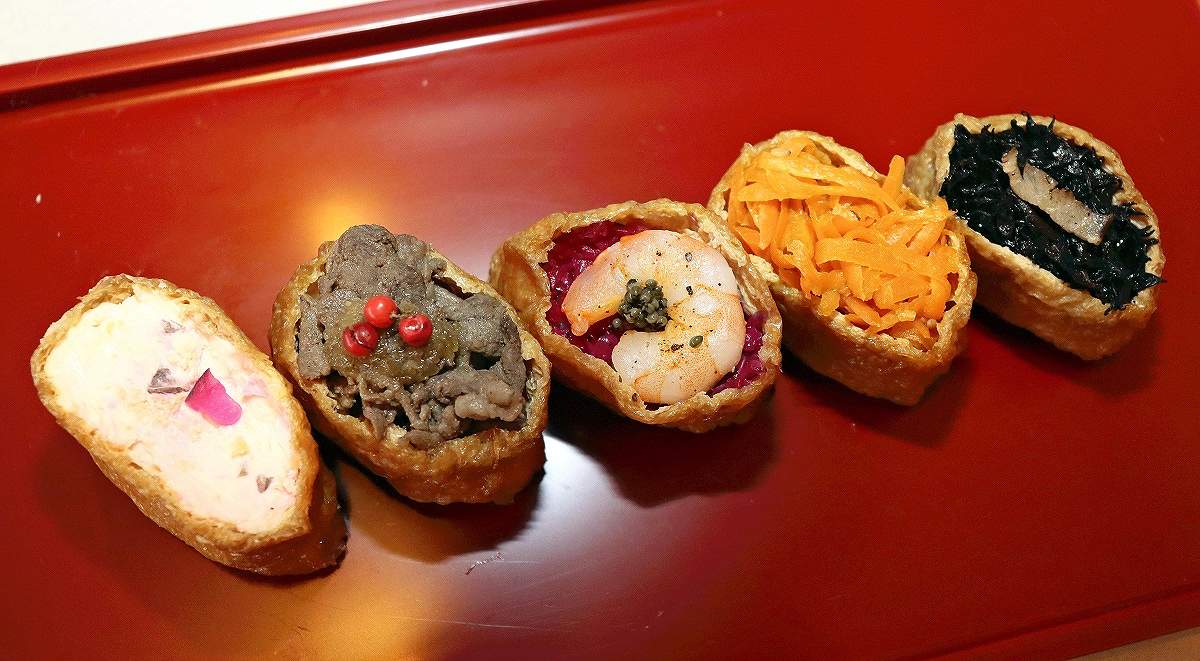 13:30 JST, November 19, 2023
FUKUOKA — Inarizushi is typically served as a side dish with udon or soba. It is low-key compared to traditional sushi, but recently has become a shining star in the culinary world especially in Fukuoka Prefecture where inarizushi specialty shops have opened.
Also called inari, inarizushi is sushi rice wrapped in a thin layer of seasoned and juicy fried tofu and often has cooked ingredients inside it.
Candy Inari brun in Chuo Ward, Fukuoka, is an inarizushi specialty store that opened in October 2021. It sells inari wrapped in colorful paper that is twisted at the ends to look like a piece of candy. The appearance increases its appeal. About 10 variations are regularly sold, including ume hijiki (pickled plum and hijiki seaweed) for ¥194 and tamago-yaki (rolled omelet) for ¥216.
Ritsu Higuchi, 55, who runs the store, also operates a bridal company. When work was scarce during the novel coronavirus pandemic, she focused on inarizushi because it can be carried around at room temperature and she thought that men and women of all ages love it.
The shop sells about 100 pieces a day. Inari is also popular as a gift.
"They are cute and tasty," said a homemaker who is a regular customer as she picked up a couple. "I can eat many pieces."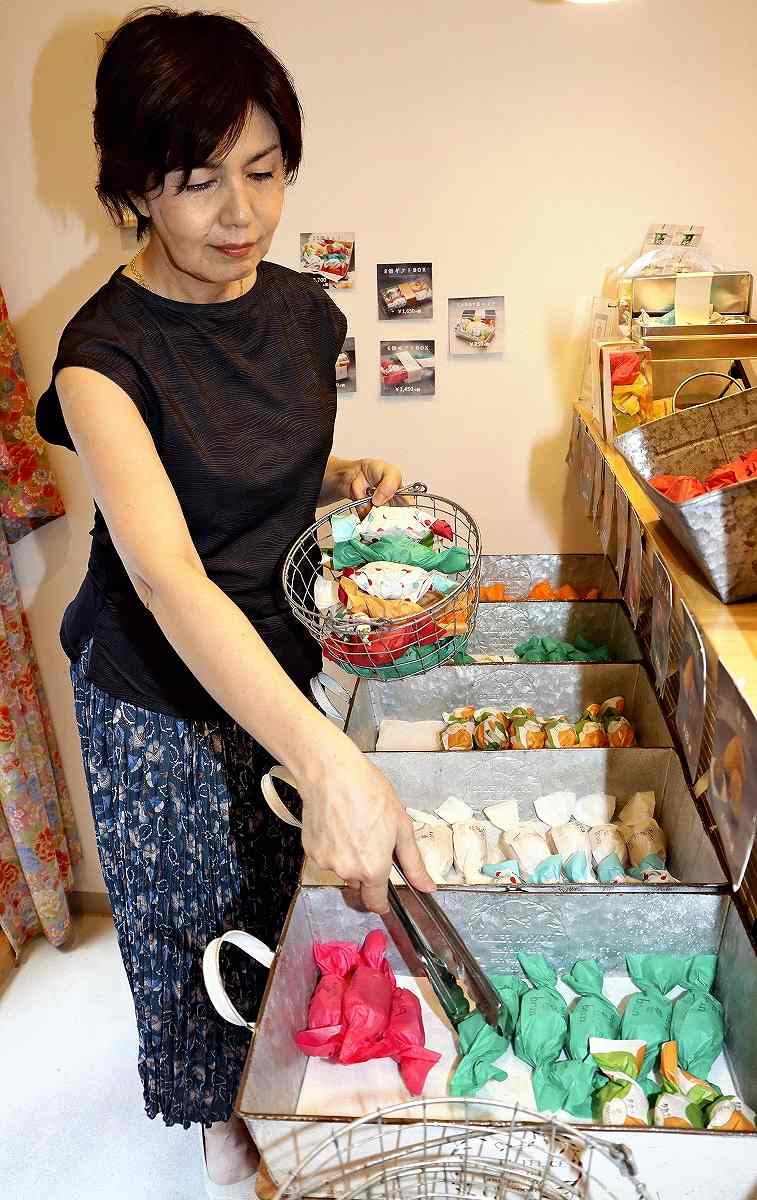 Social media splash
Inarizushi first appears in documentation in the late Edo period (1603-1867). It spread nationwide when the shogunate banned Edomae-zushi, which was developed in Edo (present-day Tokyo) and was similar to today's hand-pressed nigiri sushi, claiming that it was too extravagant, said Kazu Sakanashi.
Sakanashi, 57, is a director of Zen-Nihon Inarizushi Kyokai (All-Japan inarizushi association) in Tokyo that was established in 2016.
A major change in the inari world occurred around 2017 when an open-faced type came into the limelight. It became popular on social media because the various ingredients can be seen on top of the rice.
According to Sakanashi, the average weight of a piece was about 45 grams in the past but is now about 35 grams as customers want to eat many different types.
"Inari is now a star player," Sakanashi said. "It has the potential to develop further."
Nutritious ingredients
The Umainari specialty store that opened in 2021 in Iizuka in the prefecture sells open-faced inari in bite-sized pieces topped with various ingredients such as hijiki and bacon for ¥130 and Japanese beef seasoned with steak sauce for ¥150.
Hisae Sonoda, who runs the store, is also active as a local social welfare commissioner. She makes the store's inari smaller and priced lower because she wants the elderly to eat many pieces of the nutritious food.
Hana-to-Inari in Fukuoka's Sawara Ward sells a "select box" for ¥700 that contains five pieces of inari, each featuring different ingredients such as mentaiko (salted, spicy cod roe), ume shiso (pickled plum and perilla leaf) and lemon ginger.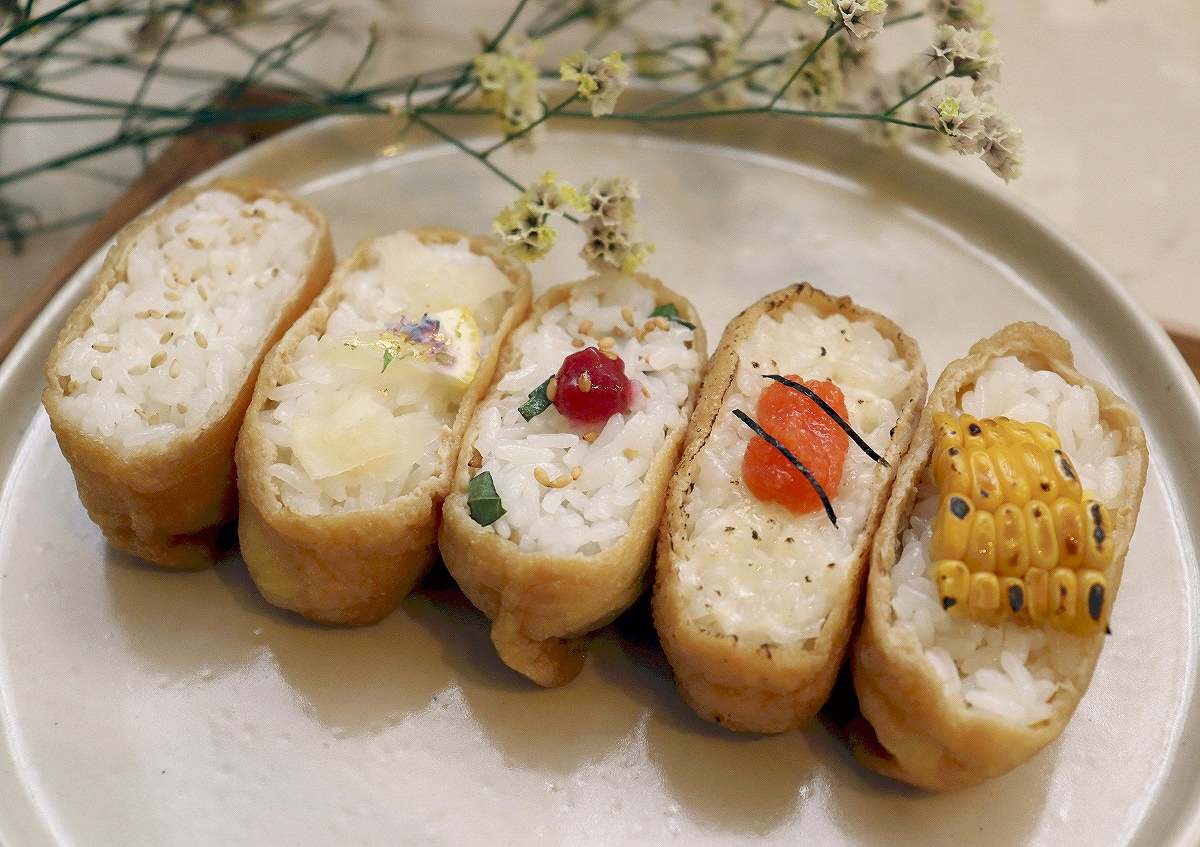 The store's operator is from a family that had run a sushi restaurant which closed 10 years ago.
The man had been working as a company employee, but an increasing desire to revive the beloved taste from the family business led him to open the store in April 2022 with his wife, a floral designer who sells dried flower bouquets and hair ornaments online.
Her workshop is in the store, and they hope visitors will enjoy the combination of inari and dried flowers.
Decosushi in Kurume offers inari designed to look like sweets.
The "Deco Inari" pieces, including one priced at ¥250, are shaped like a rolled-up crepe. The inari is intended to be eaten with one hand and was created by Mitsuyo Horie, 50, the company's executive director. "Inari no Tart" pieces are topped with salmon, scallop and other ingredients, with five pieces selling for ¥1,700. "Inari no Roll", starting from ¥1,450, can be cut into the desired size.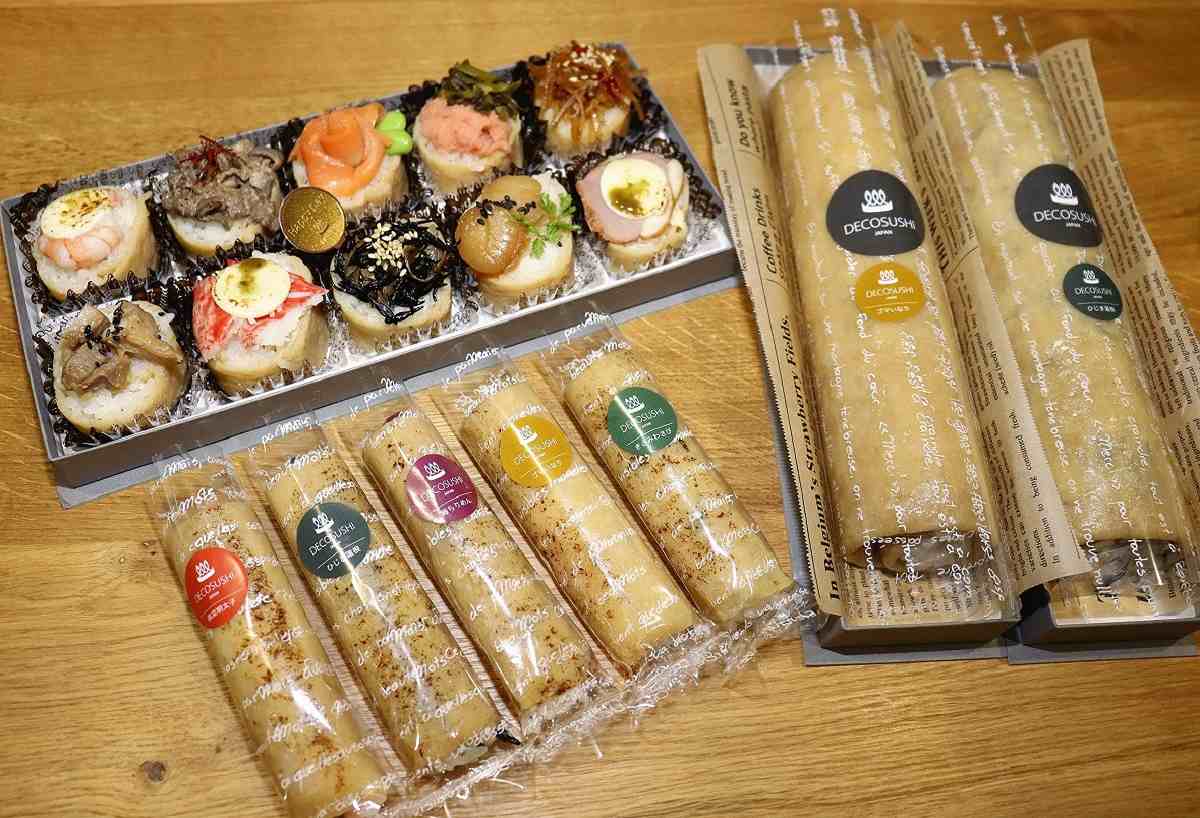 Add TheJapanNews to your Google News feed.