Cold Boiled Chicken with Marinated Vegetables Easy to Prepare in Advance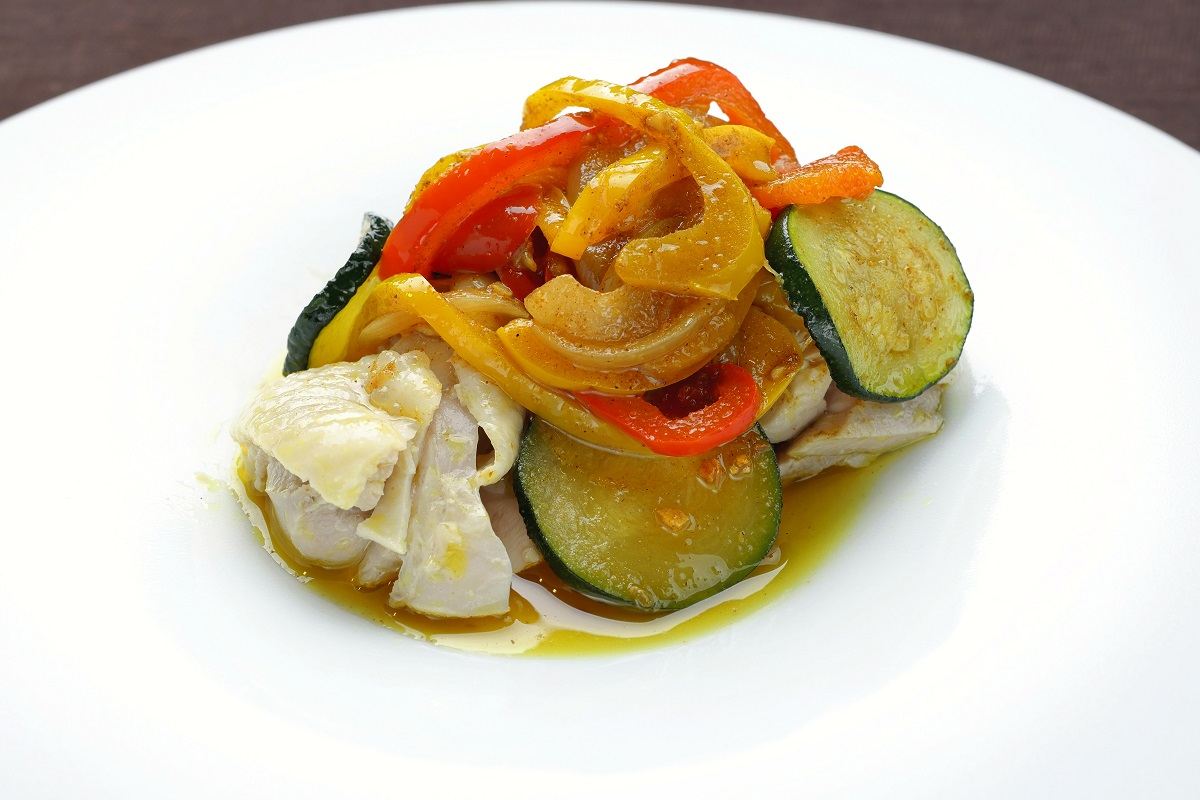 13:00 JST, November 12, 2023
Recommended by French chef Shinsuke Ishii, this cold boiled chicken dish is appetizing when topped with a generous portion of curry-marinated vegetables.
With the rising prices of various foods, it is nice to use chicken, which is slightly inexpensive compared to other meats. "How about cooking [a cold boiled chicken dish] that can be kept in the refrigerator and is full of vegetables that are rich in vitamins?" Ishii said.
Inspired by yodare-dori, a cold Chinese dish of boiled chicken topped with a spicy sauce, he instead uses marinated vegetables on top of the chicken to create a French-style dish. "We'll flavor it with curry powder and garlic to make it a good dish for one's stamina," he said.
Boil the chicken in broth rather than plain water. Once cooked, do not remove the chicken from the pan. Instead, put it in a container with the broth and place in the refrigerator. "The broth soaks into the chicken as it cools, making the meat moist and tender," he said.
The vegetables used in the marinade are bell peppers, zucchini and onions. Cut them into largish pieces and cook them so that you can enjoy their texture.
Using canola oil or thick white sesame oil for the marinade is recommended, as it does not harden when cold. Put the oil, curry powder and garlic into a frying pan and heat. When they become fragrant, pour the hot mixture over the vegetables. Place them in the refrigerator to cool.
Now all you have to do is slice the chicken and put it on a plate. Pour the marinade over the chicken and you have a colorful main course.
Lean chicken goes well with the generous amount of marinated vegetables that have a savory smell. The cool texture of the marinade is pleasant and makes the meal more appetizing. If you prepare this dish ahead of time, you can look forward to a tasty dinner.
Cold boiled chicken
Ingredients (Serves 4):
2 chicken thighs (about 500 grams)
80 grams each red and yellow bell peppers
80 grams zucchini
150 grams onions
1 clove garlic
12 grams chicken bouillon powder or
consomme powder
100 ml canola oil (or white sesame oil)
8 grams curry powder

Directions:
1. Cut the chicken thighs in half lengthwise, sprinkle with a pinch of salt and pepper, and let stand for about 5 minutes.
2. Put 1.2 liters of water with the bouillon powder in a saucepan. Bring to a boil. When the water is boiling, add the chicken skin side down and bring to a boil again. When the water returns to a boil, reduce the heat to low and simmer for 8 to 9 minutes before removing from heat. When the thighs have cooled slightly, place the meat and juice in an airtight container and refrigerate.
3. Cut the bell peppers, zucchini and onion into slices 5-7 millimeters thick. Place in a pan with oil and cook over medium heat until soft. Season with a pinch of salt and pepper. Transfer to a heatproof container.
4. Place the canola oil, curry powder and minced garlic in a frying pan and heat over a low heat. When the garlic begins to brown, turn off the heat and pour the mixture over the vegetables. Allow to cool slightly and refrigerate.
5. Cut the cooled chicken into 1-centimeter slices. Place on a plate and top with the marinated vegetables.
Hot noodles using chicken broth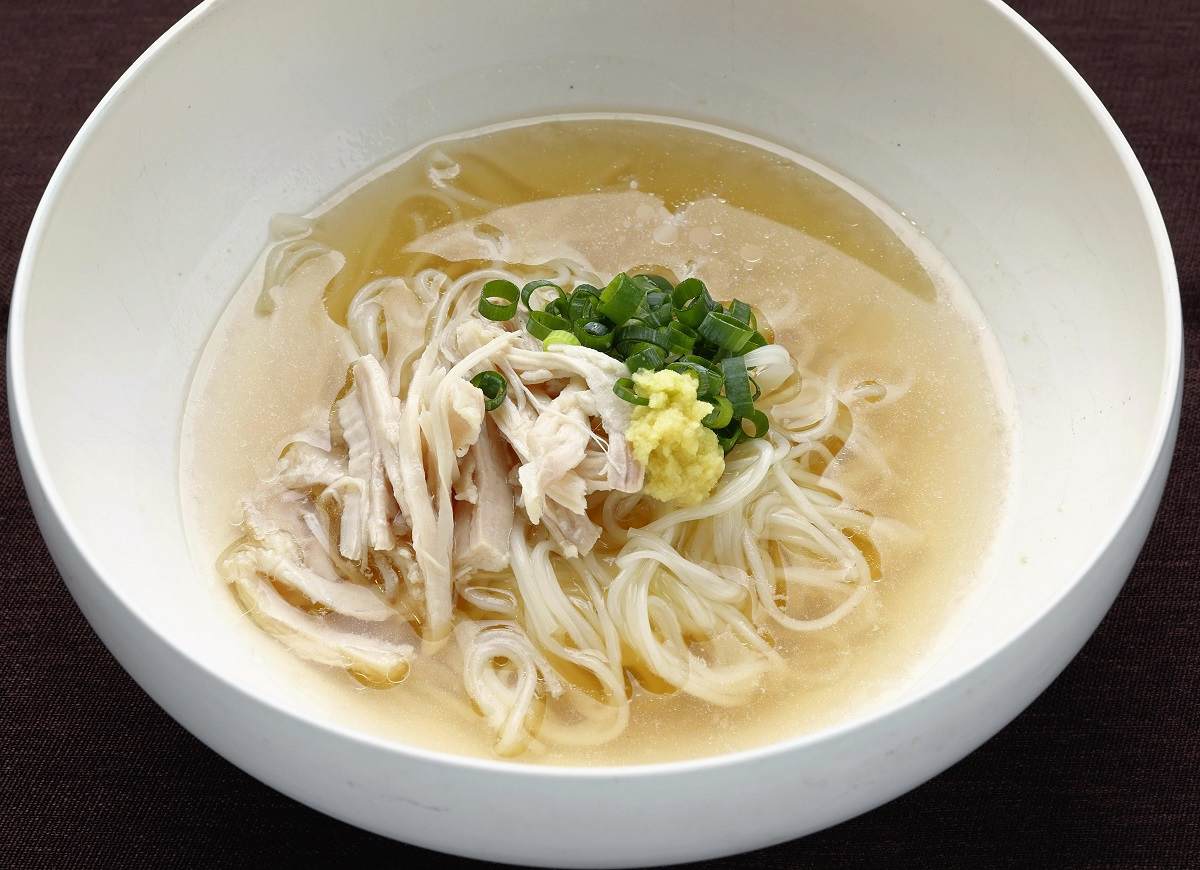 The broth made from boiled chicken is full of umami flavor. "It's a waste to throw the broth away, so let's use it as a soup stock for somen noodles," Ishii said.
By adding the desired amount of ready-made men-tsuyu (Japanese soup stock) to the broth, a sauce with a chicken broth base is ready to be served.
Place the cooked somen noodles in a bowl, add the shredded boiled chicken, green onion and ginger. Pour a generous amount of sauce over the noodles.
Add TheJapanNews to your Google News feed.