Quinoa: Versatile Grain Packed with Nutrients ; South American 'Super Food' Ideal for the Health Conscious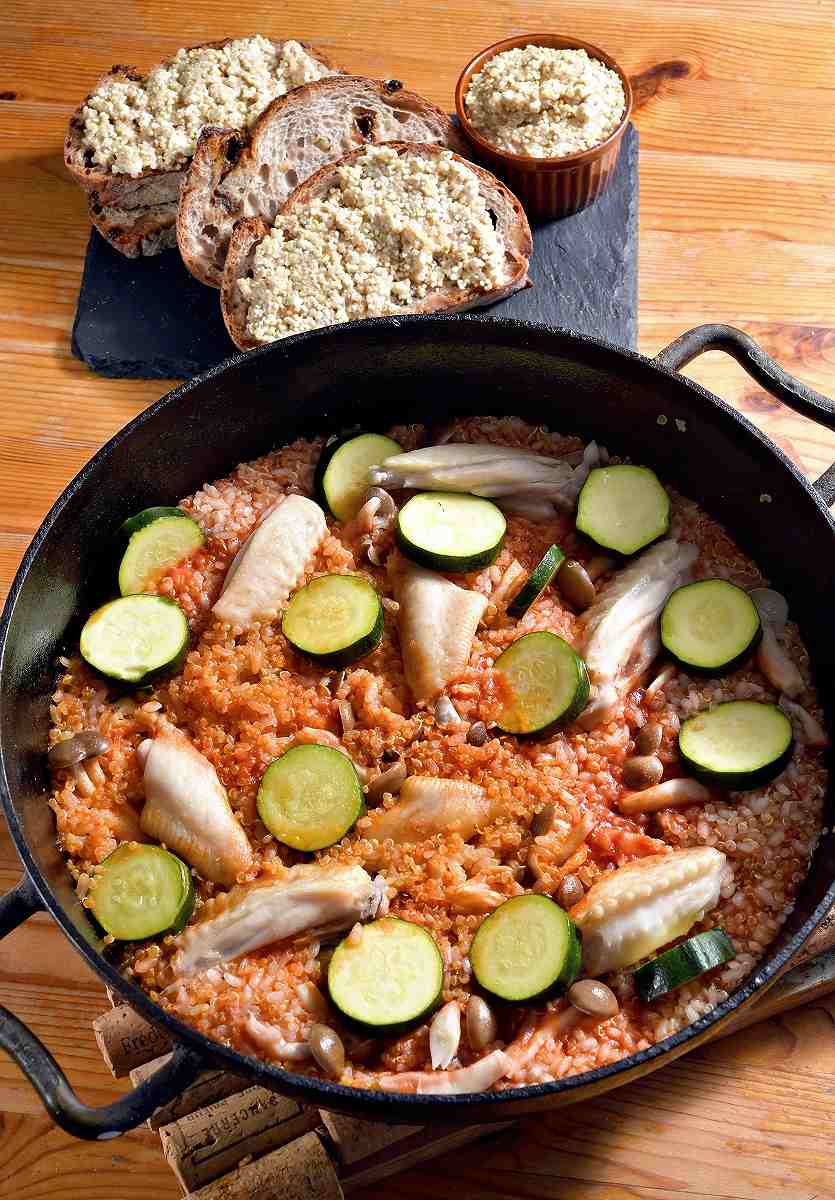 12:10 JST, October 22, 2023
Quinoa originates in South America and is often called a "super food" as it contains many vitamins and minerals as well as high amounts of fiber.
Culinary research specialist Mayumi Kumagai, who runs the La Creme des Cremes cuisine and patisserie school in Chiba Prefecture, has provided The Yomiuri Shimbun with two recipes using quinoa.
A piece of quinoa grain is as small as a sesame seed. The yellow-colored grain has drawn attention of late as more and more people have started caring about their health. Quinoa is now available at some supermarkets in Japan. A number of farming households in Uenohara, Yamanashi Prefecture, have begun producing quinoa, hoping to make it a special product of the city.
"Quinoa cannot be eaten uncooked. You have to boil it or cook it with rice. Generally, those are the ways to cook it," Kumagai said.
Tomato-flavored paella with quinoa can be cooked using a single frying pan. The rice is nicely flavored with shimeji mushrooms and chicken wings. Other recommended ingredients include shellfish, such as asari clams.
Tomato-flavored paella with quinoa
Ingredients (4 servings)
100 grams quinoa
1 cup rice
200 cc unsalted tomato juice
1 pack shimeji mushrooms
8 chicken wings
1 zucchini
1 clove grated garlic
1 tbsp olive oil
1 bouillon cube



Directions:

1. Soak the quinoa in 500 cc of boiling water and leave for 30 minutes until it cools down. Rinse the rice and soak for 30 minutes. Cut off the ends of the shimeji mushroom stems, and slice the zucchini.

2. Drain the water from the quinoa and rice, mixed together and add them to a deep frying pan, or a Dutch oven.

3. Add the tomato juice, 100 cc of water, grated garlic, bouillon cube and olive oil to the pan. Stir them and flatten out. Top up the rice and quinoa with the shimeji mushrooms, zucchini slices and chicken wings.

4. Close the lid of the pan and bring the ingredients to a boil over a high heat. When they have started to boil, reduce to a low heat and simmer for 13 minutes and then return to a high heat for 10 seconds. Turn off the heat and leave the pan for 10 minutes so that the paella will be nicely steamed. Season with salt and pepper to taste before serving.

Kumagai also shared a recipe for quinoa dip, which uses both toasted quinoa and boiled quinoa. If you spread the dip on a slice of baguette, the toasted flavor feels enhanced. The crunchy texture is a good accent, too. The dip is also healthy, as it contains tofu.

Double quinoa dip

Ingredients:

100 grams quinoa
100 grams firm tofu
2 tbsp ground white sesame seeds
1 tbsp sesame oil
Baguette



Directions:

1. Place the uncut tofu in a pan, followed by half of the quinoa. Pour water into the pan so that the tofu is only just submerged. Boil for 15 minutes over a medium heat. Drain using a zaru bamboo sieve.

2. Add the rest of the quinoa to a frying pan and lightly toast over a medium heat. Alternatively, spread the quinoa in a baking tray lined with parchment paper and toast in an oven at 160 C for 15 minutes.

The Yomiuri Shimbun


When toasting quinoa in a frying pan, gently shake the pan so that the quinoa does not burn.

3. Put the tofu and boiled quinoa into a bowl, and beat with a whisk until it becomes a paste. Add the sesame oil, ground white sesame seeds and roasted quinoa, mix together, and the dip is done. Sprinkle a small amount of salt and pepper for seasoning.

Quinoa does not have a strong taste by itself.

"It's easy to use in various dishes. You can use it as a topping for salads and soups as well," Kumagai said.
Add TheJapanNews to your Google News feed.