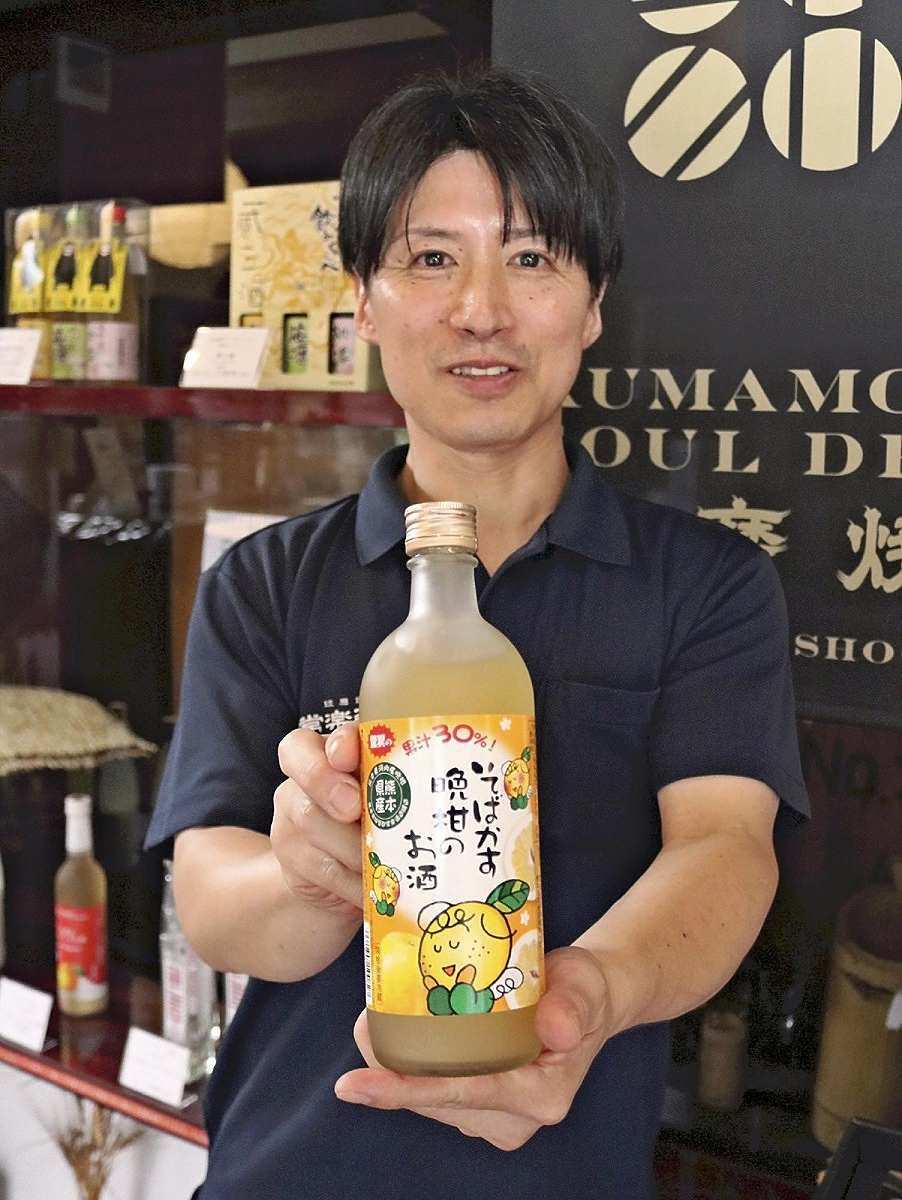 13:30 JST, September 24, 2023
Local businesses in Kumamoto Prefecture have successfully produced a new liqueur using Kuma Shochu, a local specialty from the Hitoyoshi Kuma region of the prefecture, and a citrus fruit produced in Kumamoto City. It is the second product of a collaboration project between a local sake brewery and an agricultural producer.
Those involved hope that the product, named "sobakasu bankan no osake," will bring attention to the prefecture.
The Kumamoto branch of the general wholesaler Yamaehisano Co., headquartered in Fukuoka City, planned the project in an effort to revitalize the region, which suffered from a series of disasters and the coronavirus pandemic.
Joraku Shuzou, a sake brewery in the town of Nishiki, and Ushijima Seika, an agricultural producer in Kumamoto City, collaborated on the project.
Their first product, which went on sale in spring last year, used juice from daruma mikan oranges with a sugar concentration of over 12%.
This year's product uses a citrus fruit called sobakasu bankan, which has a sugar content of 10% as well as moderate sourness and bitterness. Without using flavoring, the producers adjusted the ratio of juice and other ingredients in a process of trial and error to bring out the true flavor of the bankan citrus.
"We want many people to know that it's possible to make such a delicious product with ingredients produced in Kumamoto Prefecture," said Zenko Tokunaga, sales manager of Joraku Shuzou. "We hope people will enjoy drinking this during various occasions, such as at parties and at home."
The 500-milliliter bottle has an alcohol content of 12% and sells for ¥1,210, including tax. A limited run of 1,000 bottles is on sale, mainly at retailers in the prefecture.
Add TheJapanNews to your Google News feed.