Japan Firm Markets 'Health Drink' Made from Fish Mint Grown on Dormant Farmland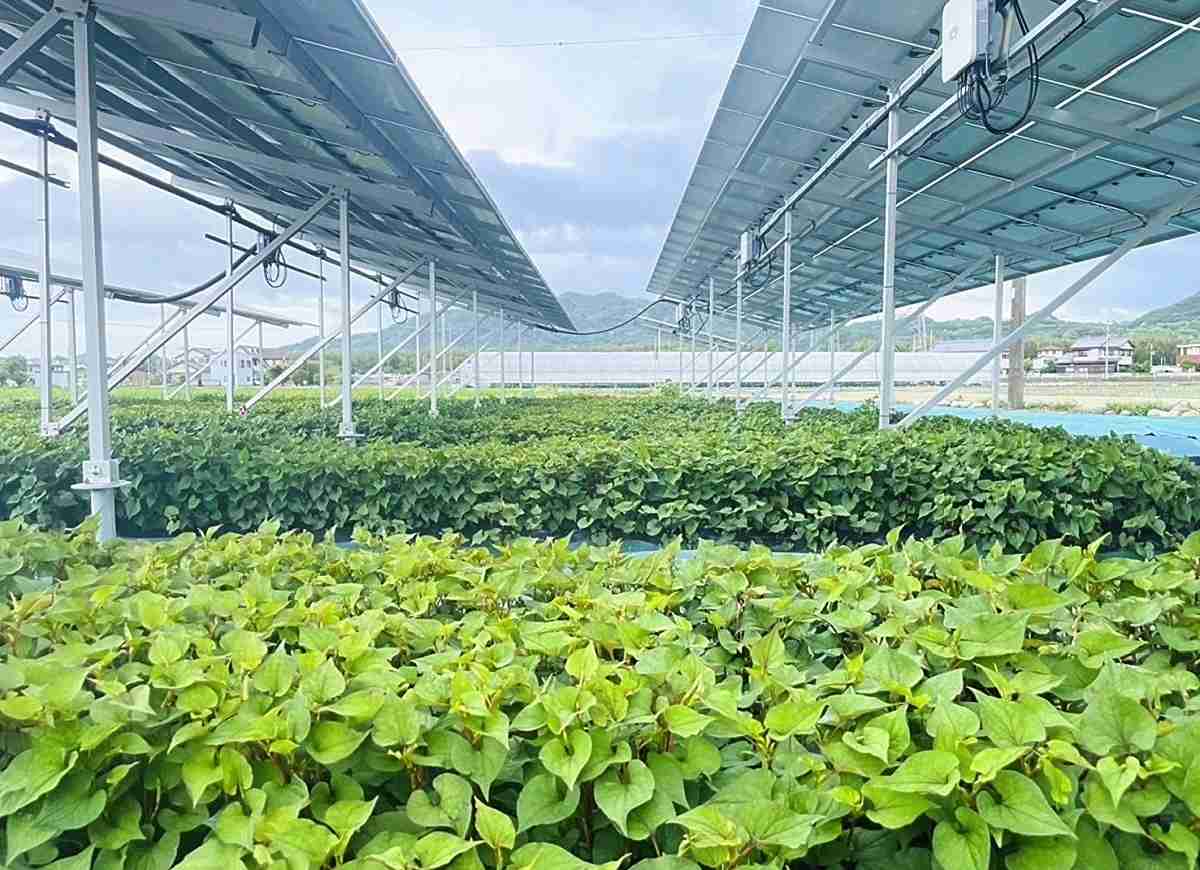 15:00 JST, August 13, 2023
TOKUSHIMA — Sankan-shion, a health-focused beverage made from the herbaceous perennial dokudami, recently made its market debut.
Dokudami plants for the drink are grown under solar power panels operated by the Atarashiya Group in Tokushima City. Dokudami, which can thrive even in shaded areas, is thought to have beneficial effects on human health.
Houttuynia cordata — dokudami's scientific name — is known in English as fish mint, among other appellations.
Companies operating under the group's umbrella cultivated dokudami on dormant farmland and developed the new beverage.
The Atarashiya Group, originally a sales consulting service, entered the solar power business in 2017. The group purchased deserted arable land in Awa, also in Tokushima Prefecture, and set up a solar power-sharing business in which products are cultivated using solar panels.
The group, which has set up similar schemes in the cities of Tokushima and Komatsushima in the prefecture, oversees solar power generation panels covering a total of 11.3 hectares in 54 locations. The panels generate about 9,000 kilowatts — capable of covering the electrical consumption of about 1,800 households — and the group sells the power to Shikoku Electric Power Co., via the latter's transmission cables.
Dokudami has a particular odor and often grows around people's homes. Viewed as a weed in many cases, it is a very resilient species that is quick to return after being pulled up by residents.
However, the plant is rich in minerals that are said to have a positive effect on human health, such as helping to prevent high blood pressure. It has been called "juyaku" in Japanese, meaning a medicine with 10 different effects.
Dokudami grows well under artificial light, too, and requires little attention.
In 2018, Atarashiya Agri Bio, an agricultural corporation of the Atarashiya Group, began cultivating dokudami plants, while also embarking on the development of new products. In October last year, the group began selling shochu distilled liquors with fruity aromas and flavors derived from dokudami. A 720-milliliter bottle of honkaku shochu "Dokudami no Hime," costs ¥3,850, including tax.
Last year, Atarashiya Agri Bio established an internal institute called Dokudami Crude Drug Labo to commercialize a new kind of beverage. The company reached out to about 100 firms asking for production-related cooperation. A bio product manufacturer in Shiga Prefecture accepted the firm's request, and the two companies jointly developed Sankan-shion. A 720-milliliter bottle of the drink costs ¥3,780, including tax.
The company harvested a total of 12 tons of dokudami leaves in May — when the plant blooms — and last September, when certain substances in the plant increase.
The company sent the harvested leaves to the bio product manufacturer for decocting. The company also added black vinegar, ginger, lemon juice, plant-derived enzymes and Tokushima-produced honey.
"When you drink it straight, there's a unique taste that comes through at the end," said lab chief Miwa Meguro. "It warms you to the fingertips and is recommended for people who may have a chilly constitution."
Explaining the thinking behind the drink's name, Meguro said, "Sunlight circulates throughout the body, warming the arms and legs, and it makes people healthy."
If drunk daily, the manufacturer recommends an amount equivalent to one ochoko — a small cup used to drink sake. Adding hot water, carbonated water or orange juice is said to make it more palatable.
The group plans to sell the beverage as a potential gift item in department stores in the Tokyo metropolitan area and is currently developing another product — dokudami tea in plastic bottles — with an eye on a launch next spring.
Add TheJapanNews to your Google News feed.