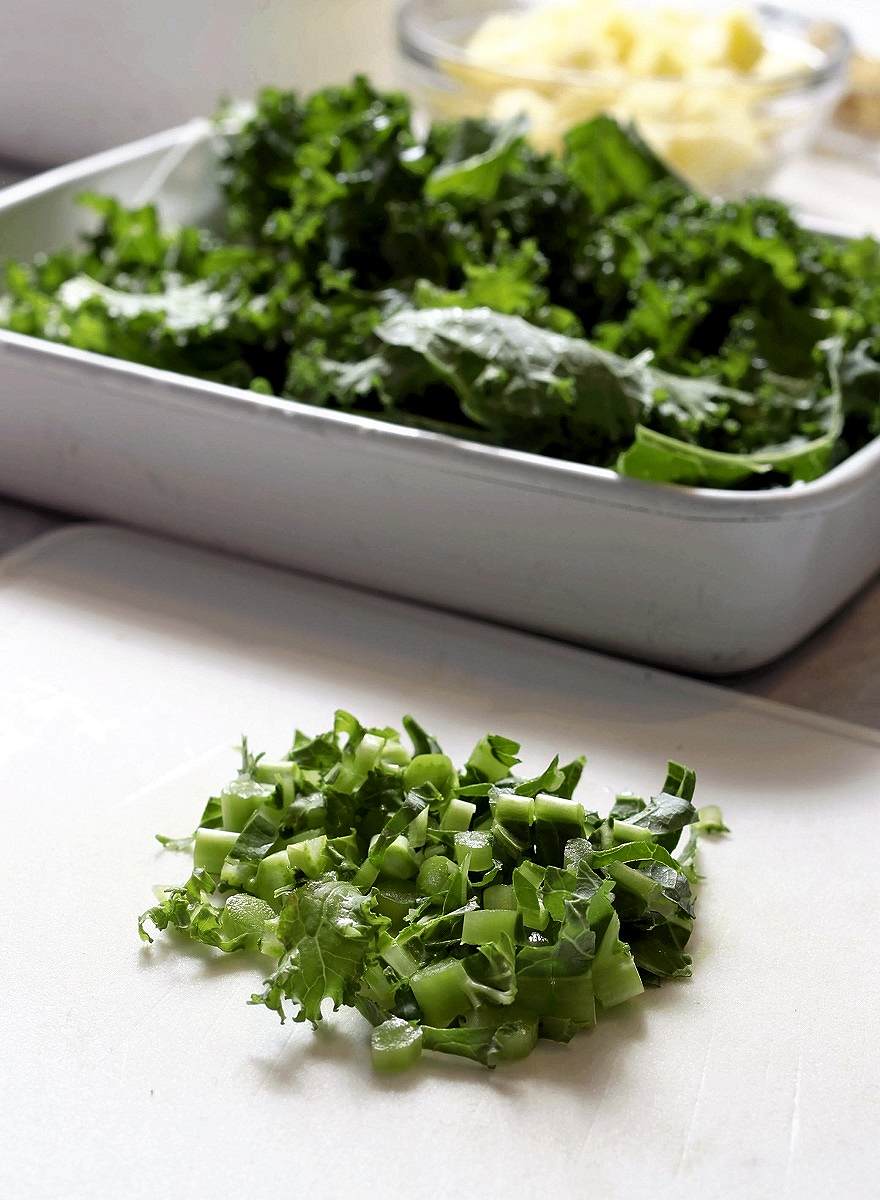 16:15 JST, August 6, 2023
Kale, a leaf vegetable, is a superfood rich in vitamins, beta-carotene and potassium. Gaining in popularity and often eaten raw in salads, it is also delicious when sauteed. Makiko Hei, who runs the cooking school "vege vege vege" in Tokyo, shared with us two recipes that make use of sauteed kale.
There are several types of kale, according to JA Hitachi in Hitachiota, which is a major kale production center in Ibaraki Prefecture.
The kind often seen in supermarkets is called curly kale and has frilly leaves. Hei uses this for both dishes.
The first recipe is a soy milk minestrone soup that features the umami of the many vegetable ingredients.
Kale veins are tough, so chopping them makes it easier to eat, Hei said. She also gave instructions to not put the potatoes in water before cooking. "This adds richness to the soup," she said.
You can be fully satisfied with the sauteed kale that hasn't lost its crunchy texture. The soup with its many ingredients is filling, and adding soymilk makes it pleasantly creamy.
Soy milk kale minestrone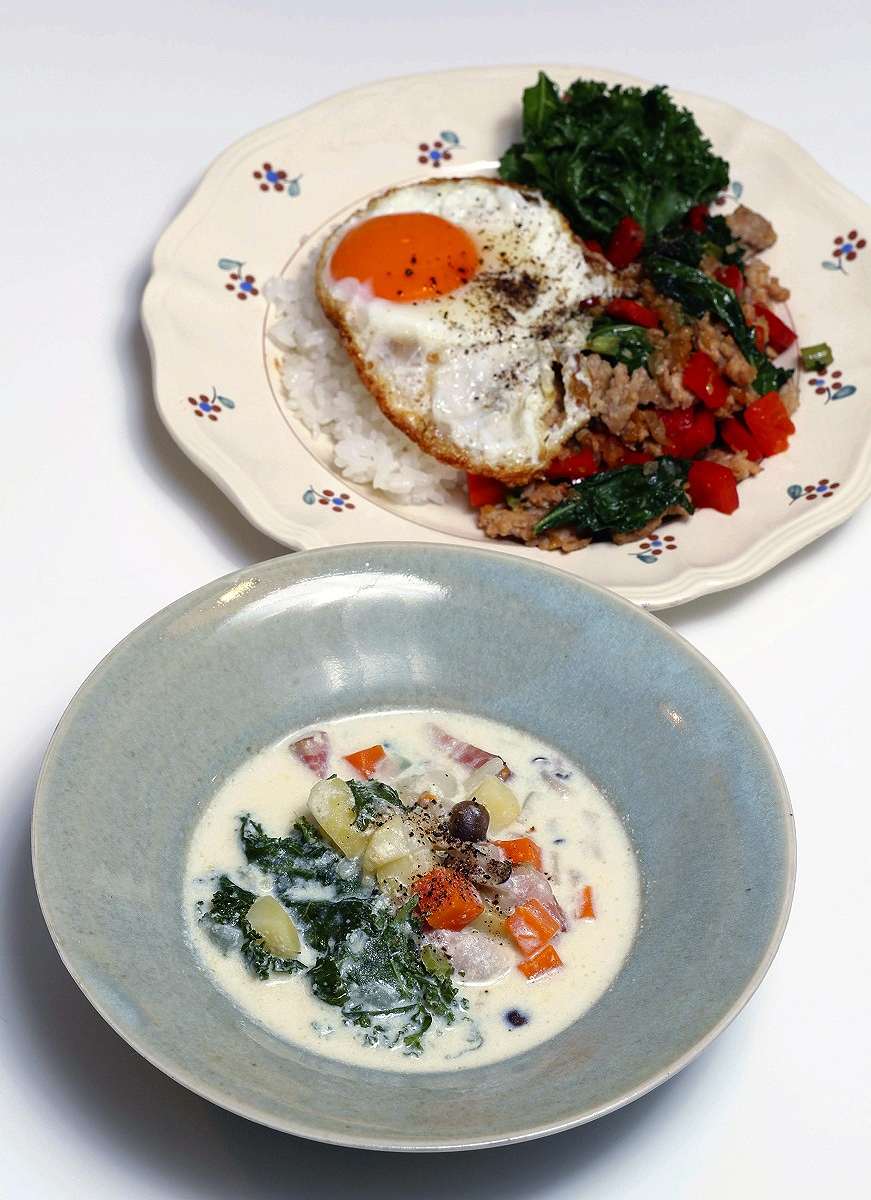 Ingredients (serves 4)
2 small peeled May Queen potatoes (100 grams after peeling)
1/2 onion (100 grams)
80 grams of carrot
1/2 pack shimeji mushrooms
2 curly kale leaves (about 30 grams each)
1 bacon slice (about 5 millimeters thick, 70-80 grams)
400 cc plain soy milk
1 1/2 tbsp white miso
1/2 tbsp salt
coarsely ground black pepper to taste



Directions:

1. Peel the potatoes and onion. Leave the skin on the carrot. Cut the vegetables into 1-centimeter cubes. Cut the shimeji mushrooms into 1.5-centimeter-long pieces after removing the bottoms. Remove the veins from the kale leaves, then tear the leaves into bite-sized pieces. Finely chop the removed veins into 5-millimeter-wide pieces. Slice the bacon into 5-millimeter-wide strips.

2. Heat 1/2 tablespoon of olive oil in a heavy saucepan. Add the onion, carrot, shimeji mushrooms, kale veins and bacon, and cook over medium heat. When the onion is translucent, add 300 cc of water and the potatoes. Increase the heat to high and bring to a boil, then lower the heat, partially cover with a lid and simmer for 15 minutes.

3. Dissolve the white miso in the pan, add the soy milk and kale leaves, and bring to a boil. Season with salt and pepper to taste. Serve and sprinkle with a dash of black pepper.

The next recipe Hei introduced is gapao-style rice with kale, which is a variation on the classic Thai dish gapao rice. Usually, basil is used for gapao rice, but this time, kale is used instead. The kale and oil go well together, and as sauteing the kale lessens its bitterness, you can enjoy the milder bitterness to your heart's content.

"Kale is a versatile vegetable. It also tastes well in miso soup," said Hei.

Gapao-style rice with kale

Ingredients (serves 2)

200 grams minced chicken
1/4 onion (50 grams)
3/4 red bell pepper (100-120 grams after removing stem and seeds)
2 curly kale leaves (about 30 grams each)
1/2 tsp red chili pepper (sliced into rounds)
1 tbsp chopped ginger
1 clove of chopped garlic
1/2 tbsp fish sauce (or soy sauce)
1/2 tbsp oyster sauce
1/2 tbsp sugar
2 eggs
coarsely ground black pepper to taste
2 servings warm cooked rice



Directions:

1. Chop the onion coarsely. Cut the bell pepper into 1-centimeter cubes after removing the stem and seeds. Tear kale leaves into bite-sized pieces after removing the veins. Chop the veins, too.

2. Place 1 tablespoon of rice oil (or salad oil), ginger and garlic in a frying pan and put over low heat. Stir in and fry the onion, kale veins and red chili pepper. When the onion is translucent, increase the heat to high, add the minced chicken, and stir-fry further.

3. When the minced chicken begins to brown, add the red bell pepper and kale leaves as well as a pinch of salt and pepper to taste. Put aside some of the kale leaves for garnish. Add the mixture of fish sauce, oyster sauce and sugar, and stir-fly further.

4. In a separate frying pan, heat 1 tablespoon of rice oil (or salad oil) over high heat, crack and add the eggs, and cook until the edges of the egg whites are crispy to make sunny-side up fried eggs.

5. Place cooked rice in a dish, top with the kale gapao and sunny-side up fried egg. Garnish with the rest of the kale leaves and sprinkle with a dash of black pepper.
Add TheJapanNews to your Google News feed.