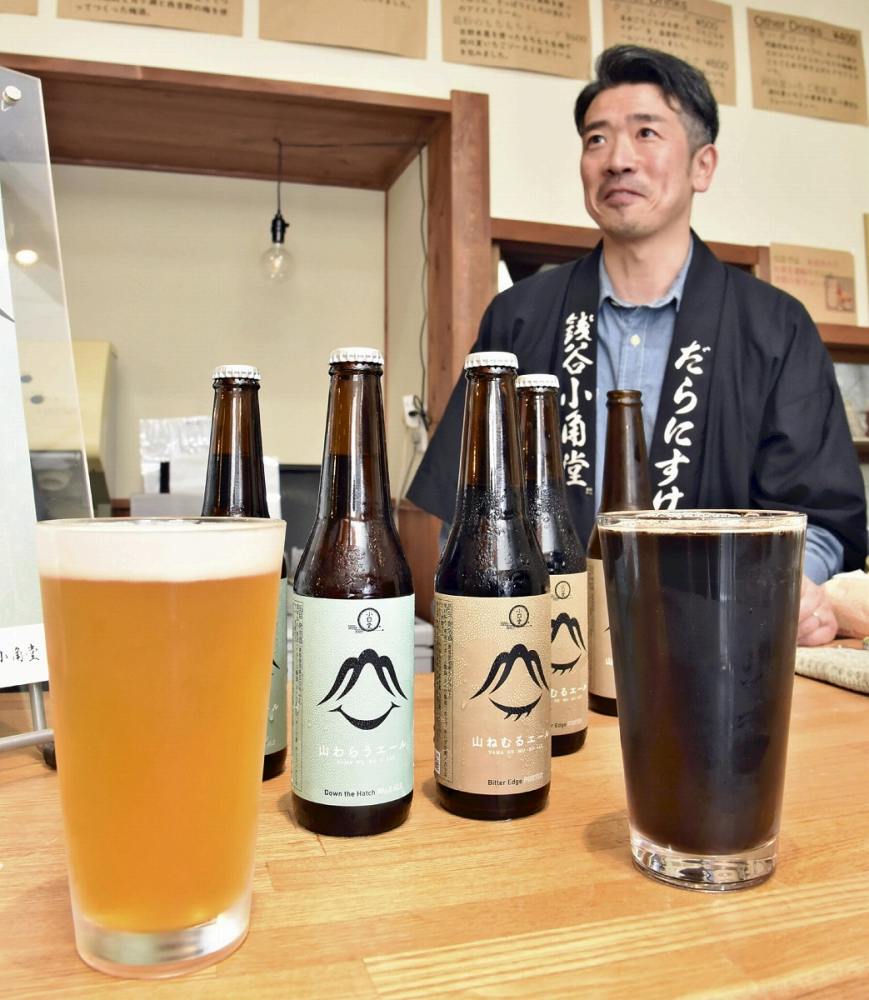 15:30 JST, July 23, 2023
TENKAWA, Nara — An herbal medicine company called Zenitani Shokakudo in Tenkawa, Nara Prefecture, has opened a craft beer brewery that uses gorogoro-mizu, local spring water.
Takahiro Zenitani, 42, fifth-generation president of the herbal medicine company, established Dorogawa Onsen Brewery.
In August last year, he purchased a former coffee shop located in the central part of Dorogawa Onsen hot spring resort and refurbished it into a brewery with four 500-liter tanks.
Then this spring, the brewery began full-fledged production of craft beer.
The Dorogawa Onsen area is known as a base for climbing Mt. Omine, which is a world heritage site. Practitioners of Shugendo, ascetic practices that are a fusion of mountain worship and Buddhism, visit the sacred mountain.
Also, the hot spring resort area is a popular tourist destination as a summer retreat and to view autumn foliage. However, because Tenkawa is located deep in the mountains and there is not much farmland, the village doesn't have any local goods except for daranisukegan herbal medicine produced by Zenitani Shokakudo.
People in the village sought to develop the beer into a new local specialty because tourists can enjoy it casually. Zenitani looked into gorogoro-mizu water, listed as one of the nation's best 100 spring water brands.
The spring water emerges from the ground after passing through limestone caverns for 50 to 100 years. It is alkaline soft water and easy to drink.
When the number of visitors to the village was low due to the novel coronavirus pandemic, Zenitani transported spring water with cooperation from another craft beer brewery in Nara City and brewed the beer. Then he worked to produce better tasting beer.
The craft beer has two varieties.
One is named Yama Warau Ale, which is a pale ale that contains a lot of hops and is characterized by its light taste. Its fruity flavor evokes an image of Mt. Omine in the springtime. The beer also has a grape aroma and the acidic and bitter flavors of grapefruit.
The other variety, Yama Nemuru Ale, is a porter-style black beer that evokes winter. While the bark of Amur cork trees is used in herbal medicine, the fruits are not, so instead of going to waste they are used in the beer. The fruits add bitterness and spiciness to the deep-tasting brew.
Zenitani said he also wants to develop other beers that evoke summer and autumn.
On June 14, an event to introduce the beer was held in Tenkawa. Mayor Shigetaka Kurumatani, who tasted the beer, said, "As beer is easy for visitors to obtain, I expect this [beer brand] will likely take root as a local specialty."
The brewery has a taproom where visitors can drink the beer while standing. Zenitani said, "If the beer prompts visitors to walk around the area, then our entire community will be revitalized."
Both varieties are sold in 330 milliliter bottles. Each is priced at ¥800 including tax. The beer can be bought in Zenitani Shokakudo's shop and at a michi no eki roadside rest area in Kurotaki, another village in the prefecture.
The taproom opens from 3 p.m. to 10 p.m. and is closed on Thursdays. For telephone inquiries, call Zenitani Shokakudo at (0747) 64-0046.
Add TheJapanNews to your Google News feed.