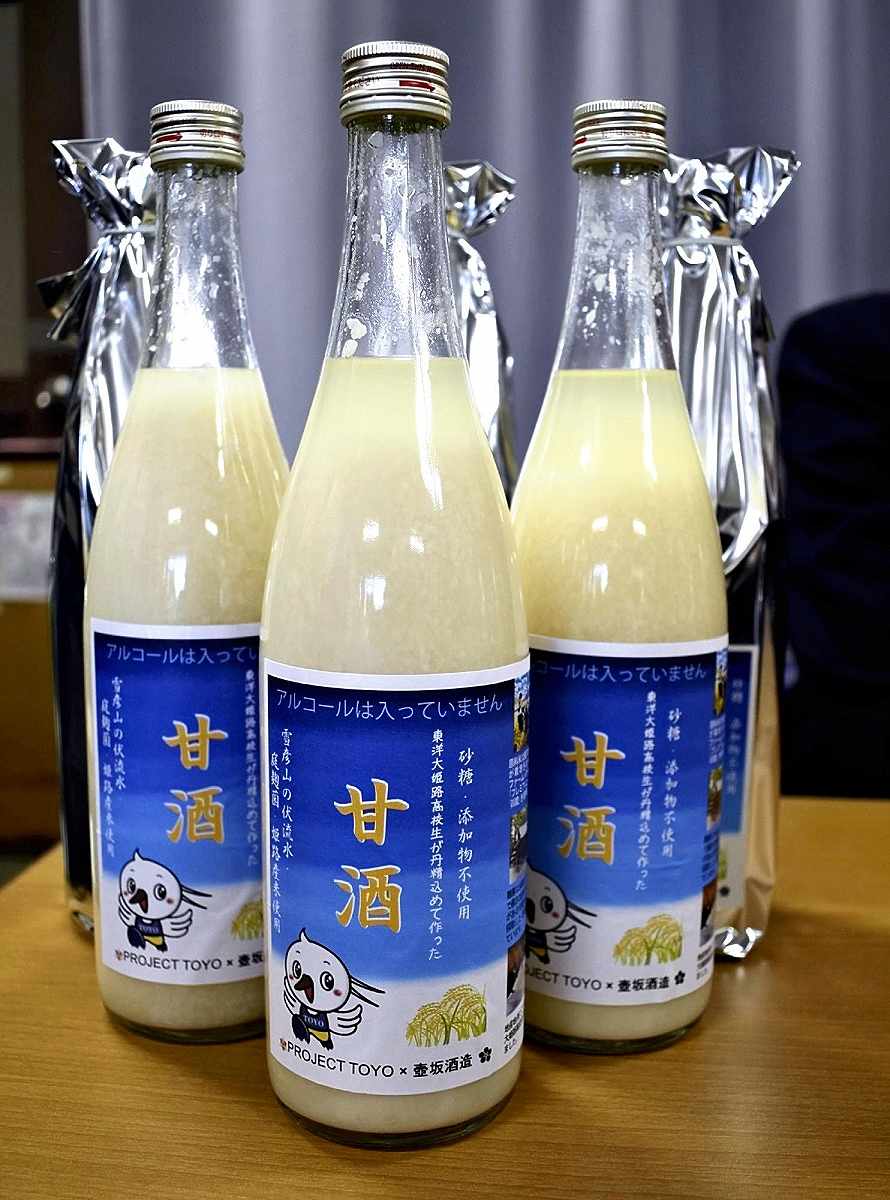 10:48 JST, June 21, 2023
HIMEJI, Hyogo — High school students in Himeji, Hyogo Prefecture, produced amazake using local rice in collaboration with a local brewery as part of an extracurricular club.
In the club, Project Toyo, students at Toyo University Himeji High School come up with new specialties using locally harvested food. For a recent project, club members teamed up with Tsubosaka Shuzo Co. and spent nine months brewing amazake from scratch: planting, weeding and harvesting pesticide-free rice before brewing. The members hope their efforts boost consumption of Himeji rice.
Since its establishment in 2019, Project Toyo has so far commercialized canned local traditional vegetables, pork and venison, as well as strawberry sherbet and ice cream. There are now 36 members in the club, and 10 were involved in the amazake project.
Club members noticed the decline in domestic rice consumption and came up with the project to produce the nutrient-rich drink last spring, asking Tsubosaka brewery to work with them. They grew Premium Hinohikari brand rice in the city's rice paddies and harvested in the fall.
During their spring break in April, they used rice malt from Niwata Shrine in Siso — the city said to be the birthplace of sake — and river-bed water from Mt. Seppiko to produce 720 bottles of amazake at the brewery. A 700-milliliter bottle sells for ¥972 with tax included.
The texture of Project Toyo's sake is smoother than other amazake.
The school's mascot character is on the bottle label along with a message: "Made with great care by Toyo University Himeji High School students."
"We carried heavy rice and washed it with cold water," Haruto Miyashita, 16, said. "I want many people to taste this amazake."
Tsubosaka president Yoshiaki Tsubosaka, 47, said, "This is our first project with high school students. I was moved when seeing them bravely tackle unfamiliar tasks."
Add TheJapanNews to your Google News feed.