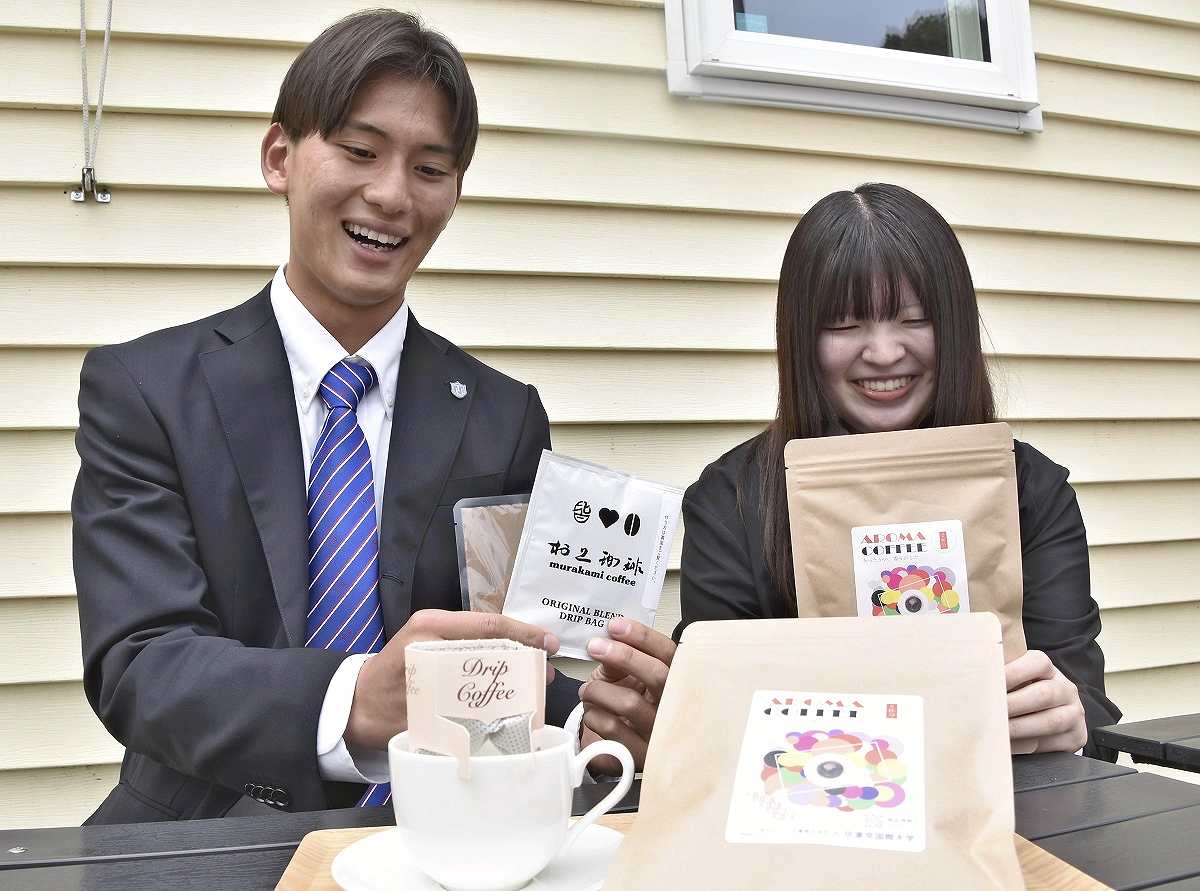 11:49 JST, June 6, 2023
SAITAMA — A Tokyo International University student and a company in Ageo, Saitama Prefecture, have collaborated to spice up your coffee drinking experience.
The new product, Aroma Coffee, not only provides a spice aroma but also enhances the taste of the coffee, according to its maker, Inoue Spice.
Each drip bag of Aroma Coffee includes a packet of cinnamon or cardamom, which users add on top before pouring in hot water. The result is a cup of coffee with a sweetness unique to spices that will leave a lasting impression on your senses.
Since last September, the university, which has two campuses in Kawagoe, Saitama Pref., has hosted Inoue Spice staff as lecturers for a class on how to solve corporate problems, with the prefectural government's industry and labor department having introduced the two. 29 students who participated in the class have been trying to create new products using spices in order to cultivate new customers.
The Inoue Spice lecturers advised the students of the importance of considering the customer base when planning a products. Of the students' project proposals, which included soups or chai, it was coffee that was chosen as the product to be developed on a commercial basis.
Aroma Coffee targets mainly young women. The packaging is designed to catch the eye with colorful illustrations depicting the aroma of spices. As spices generally warm the body, the Japanese word "onkatsu" (doing things to warm the body) is displayed on the package.
Maiko Oshio, a senior at the university, who came up with the idea of Aroma Coffee, said "I hope the coffee will appeal to young women who are sensitive to health and other trends."
Inoue Spice President Tsuyoshi Inoue said: "Aroma Coffee became a good entry point for us to attract younger customers, as most of our customers are usually in their 40s or older. "
Aroma Coffee is priced at ¥594 (tax included) for two drip cups. It can be purchased at Inoue Coffee stores or at the company's mail order site (https://spice-town.com/)
Add TheJapanNews to your Google News feed.