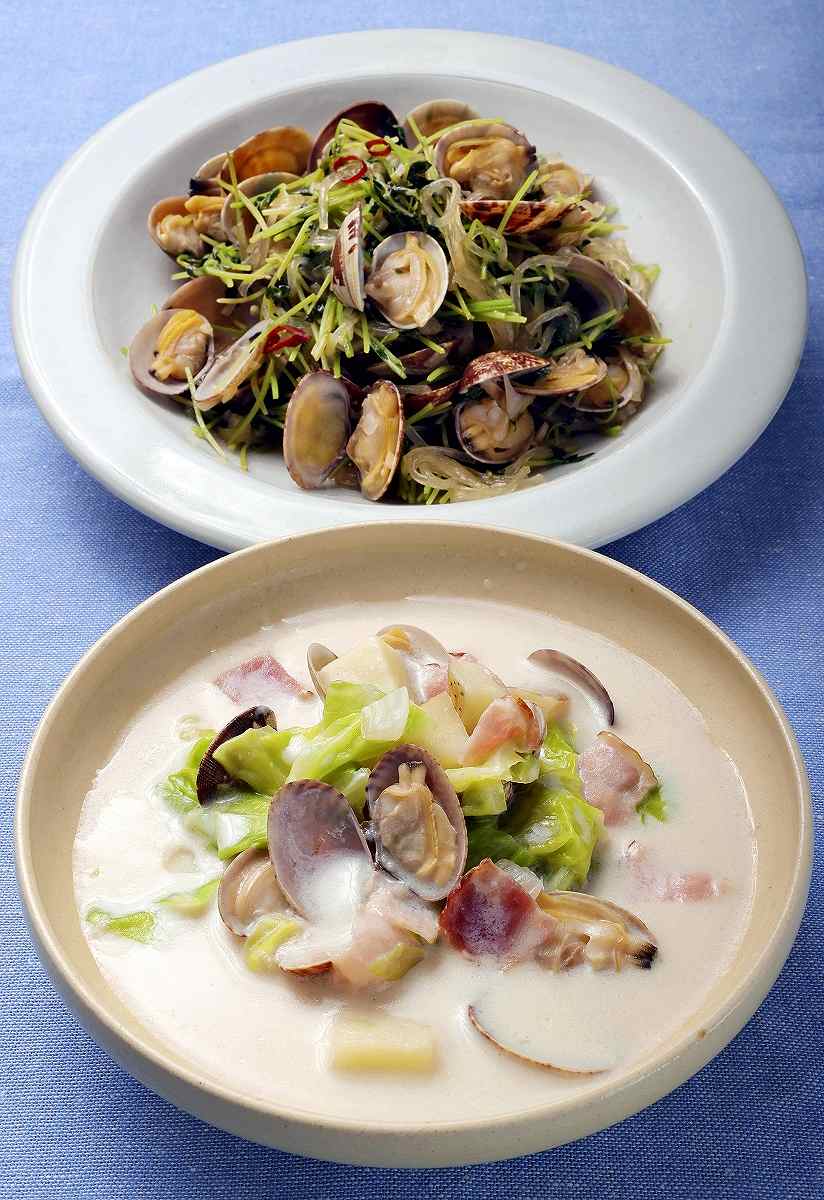 12:30 JST, April 29, 2023
Asari clam season is at its peak in spring. Asari, or Japanese littleneck clams, can be enjoyed in various ways, be it steamed or braised. Cookery specialist Ai Yoshida shares two recipes with The Yomiuri Shimbun that let you savor their delicious flavor.
Asari, bivalves that can be dug up and gathered on beaches in spring, are very familiar to the Japanese diet. It is said that Japanese people have been eating asari since the Jomon period which began around 12,000 years ago.
In recent years, the amount of asari catch has decreased due to reasons such as the deterioration of the shellfish's habitat. Now, nearly 90% of asari sold in Japan come from overseas. Yet that does not change the fact that the clams are rich in minerals and other nutrients — and that they are delicious.
"I recommend the ones that are heavy and have round shells with clear patterns. The meat inside should be plump and tasty," Yoshida said.
First, here is how to prepare asari before cooking. Soak them in a 3% saltwater solution for about three hours to let them expel sand from their shells. Then wash them well in water by rubbing the shells together.
The first recipe is Chinese-style braised asari with tomyo pea sprouts and harusame glass noodles.
Braised asari with harusame
Ingredients (serves 2)
250 grams asari clams
1 bag tomyo pea sprouts
30 grams dried harusame glass noodles
1 clove garlic, finely chopped
½ red chili, sliced
½ tbsp oyster sauce
1 tbsp sesame oil
3 tbsp sake



Directions:

1. Cut off the roots of the tomyo, then slice into thirds. Rehydrate harusame in boiling water, following the instructions on the bag. Cut into an easy-to-eat length. Both the sprouts and harusame absorb the broth from the clams.

2. Put the sesame oil, garlic and red chili in a frying pan over medium heat. When they become fragrant, add the tomyo and harusame to the pan. Stir-fry briefly and scatter the clams on top. This step is still part of preparations before steaming, so do not stir-fry too much.

The Yomiuri Shimbun


Asari clams should be placed on top of the lightly stir-fried tomyo sprouts and harusame vermicelli in the pan.

3. Pour sake evenly over pan, cover and braise clams for 2 to 3 minutes over medium heat. When the shells open, remove the lid and add the oyster sauce and a little pepper. Mix well. Make sure that the taste of the asari that have opened fully spreads through the pan.

You can use soy sauce instead of oyster sauce. This dish is perfect to eat with rice because it has a nice texture and the flavor permeates the tomyo and harusame.

The second recipe fit for spring is clam chowder made with soy milk and spring vegetables. Using fresh seasonal ingredients makes cooking easy because they don't take much time to cook through and they help create a springtime atmosphere.

Soy milk clam chowder

Ingredients (serves 2)

100 grams asari clams
2 pieces or 100 grams bacon
2 leaves or 100 grams spring cabbage
1 medium new potato (100 grams)
¼new onion (shin-tamanegi)
2 tsp cake flour
10 grams butter
200 ml soy milk
250 ml water
Salt and pepper to taste



Directions:

1. Cut bacon and spring cabbage into 2-centimeter pieces and potatoes and onion into 2-centimeter cubes. Soak potato cubes in water, changing the water twice or three times before draining.

2. Put butter in a pot over medium heat. Add potatoes and onion and stir until cooked through. Add bacon and cabbage and stir-fry the ingredients.

3. When the cabbage looks soft enough, add flour and mix until the flour's powdery texture is gone. Wait until the mixture thickens.

4. Add water to the pot. When it has started boiling, put asari clams into the pot and cook for 2 to 3 minutes until all the clams open their shells. Add soy milk and continue heating the pot, taking care not to let the soy milk boil. Season with salt and pepper.

Be careful not to overcook the ingredients. "When you overheat asari, the meat loses its umami flavor and becomes smaller, so please be careful," Yoshida said. Asari contains salt, so check the taste and season carefully. This recipe condenses asari's umami flavor well, so there is no need to use granulated broth or soup cubes.
Add TheJapanNews to your Google News feed.