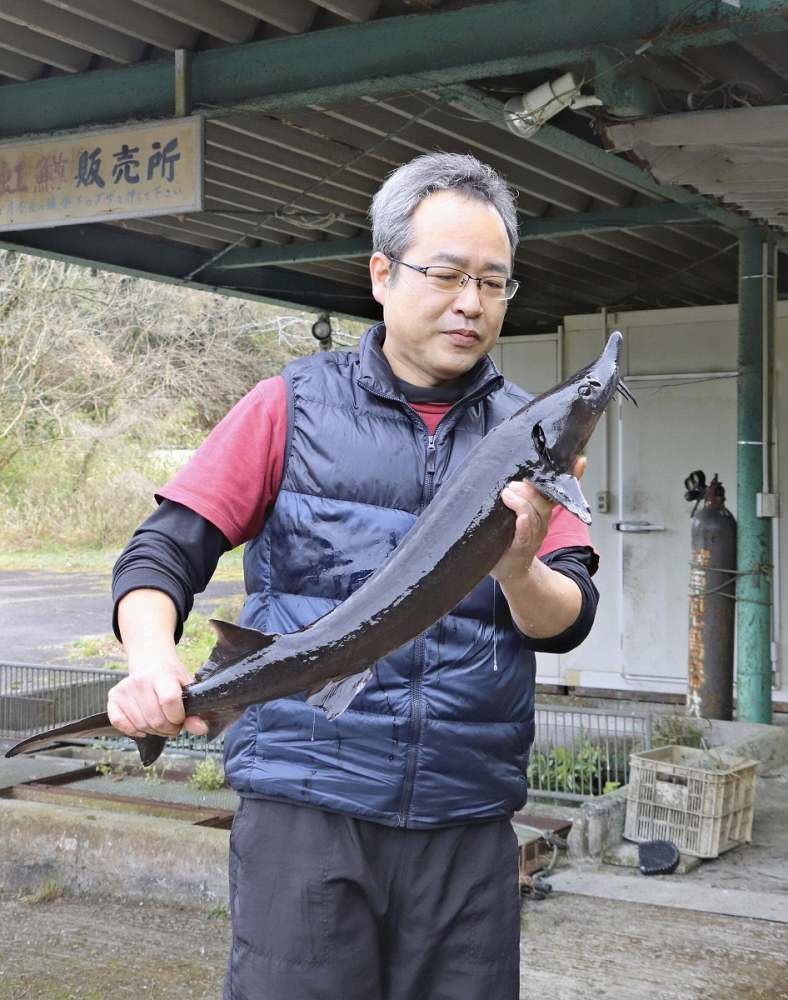 14:00 JST, April 25, 2023
MIYAZAKI — Despite producing one of the most expensive food items in the world, not as many people are interested in eating the meat from the actual fish as they are its roe.
The demand for the meat of sturgeon, which produces roe more commonly known as caviar, has remained low in Japan despite an increase in domestically farmed sturgeon. Making use of the meat from males has proven especially difficult.
According to Miyazaki Prefecture's fisheries policies division, a testing site of its fisheries department in the city of Kobayashi began experimenting with raising sturgeon in 1983. In 2004, they succeeded in raising white sturgeon from eggs for the first time in Japan. The knowledge was shared with private sector firms, and now, about 20 companies in the prefecture raise a total of about 50,000 sturgeons, and some of the eggs are exported as caviar. Despite this, the meat from the fish has rarely been used, except in some dishes served in Kobayashi.
Miyazaki Prefecture is a major sturgeon farming area, and according to its research, sturgeon has been found to be highly nutritious.
In a 2014 report by the local government and universities outside the prefecture, analysis showed that not only is white sturgeon meat high in protein and low in fat, it also contains collagen and balenine, which is thought to prevent fatigue. White sturgeon also has a much higher amount of carnosine, which is effective in preventing dementia, compared to other fish.
According to the prefectural government, sturgeon, which has a chewy texture and light flavor, can be eaten raw up to five days later.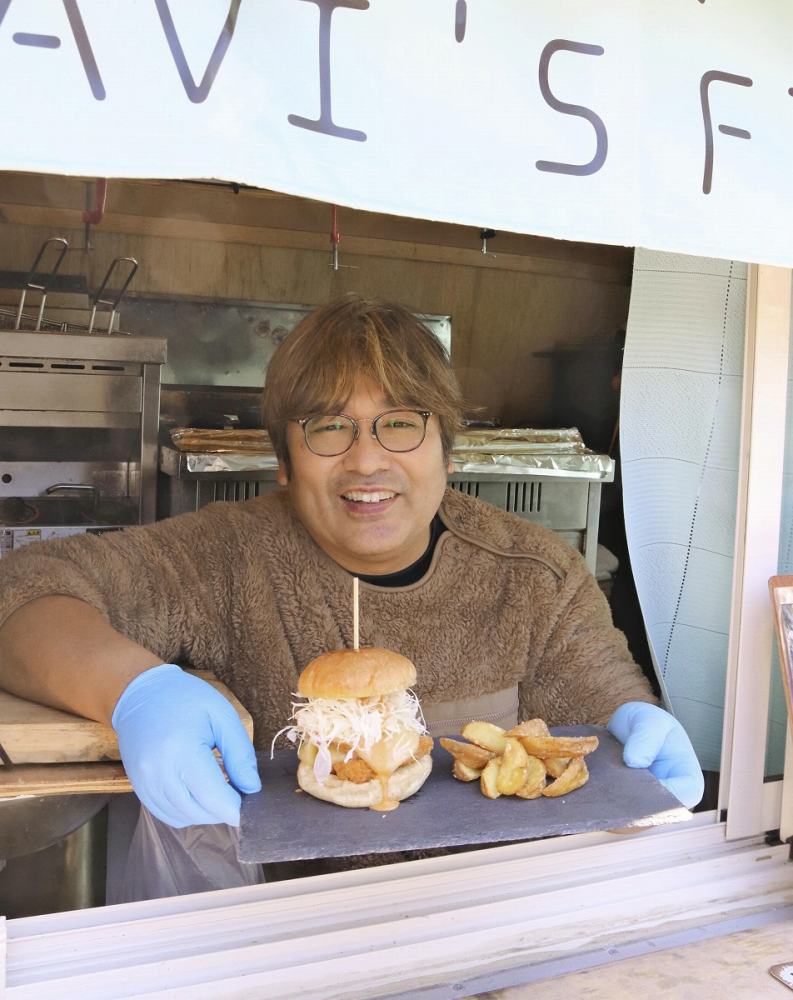 Ayu no Yoshino, which raises about 4,000 white and Russian sturgeons in Saito, Miyazaki Prefecture, started producing a fried sturgeon burger with tartar sauce in 2022. Ayu no Yoshino sells the burger from a food truck at various events for ¥700. The light flavor of the sturgeon goes well with the flavor of the sauce.
"Unlike caviar, sturgeon meat is not as well-known, but I want people to discover how delicious it is," said Hidetoshi Yoshino, 48, who created the burger.
Ide no Yama Ikoi no Ie, a restaurant that also raises about 3,500 sturgeons on its farm, has been serving dishes using the fish for more than 20 years. The fish served as sashimi with ponzu citrus-flavored soy sauce is especially popular. As the meat is in limited supply, the sashimi is only served on weekends and holidays.
"As the end of the pandemic is in sight, we are excited about creating new and more interesting dishes and products," said the restaurant's president, Uichiro Sakamoto.
For four-legged friends
Sturgeon meat is also being used to make pet food. The Miyazaki-based wholesaler Kyushu Tsukiji Co. has been boiling the fish and making it into a paste, following instructions from veterinarians, to sell it as pet food since January 2022.
With orders for the fish declining, Kyushu Tsukiji President Kayoko Tsukiji started developing pet food using sturgeon during the COVID-19 pandemic.
The company wanted to emphasize the fish's high nutritional value and advertised it as a supplement that could be added to a dog's or cat's regular food. Kyushu Tsukiji sells 10 servings, which are 10 grams each, for ¥2,000. The firm's pet food sales had reached about ¥3 million by the end of February.
"There is a ripple effect in which pet owners will order sturgeon fillets for themselves after purchasing pet food," said Tsukiji, who is a dog owner. "It would be nice if male or post-spawning female sturgeon meat, which is a headache for farmers [to sell], would be used more."
Add TheJapanNews to your Google News feed.