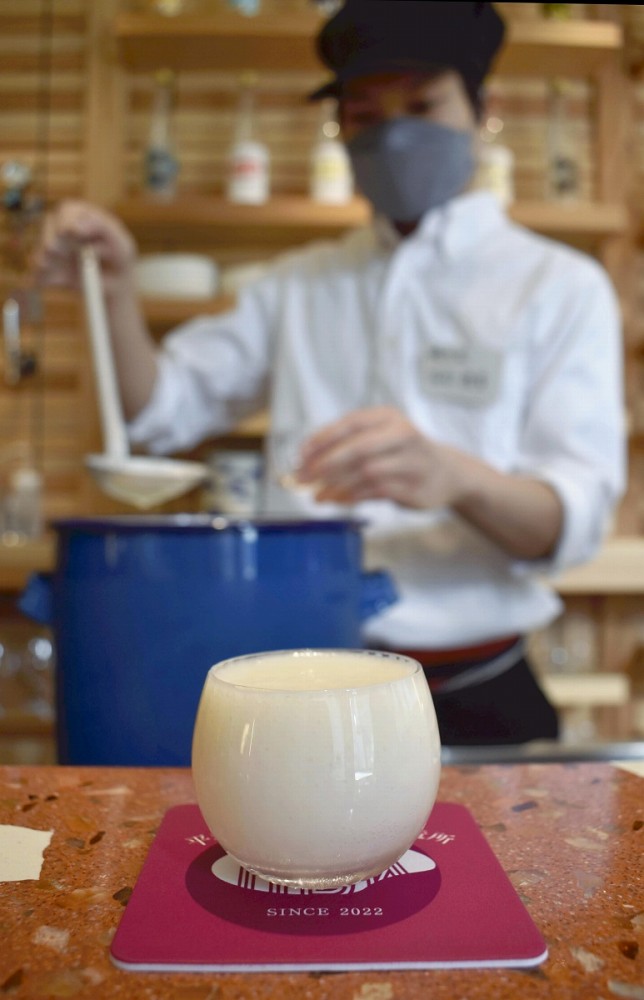 14:00 JST, March 28, 2023
Doburoku, a type of unfiltered cloudy sake, is experiencing a renaissance. New brewers have joined long-established sake breweries in starting to brew the sweet rice wine, creating products with unique flavors and fragrances using fruit and other ingredients.
All other sake is said to originate from doburoku. In addition to being cloudy in appearance, the drink is thick in texture. Many doburoku products are also slightly effervescent.
Heiwa Doburoku Kabutocho Brewery, a pub in Chuo Ward, Tokyo, that opened in June, serves doburoku brewed in-store using a 10-liter stockpot, along with snacks. It is operated by Wakayama Prefecture-based brewery Heiwa Shuzou, known for its Kid sake brand.
"Doburoku has been produced since ancient times, but many people are not familiar with it," said Norimasa Yamamoto, 44, the brewery president. "We want to offer a fresh experience of drinking an old yet new beverage."
In addition to plain, the pub offers about 10 other flavors, such as strawberry and hops, for ¥500 to ¥550 per 70-milliliter cup. The doburoku still has some remaining rice grains, which are the main ingredient for making sake, and they provide a refreshing, umami-rich flavor.
"There is a pleasure of creating flavors as you like and doing things by hand," said Yamamoto. "I especially want people who don't drink sake very often to give it a try."
Popular craft drinks
Under the Liquor Tax Law, doburoku is classified as "other brewed alcoholic beverages." The minimal brewing volume requirement is 6 kiloliters per year, which is less than that for filtered sake, making it easier to obtain a brewing license. Brewers are also permitted to use ingredients such as fruit and spices to add flavor and fragrance.
Although consumption and production of alcoholic drinks is on the wane in Japan, doburoku seems to be attracting more and more attention, partly due to the popularity of small craft breweries creating distinctive products. The number of doburoku makers is also on the rise.
Nihonshu Hotaru, an izakaya pub in Kanda, Tokyo, began brewing doburoku in-store in 2016. The izakaya's customers are mainly male company employees in their 40s and 50s. Young couples also come on weekends.
The menu includes doburoku sours, which are cocktails mixed with citrus juice, in an effort to provide different ways to enjoy the sake.
"Our customers are happy to be able to drink freshly brewed alcohol," said the owner of the izakaya. "They say [doburoku] tastes better than they expect. We have a growing number of repeat customers."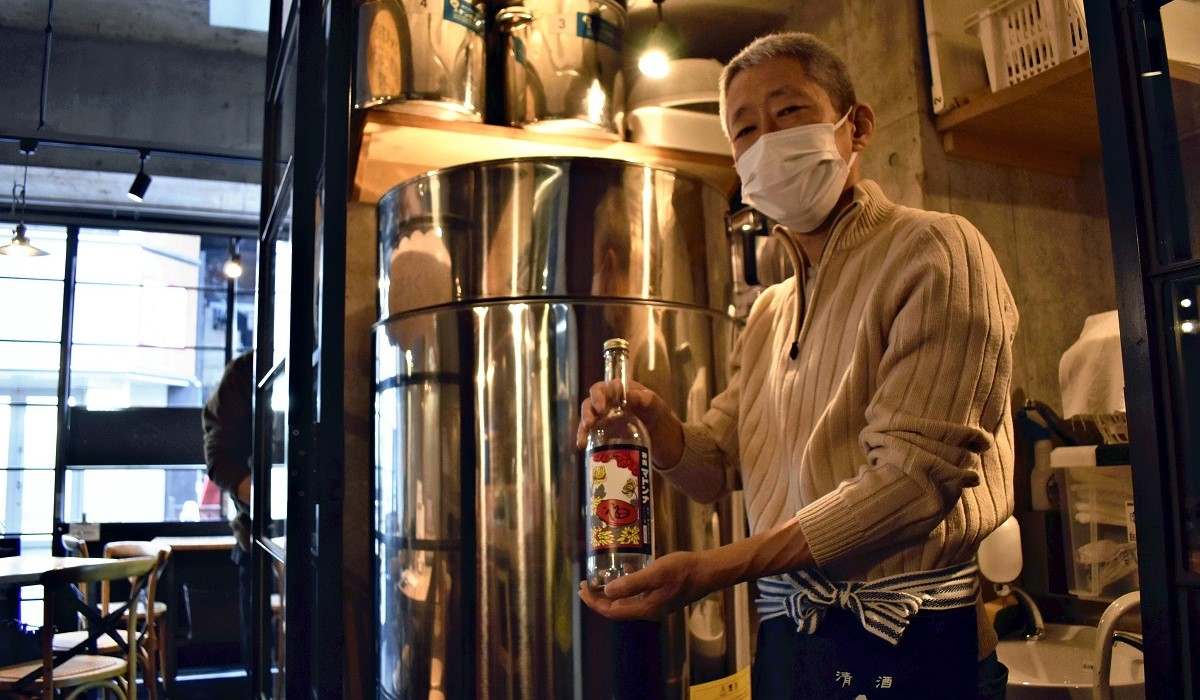 Lagoon Brewery Inc. in Niigata was established in 2021 by Yosuke Tanaka, 43, after he left the Imayo Tsukasa Sake Brewery Co., where he served as president.
Lagoon Brewery produces about 9 kiloliters of doburoku a year under the Shoku brand, using locally grown rice. The sake comes in 720-milliliter bottles that are priced between ¥2,640 and ¥3,300. Some products sell out as soon as they're made available.
"Our products appeal not only to connoisseurs but also to people who like new things," Tanaka said.
Efforts to make people aware of doburoku have also met success.
In 2019, the Nihon Dento Doburoku Kenkyujo, an organization that organizes workshops on the production and sale of doburoku in Hofu, Yamaguchi Prefecture, started up. It certifies instructors of Japanese sake culture and brews its own doburoku.
In 2021, the organization also began certifying "Japanese traditional doburoku navigators."
Pairs well with cheeses
Cooking specialist Yukiko Hirano, who is also a certified instructor of Japanese sake culture, has some suggestions for the beginner on how to pair doburoku with home-style dishes.
Cheese and cream sauce dishes are a good place to start, she says, as these foods' rich flavors and mild textures are similar to that of doburoku.
Korean, Thai and other spicy cuisine, as well as vegetables fried with spices, are also suited to the gentle, bubbly mouthfeel of doburoku, which leaves the mouth refreshed.
"Take advantage of doburoku's effervescence and light sour taste, and the thickness and sweetness brought by the rice," said Hirano.
Add TheJapanNews to your Google News feed.