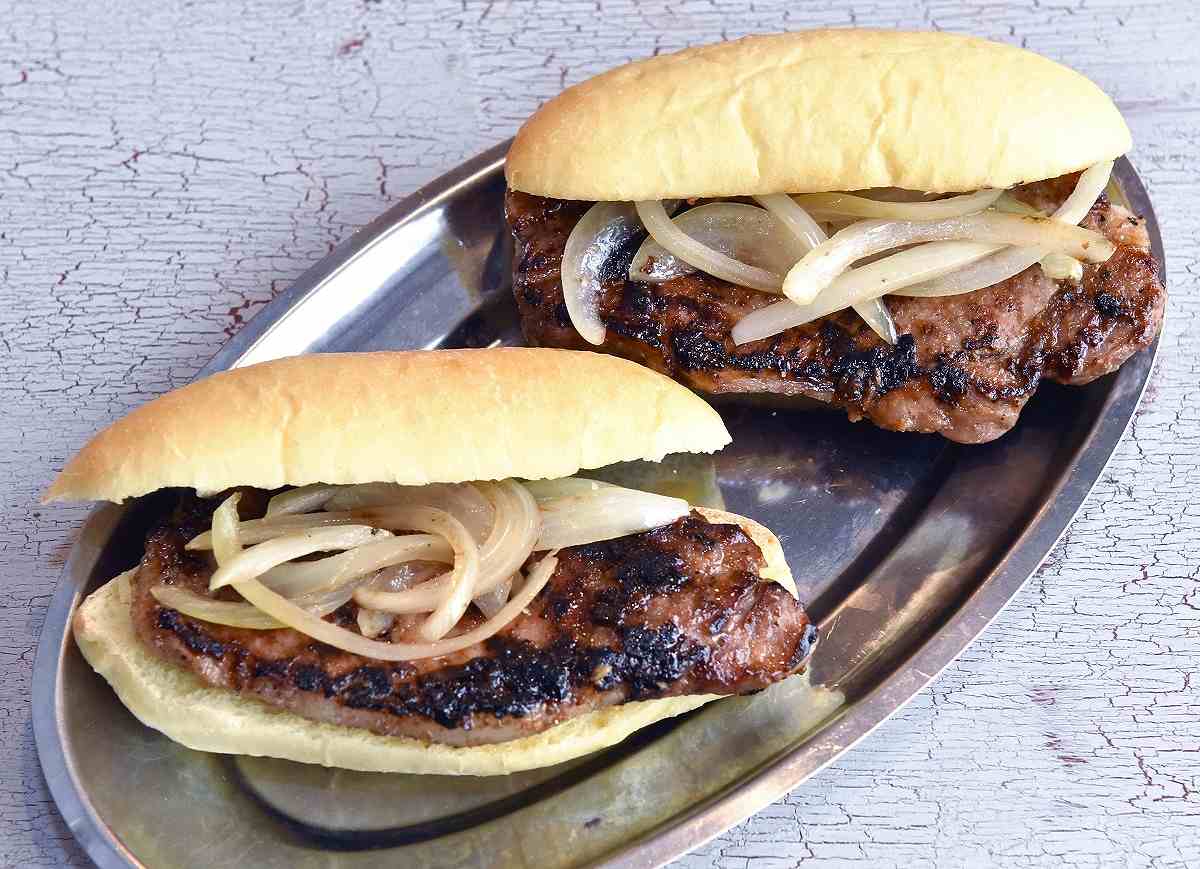 12:00 JST, March 18, 2023
When traveling, simple dishes served at markets and food stalls are often more memorable than hotel food. For culinary researcher Asami Kuchio, one such dish was a pork chop burger she had in Macao.
The burger had a simple appearance, but it was incredibly flavorful.
The chu pa pao burger, which is a grilled pork chop between two slices of bread, is fairly easy to find in Macao. Kuchio said the taste of the meat, which is grilled over charcoal until it becomes a beautiful brown color, was "irresistible" at local restaurants.
Macao, which was given back to China from Portugal in 1999, is unique in that it is a mixture of Chinese and Portuguese cultures, and the burger is no exception.
"The sweet and spicy pork has a Chinese flavor, while the bread has a Portuguese flavor," Kuchio said. "The combination is very Macao."
To prepare the meat, cut the muscle fibers of sliced pork loin so it is easy to eat. Then pound the meat before seasoning it with sweet and spicy sauce commonly found in Southeast Asia. Add five-spice powder — which is a mixture of star anise, huajiao Sichuan pepper, cinnamon and other spices — to give the dish more flavor.
After it is seasoned, sprinkle the meat with flour and cook it thoroughly.
"The more it's charred, the better it tastes," Kuchio said. "But be careful as it burns easily because of the sugar in the seasoning."
When the grilled pork is placed between two slices of bread — either French bread or hamburger buns — with stir-fried onions, the burger is complete. Kuchio said Portuguese rolls are often used at restaurants in Macao.
Kuchio used freshly baked homemade bread in her recipe. The sweet aroma, as well as the sweet and spicy meat, went well with the buttery bread. It is truly a fusion of food cultures. I enjoyed it while thinking about Macao.
Coffee, tea drink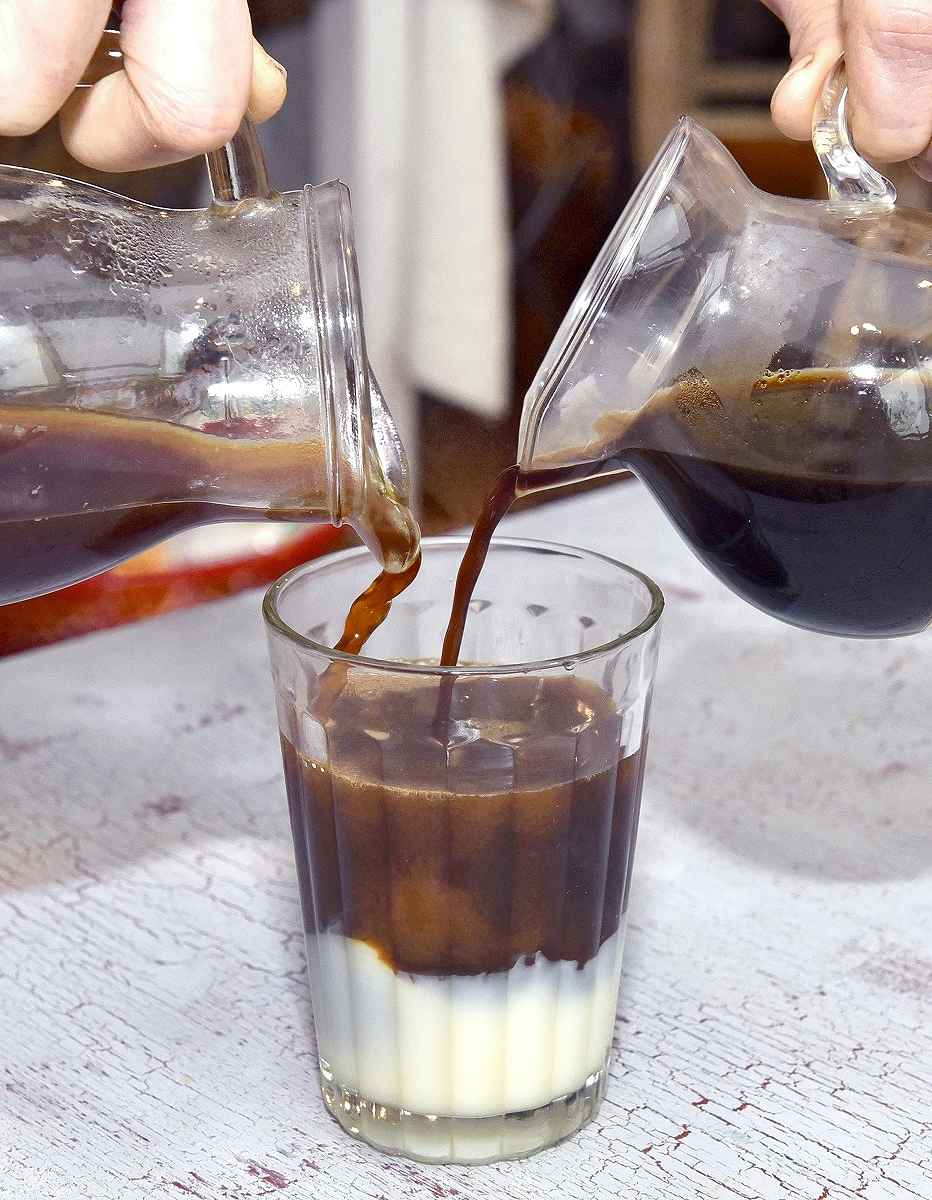 Kuchio shared her recipe for a yuen yeung tea, which is a mixture of coffee and tea, she had at a cafe in Macao. Pour condensed milk into a glass with ice, then add coffee and tea. Kuchio said the trick is to make strong tea so it is not overpowered by the coffee. Once everything is mixed together, it tastes like milk and coffee but the aftertaste has a hint of black tea flavor.
"In Macao, I remember the bitterness and sweetness of the drink soothed my exhaustion from the travel," Kuchio said.
Chu pa pao burger
Ingredients (2 servings)
2 pork loins (sliced for pork cutlets)
2 slices of bread
¼onion
½tsp salt
1 tsp sugar
1 tsp soy sauce
A pinch of pepper
1 clove garlic
1 tsp seasoning sauce
A pinch of five-spice powder
Butter as needed
Directions:
1. Mince the garlic and thinly slice the onions. Cut the muscle fibers of the pork, then wrap it in plastic wrap and pound it with a rolling pin.
2. Place the pork on a tray and sprinkle with garlic, salt, sugar, pepper, soy sauce, seasoning sauce and five-spice powder.
3. Pour oil into a frying pan and stir-fry the onions. When the onions become soft, remove them from the pan. Sprinkle a little flour on both sides of the pork and cook in the same pan after adding more oil.
4. Slice the bread in half, spread butter on both sides and toast. Place the pork and onions between the two slices of toasted bread.
Add TheJapanNews to your Google News feed.