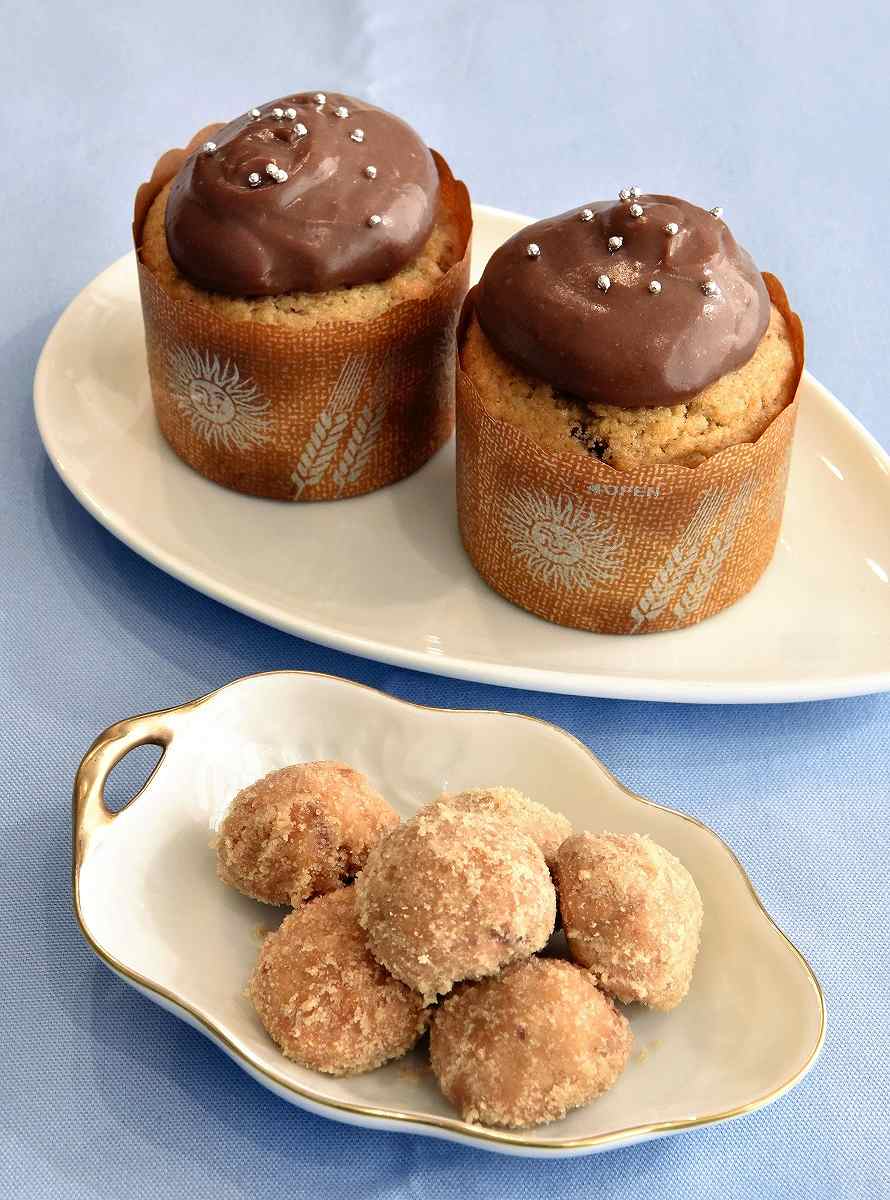 12:00 JST, March 11, 2023
Giving homemade sweets to someone special is always a thoughtful gift, and making them guilt-free as well is just another way to show you care, as you're also thinking about their health. Ayako Onishi, a nutritionist at Tokyo Gas Network Co.'s cooking school, has provided two healthy recipes.
Guilt-free sweets are low-calorie and low in sugar, making them popular among the health-conscious and sweet enough for those with a sweet tooth.
"You can make guilt-free sweets by just substituting a few of the usual ingredients," Onishi said.
In her recipes, Onishi replaced wheat flour with okara soy pulp and rice flour. She also substituted sugar with light brown sugar, which is high in minerals. Milk was replaced with soy milk, and butter with untoasted sesame oil. The result is less sugar, more fiber and more protein.
The okara muffins, which are topped with chocolate cream, are baked in a muffin pan and are deliciously moist. Crunchy snowball cookies are another tasty health-conscious treat.
Okara muffins
Ingredients (makes 4)
60 grams light brown sugar
2 tbsp soy milk (plain)
70 grams okara (raw)
50 grams rice flour
1 tsp baking powder
2 tbsp untoasted sesame oil
20 grams walnuts (roasted)
20 grams chocolate

Soy milk cocoa cream

1 egg (large)
3 tbsp light brown sugar
200 ml soy milk (plain)
2 tbsp rice flour
1 tsp cocoa (unsweetened)



Directions:

1. Put eggs and light brown sugar into a bowl and mix well. Add soy milk and okara, then thoroughly mix using a mixer or whisk.

2. Add rice flour and baking powder to the batter, then add untoasted sesame oil and mix again. Next, add coarsely chopped walnuts and chocolate and stir with a spatula. Do not stir too much, or the oil and fat from the walnuts and chocolate will mix with the batter.

The Yomiuri Shimbun


Be careful not to overmix the chopped walnuts and chocolate in the muffin batter

3. Pour the batter into a muffin pan and bake at 170 C for about 20 minutes. Check if it is completely baked by sticking a bamboo skewer into the muffins. Adjust the baking time as necessary.

Using another type of mold, such as a pound cake pan, works just as well.

4. Prepare the soy milk cocoa cream to spread on top of the muffins. Mix the egg, light brown sugar, soy milk, rice flour and cocoa in a bowl. After the mixture is strained, pour it into a pan. Cook over medium heat while constantly stirring.

When it comes to a boil and the texture starts to become smooth, transfer it to a bowl and place the bowl in ice water to cool. Top the muffins with the cream using a pastry bag or something similar.

Crunchy snowball cookies

Ingredients (makes 20):

45 grams untoasted sesame oil
20 grams light brown sugar
50 grams rice flour
25 grams almond powder
25 grams walnuts (roasted)
Light brown sugar to finish as desired



Directions:

1. Mix untoasted sesame oil and light brown sugar in a bowl. Add rice flour and almond powder to create the cookie dough.

2. Lightly mix in chopped walnuts and roll the dough into bite-size balls. Place the cookies on a tray and bake at 170 C for 15 minutes.

3. Remove from the oven when they become golden brown. Let cool and sprinkle with light brown sugar. Handle them with care as they can easily crumble after baking.
Add TheJapanNews to your Google News feed.