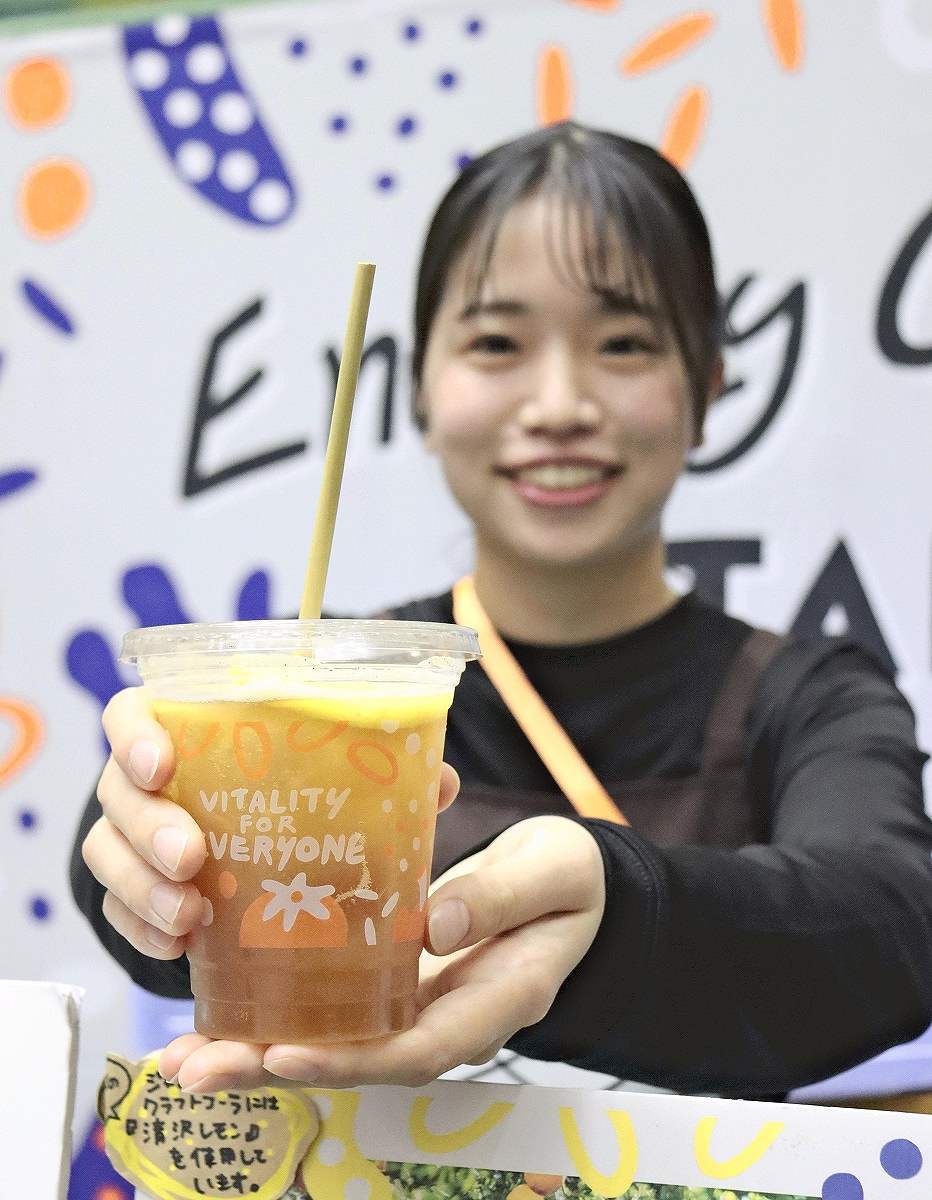 11:02 JST, February 21, 2023
SHIZUOKA — Born in Shizuoka City, Japanese Craft Cola is a much-loved beverage at the home court of the B3 professional basketball team Veltex Shizuoka.
Its refreshing flavor can be attributed to the fact that it uses Kiyosawa lemons grown in "Okushizu," a mountainous area in the city. Thanks to the combined efforts of a city brewery and some farmers that joined forces, this revitalizing soda was created.
At a home game held last December at the Shizuoka city central gymnasium, fans waited in line to get a taste of Japanese Craft Cola along with karaage fried chicken and other snacks.
A Veltex fan who always buys the drink when he comes to a game said: "It's more refreshing than regular cola. It's very tasty and doesn't have a syrupy aftertaste."
Lifeat Inc., based in Aoi Ward, Shizuoka, which provides the players' lunches, developed Japanese Craft Cola to give spectators something to get excited about. Since going on sale in October 2021 it has become a big hit, selling about 100 cups a game.
The idea was conceived by 35-year-old Hiroyo Matsumoto, the PR manager at Lifeat. She asked Kodai Fukuyama, 33, of Shizuoka Brewing, based in Suruga Ward, to help create the recipe as he has experience in producing craft cola. After six months of collaboration with lemon farmers and syrup makers in the city, they completed development of the drink.
Lifeat focuses on making healthy products, so no additives such as artificial flavors or preservatives are used in the cola's production. The syrup is made with brown sugar and sugar beets in consideration of nutritional needs.
Add TheJapanNews to your Google News feed.