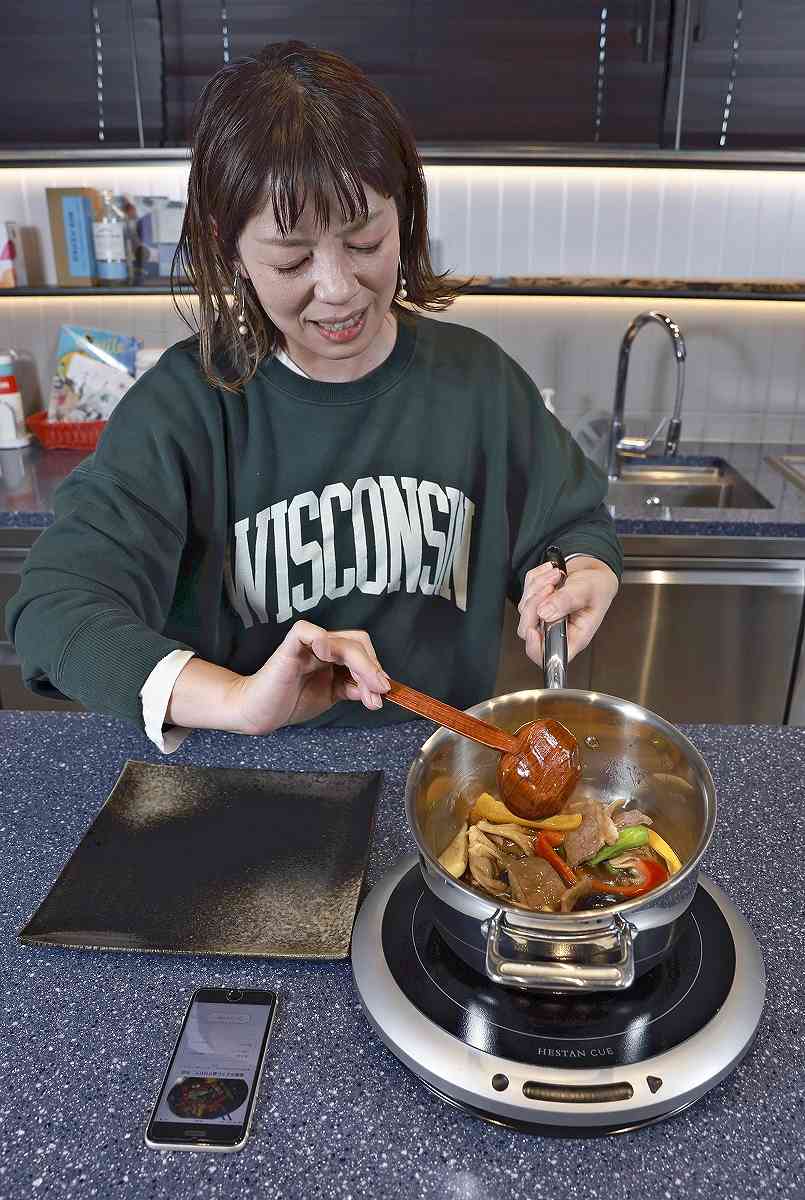 15:31 JST, February 7, 2023
Cooking has long required a dash of skill and a knack for interpreting recipes. One needs the experience and intuition of a professional chef to get the heat and seasoning just right. But now, even this age-old art is being transformed by digitization.
Step by step
Tomomi Misawa, 43, a part-time employee in Tokyo, finds herself using again and again the Hestan Cue smart cooker she got in January last year, after an acquaintance recommended the device. This made-in-the-U.S. system works by pairing a special cooktop with an app via Bluetooth.
The app contains 450 recipes, ranging from home-style dishes such as sukiyaki and kakiage tempura, to those crafted by famous chefs around the world.
Users select a recipe and follow the steps shown in a video on their smartphone, making it is easy to attempt new recipes. When you put in the ingredients listed, the cooktop reads the relevant program, adjusts the time and the temperature of the heat by as finely as 1 C and starts cooking. It's just like automated driving.
"For many years, I didn't really know how long I had to cook certain dishes such as stew before they were done. But with this cooktop, a beef and vegetable stew is done in about 10 minutes," Misawa said. "I can prepare it in the optimum cooking time, which saves time and makes things convenient."
Even her husband, a novice cook, now makes such complicated dishes as kakuni braised pork belly, she said.
According to Tokyo-based Felicidad, a distributor for the cooker, the Hestan Cue system was developed in 2015 from a desire "to provide a cooking experience free of glitches to everyone," and it is currently being distributed in 20 countries. The price for a cooktop and pan set is rather steep at ¥88,000, but the product has nonetheless proved popular, especially among men and women in their 50s. Hestan Cue also sells a frying pan for the system.
Blending seasonings
Anyone intimidated by seasonings might find relief in Luna Robotics Inc.'s Colony, a seasoning printer. This boxy 30-square-centimeter machine stores up to 19 liquid seasonings, including soy sauce, sake, sesame oil and salt water, kept in printer-like cartridges, and outputs the appropriate amount of each.
Users connect the printer to a dedicated app and select a recipe, which causes the printer to automatically blend the necessary seasonings. All you have to do to make a tasty dish is simmer or bake the ingredients with the prepared seasoning.
The printer's blending abilities cover several hundred recipes, including nikujaga meat and potato stew and ohitashi steeped vegetables, and new recipes are added regularly. Luna Robotics, based in Shizuoka Prefecture, will soon begin renting Colony printers to the food service industry and plans to sell them for household use in a few years.
Behind the demand for sophisticated kitchen appliances seems to be a change in family norms. According to the Cabinet Office, the number of two-worker households has been on the rise and reached 11.77 million in 2021. There are now twice as many such households as there are those composed of a working husband and a homemaker wife.
"There is a strong demand for simplified cooking, especially among two-worker households," said Takahisa Ikegami, general manager of Sharp's Kitchen Appliance Business Unit.
In 2015, Sharp released Hotcook, an automated cooking pot. Simply add the necessary ingredients and seasonings to the rice cooker-like pot, and sit back as it prepares such dishes as curry and chikuzen-ni simmered vegetables. Consumers have taken to the convenience, buying up some 500,000 of the devices.
"We hope to make people's lives easy, and reduce their time spent on housework," Ikegami said.
Cooking robots
The food service industry has struggled with Japan's labor shortage, and tried to cope by introducing robots.
E Vino Spaghetti, a restaurant that opened in Tokyo last June, employs one such machine. It juggles up to four frying pans at once, mixes sauces and loads plates into the dishwasher. Meals can be served in as little as 45 seconds.
"Our strength is that the taste is always the same," said a spokesperson for Pronto Corp., the company that runs E Vino Spaghetti. "Many of our customers eat their food without realizing it was made by a robot."
TechMagic, Inc., a Tokyo-based company that jointly developed the robot with Pronto, hopes to create cooking robots for home use in the future.
Wayo Women's University Prof. Kyoko Oishi, who specializes in cooking science, said that despite the variety of recipes offered by such machines, some people may not be satisfied with dishes cooked in a one-size-fits-all way.
"The cooking process, in which you adjust seasonings according to your mood or who you're eating with, is where the true pleasure of food lies," she said. "I understand the convenience of cooking appliances, but their spread will be limited, I think."
Add TheJapanNews to your Google News feed.