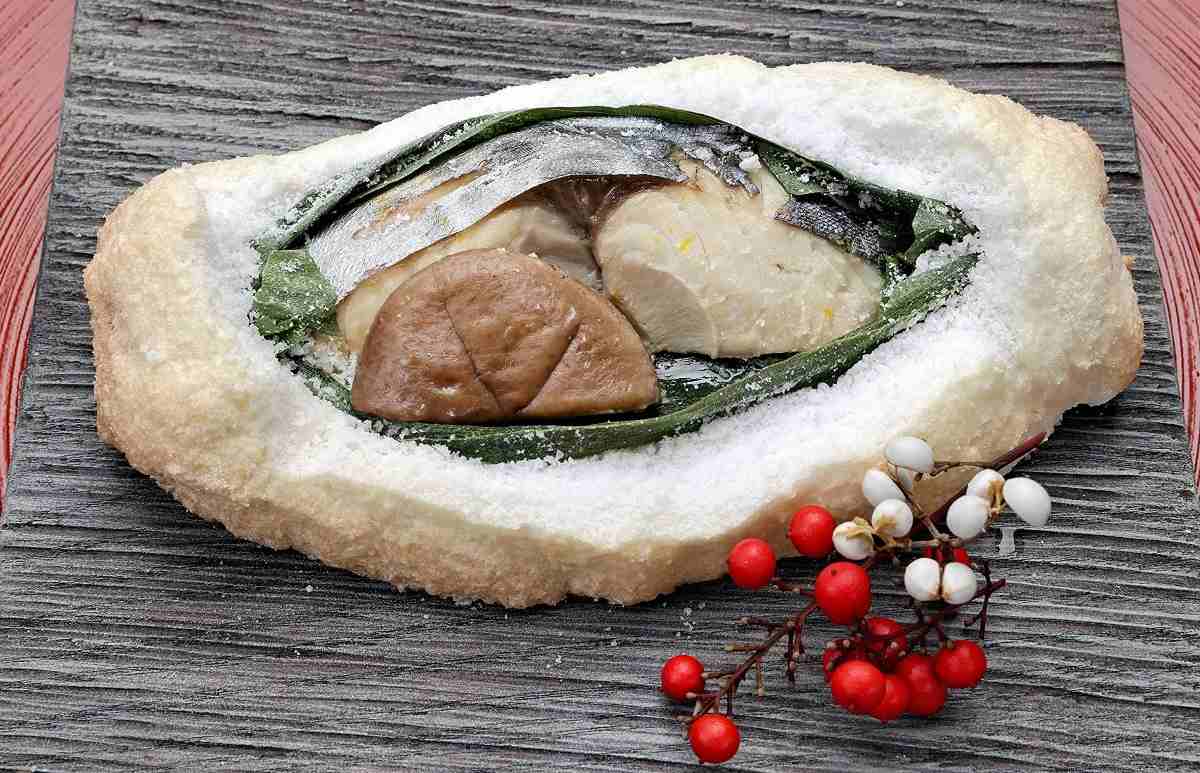 12:00 JST, January 28, 2023
Japanese cooking school founder Takamitsu Aihara shares a recipe for sawara no shiogama yaki (Spanish mackerel baked in salt crust) as a dish that's a great choice when entertaining guests. Spanish mackerel is currently in season.
Wrapping the fish in a layer of salt before steaming it in an oven ensures a dish that is exquisite in taste as well as aesthetic value.
I was surprised to learn that salt-crust baking is possible at home. Ingredients such as white fish and mushrooms are either wrapped in paper or leaves and then covered in a salt coating before being steamed in an oven.
It is often served at festive gatherings because of its exquisite appearance.
"It is easy to make the salt crust. Add egg white to salt and mix well," said Aihara. Continue to mix by hand as the blend gradually becomes firm and then sticky.
To know whether it has reached optimum consistency, lightly hold the mixture in one hand and if it crumbles like to damp sand, it is ready.
The main ingredient, Spanish mackerel, should be marinated for about three hours in miso yuan — made by mixing white miso with soy sauce, mirin rice wine and sake. This miso mixture adds depth to the flavor.
If you wrap the Spanish mackerel directly in the mixture of salt and egg white, it will be too salty. Instead, wrap it in aromatic sasa bamboo grass leaves first.
If sasa leaves aren't available, use baking paper. Spread the mixed salt coating on a cutting board or the like, place the fish wrapped in the sasa leaves and completely cover.
"Any opening in the surface might cause a crack in the salt layer during baking, so meticulously check to make sure the crust is thick and solid, the same as you would when painting a wall," Aihara said.
Finally, bake the fish in the oven. The dish is done when the aroma of the egg white is noticeable and its surface is golden brown.
The salt shell can be broken by tapping it with a wooden mallet or the handles or side of a pair of kitchen shears. Doing so at the dinner table makes for a flashy moment of dining drama.
The red berries of nanten heavenly bamboo and the white berries of nankin haze Chinese tallow tree on top make a fine option garnish that gives the dish a festive feel thanks to their traditional colors. Green pine leaves are also a good choice to add some color.
When Aihara cracked open the baked salt crust, the aroma of miso, steamed Spanish mackerel and sasa leaves softly wafted around the room, breaking free with the rising steam. And the fish was tender and moist.
It also splendidly absorbed the flavor of the miso. The flavor of the butter, added before the baking process, and the fat of the fish combine to create a refined richness.
Seasonal marinades
Aihara points out that one of the techniques of Japanese cuisine is the ingenious use of different marinades seasonings depending on the season.
The basic marinade is yuan, a combination of soy sauce, mirin, and sake in equal amounts, with yuzu to add flavor. From autumn to December, a white-miso yuan is applied, and from the end of the year to the New Year's holiday and beyond, regular miso is used.
"The flavor gets richer as the weather gets colder. The change might be intended to satisfy the desire of our palates," Aihara said.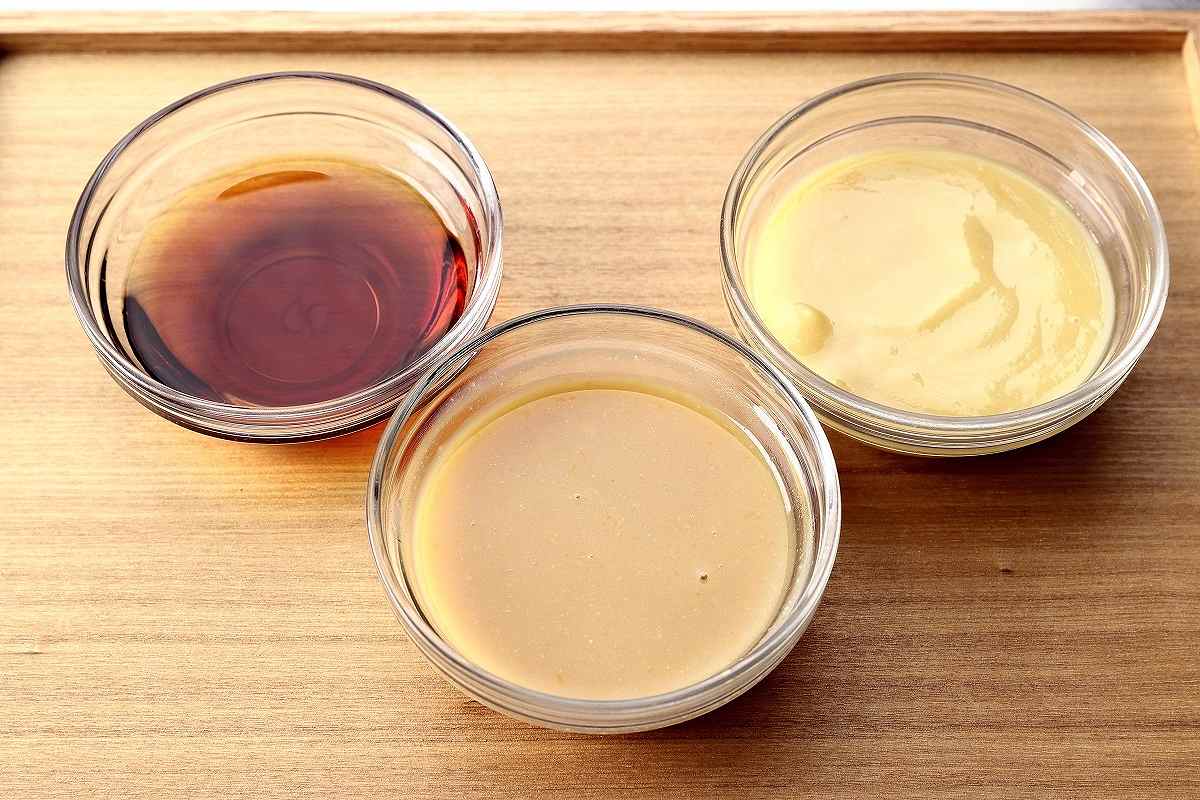 Sawara no shiogama yaki
Ingredients (4 servings)
4 Spanish mackerel fillets
1/2 yuzu
4 shiitake mushrooms
12 sasa leaves
50 milliliters each of usukuchi light-colored soy sauce, sake and mirin
50 grams white miso
1 kilogram salt
1 egg white
6 grams butter
Directions:
1. Grate yuzu rind. Cut yuzu into thin slices.
2. Mix usukuchi light-colored soy sauce, sake and mirin, then add white miso. Place Spanish mackerel in marinade for about three hours.
3. Put salt and egg white in bowl and mix vigorously by hand.
4. Line three sasa leaves laterally on cutting board, so that they slightly overlap with each. Place a Spanish mackerel fillet on the leaves and top with 1.5 grams of butter and a shiitake mushroom.
Roll leaves from the front to wrap and tie the ends with string to seal. Cover generously in coating. Repeat for each of the remaining pieces.
5. Spread aluminum foil on baking sheet before placing the Spanish mackerels in salt crust on top. Bake them in oven preheated to 200 C for at least 15 minutes, or until the salt crust is golden brown.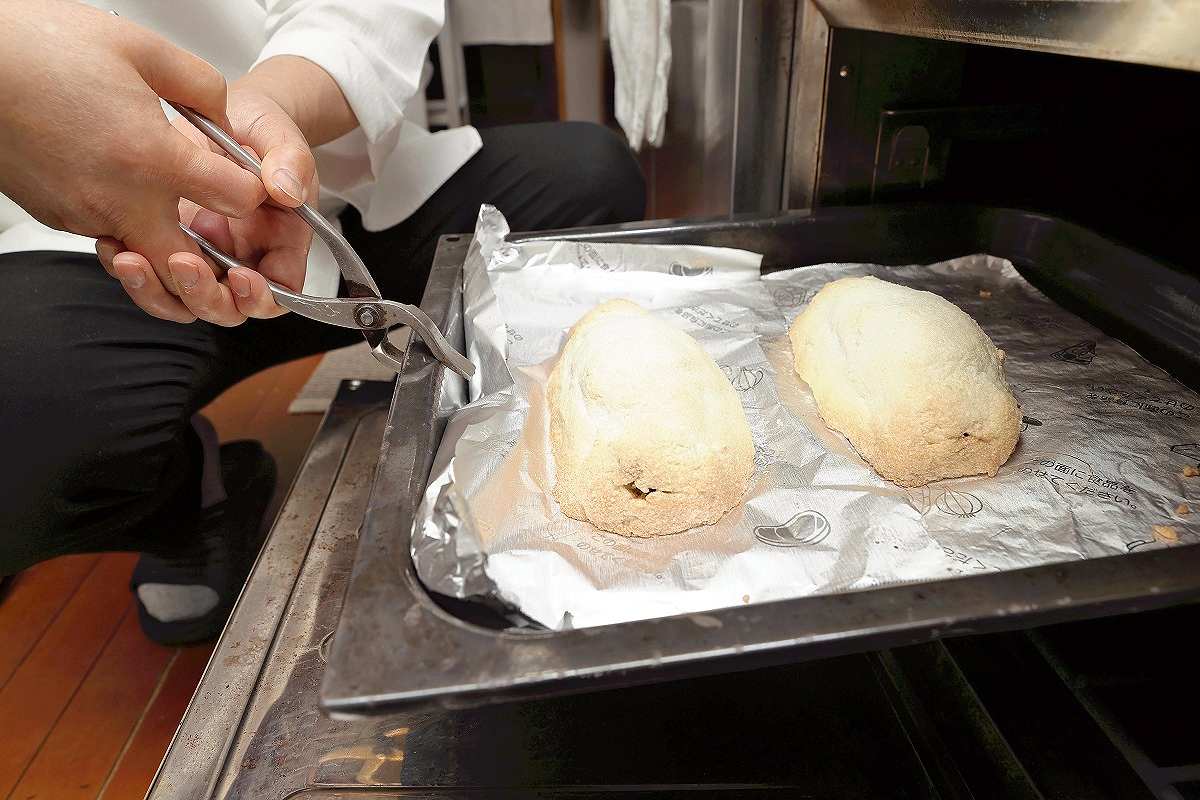 6. Break the salt crust with wooden mallet or similar tool and then plate. Garnish with nanten berries (not included in the ingredients) or other decorations.
Add TheJapanNews to your Google News feed.