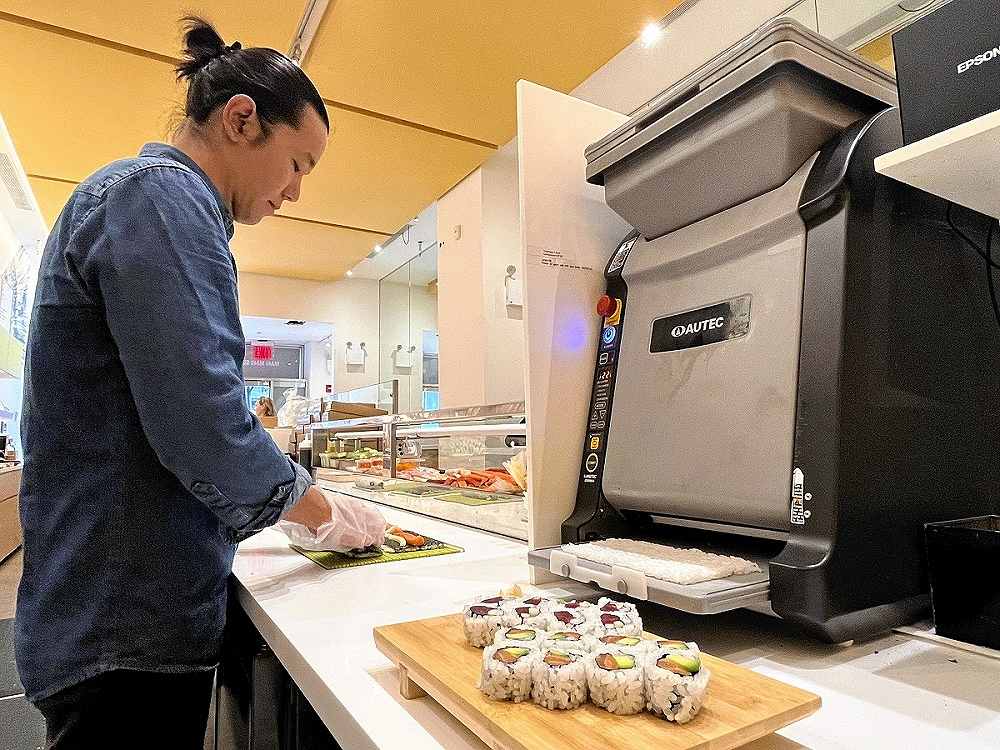 12:30 JST, January 24, 2023
NEW YORK — Japanese sushi-making robots are popular in the United States, where labor shortages and price surges are a serious problem.
At Maki Maki Sushi, a popular sushi restaurant in New York, two robots welcome customers by saying, "Irasshaimase," meaning "Welcome!" When you get to the counter, instead of there being two people waiting to serve you, there are two robots.
At the counter is a button, which when pressed sends out sheets of rice about 2 millimeters thick and 10 centimeters long at three-second intervals, one after another.
After the sushi toppings are placed over the sheets and they are rolled, another robot cuts the tube-shaped rolls into eight equal pieces. In about 15 seconds, a set of California rolls are ready to eat.
The robots are not only 50% faster at making the sushi than their human counterparts, but the rolls also look well-defined.
At Maki Maki Sushi, an eight-piece set of California rolls is priced at about $8 on about ¥1,100. Though rice and the other main ingredients are imported from Japan, the restaurant can offer such reasonable prices because of the robots' ability to mass produce the rolls.
Kevin Takarada, 42, the owner of the restaurant, said that he wants people who feel sushi is usually too expensive for them to be able to enjoy eating it at his restaurant without hesitation.
Due to inflation, U.S. residents have been increasingly price-conscious, leading the restaurant's sales to rise about 50% from 2019 levels.
According to Suzumo Machinery Co., a Tokyo-based company that sells the robots to the restaurant, its annual sales in the United States now amount to about ¥1 billion, double that of pre-pandemic figures.
Their flagship products are sushi roll-making robots. Though they are priced at around $15,000 (about ¥ 2 million) each, they are in high demand among restaurants that can't employ sushi chefs due to domestic labor shortages.
Add TheJapanNews to your Google News feed.