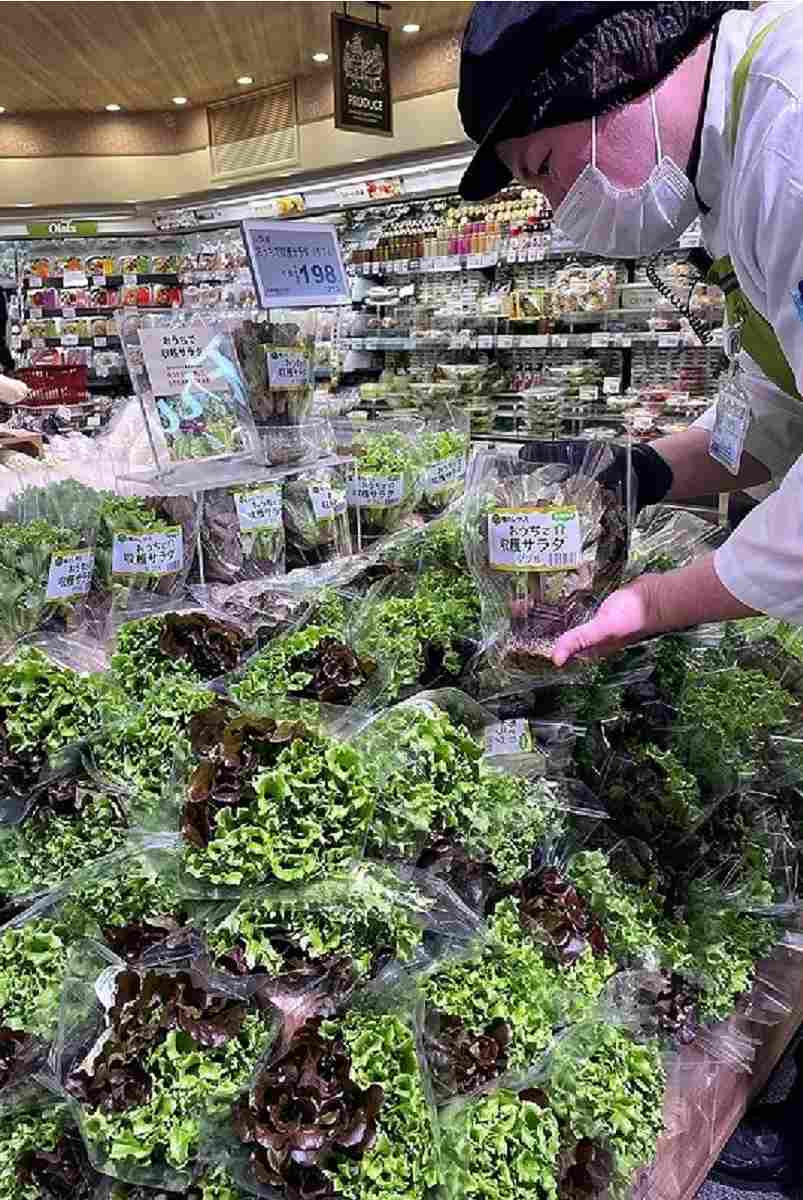 15:30 JST, January 17, 2023
Leaf lettuce with roots and soil has become a regular item in the vegetable sections of some supermarkets, rising in popularity due to its longer-lasting freshness and greater convenience —you just tear off what you need.
In early December last year, many heads of leaf lettuce placed side by side like bouquets of flowers were seen in the Central Square supermarket at Yebisu Garden Place in Shibuya Ward, Tokyo. On closer inspection, they had tangled roots still covered with soil, signs that they had apparently just been taken out of their pots.
"They are very fresh. You can harvest as much as you want when you eat it and make the freshest salad. They are very popular," said Hiroyuki Ogawa, a chief buyer of Life Corp., which operates the supermarket. Four varieties are sold, priced from ¥158 to ¥198.
The lettuce is produced by Salad Bowl, an agricultural corporation in Chuo, Yamanashi Prefecture, and sold under the name "Ouchi de shukaku salad" (Harvest and make salad at home). They are available at all of the about 130 stores in the Tokyo metropolitan area of Life Corp.
Ogawa explained that when the product was launched in April last year, there was concern that its roots and soil might be unacceptable to some consumers. Surprisingly, the product has been well received due to its freshness, good preservability, and enjoyable harvesting, selling about ¥100 million a year.
The first commercially available lettuce with roots and soil is apparently the Sara Trio, which has been shipped since 2019 by the agricultural corporation Sara Inc. in Kasaoka, Okayama Prefecture. The product consists of three types of leaf lettuce, each with different colors and textures, planted together in a single pot. It is currently shipped to supermarkets in the Tokyo metropolitan area and Kansai region and priced at about ¥250.
Lettuce seeds are planted in peat moss, a soil for growing plants, and grown in a pot for about 40 days while being fed with nutrient solution. The pot is then put inside a bag and shipped. They are grown in closed greenhouses where the environment is automatically controlled and human access is limited, to help keep out pests and diseases and reduce the use of pesticides, the company says.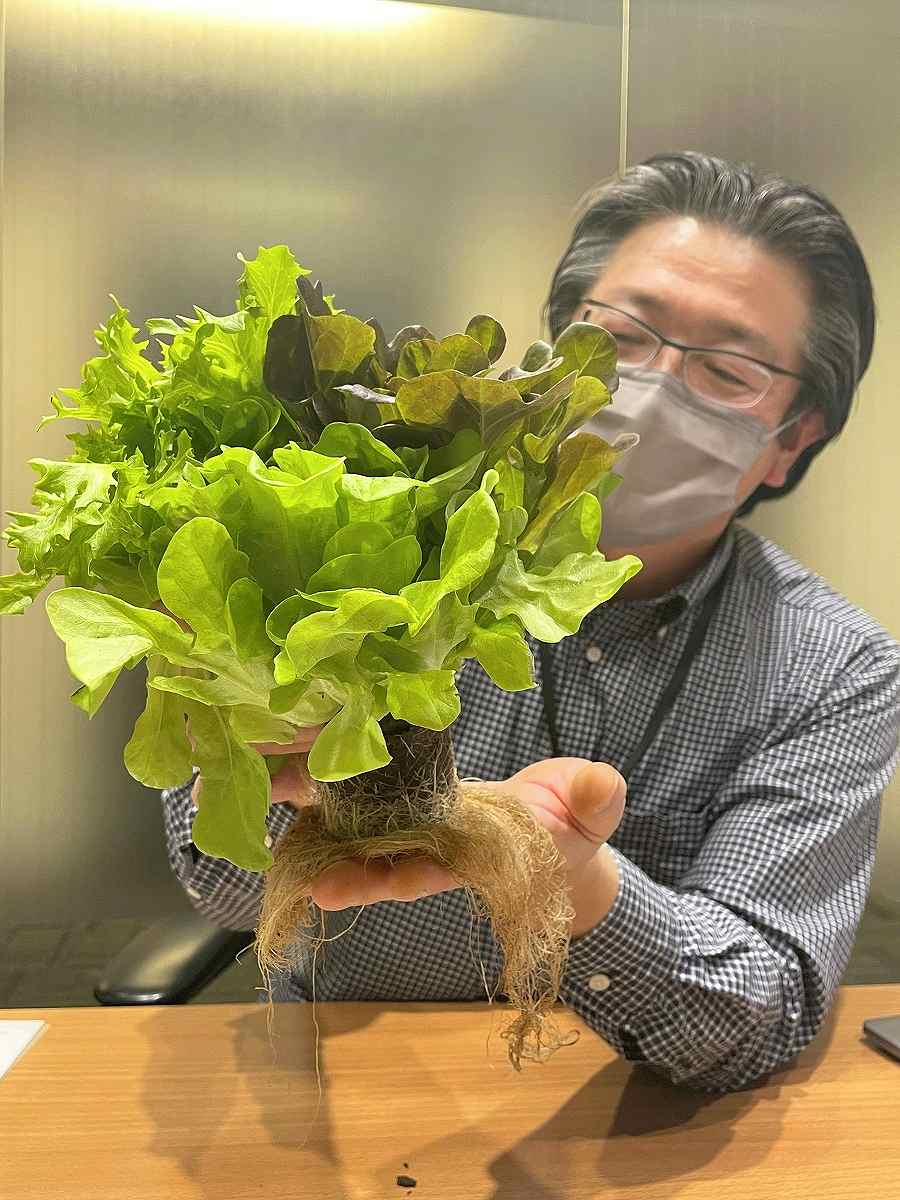 Yoshitaka Hayashi, head of Sara Inc.'s marketing department, said: "Our vegetables are exposed to plenty of sunlight in greenhouses near the Seto Inland Sea, so they grow rooted well and their leaves grow well. Once you eat it, you can see how delicious it is."
As the product is sold in a pot that contains water and nutrients, it stays fresh longer than ordinary lettuce. After purchase, storage in the vegetable crisper of a refrigerator is recommended. When eaten, the residue can be thrown away as household waste. It can also be used as fertilizer by mixing it into soil in flower beds or vegetable gardens.
Kasumi Kojima, a nutritionist and vegetable sommelier, said: "When vegetables cannot get nutrients from their roots, they consume their own reserves to survive. Considering that, having their roots and soil means that the vegetables do not easily lose their good taste and nutrients."
She also said that vegetables produced in a thoroughly controlled environment are different in vigor and flavor from those grown outdoors in an almost natural environment. "I hope you enjoy cooking by making the most of their respective qualities," she said.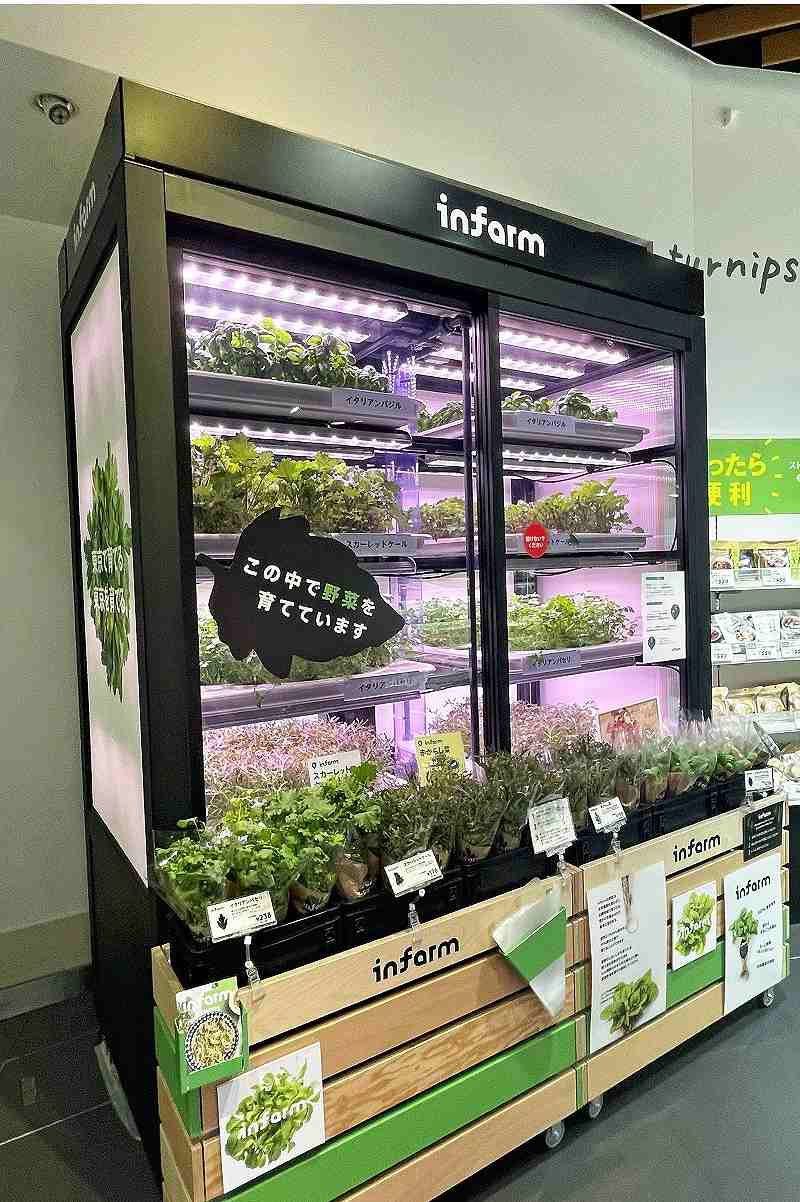 Selling herbs grown in stores
At some stores, herbs and vegetables are grown in the vegetable sections and sold without removing their roots.
The Kinokuniya International supermarket in Minato Ward, Tokyo, has an in-store greenhouse about 2 meters wide and 2 meters high installed in its vegetable section growing herbs such as Italian basil, and rare leafy vegetables such as scarlet kale.
They are cultivated and managed by Infarm, an agricultural start-up in Europe. The temperature and lighting in the greenhouse are controlled remotely. Staff members are responsible for planting, harvesting, and displaying the produce in the store.
Herbs sold with their roots smell good and win many repeat customers. They are sold in the ¥200 range.
The system has been introduced to 10 supermarkets, including Kinokuniya stores and Summit, Inc. stores in Tokyo.
Add TheJapanNews to your Google News feed.