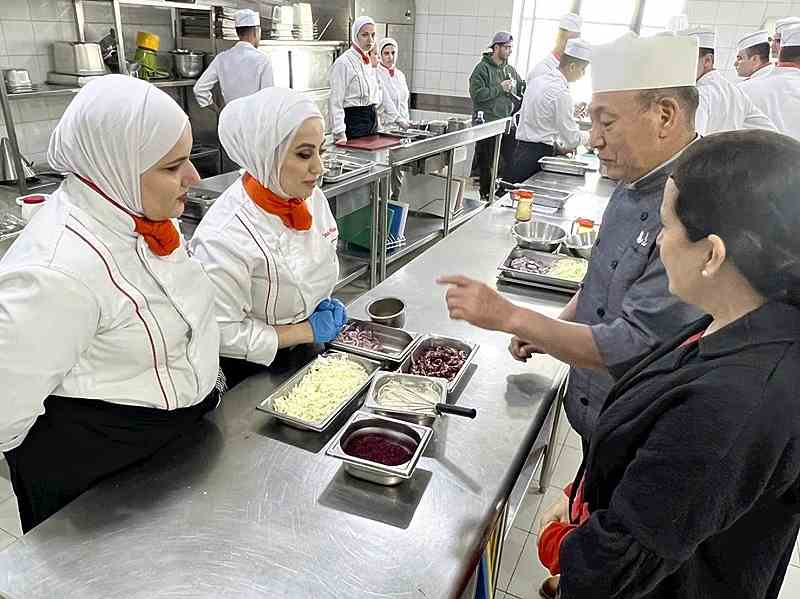 7:00 JST, January 2, 2023
HIROSHIMA — Hiroshima City wants to send a message of peace to the rest of the world when the city plays host to the Group of Seven summit in May. In the meantime, the locals want visiting officials to enjoy the delicious taste of Hiroshima okonomiyaki pancakes.
After Hiroshima was chosen to host the summit, the General Foundation Okonomiyaki Academy, based in Nishi Ward, Hiroshima City, and other organizations in November announced a plan to develop okonomiyaki pancakes using ingredients from G7 countries. Food such as "fish and chips" from Britain and tomatoes and cheeses used in Italian dishes are being considered. "We would like to make okonomiyaki pancakes that will be familiar to people from around the world," said a senior official.
Foreign diplomats have invited some restaurant staff to demonstrate okonomiyaki pancake cooking abroad. Kaoru Ichii, 68, and others who run the okonomiyaki restaurant Icchan in Higashi Ward, Hiroshima City, visited the Middle Eastern country of Jordan to prepare okonomiyaki for local people in October. They were invited by Lina Annab, the Jordanian ambassador to Japan, who learned about the history of the pancakes after she attended the Peace Memorial Ceremony in August 2021.
The ambassador learned how okonomiyaki pancakes became popular while Hiroshima was being rebuilt after the atomic bombing. She asked the restaurant to introduce the food, which she believed would convey the message of peace, to people in her country.
Since 90 % of the country's population is Muslim, Icchan staff replaced pork, banned by Islam, with chicken. They prepared soft boiled pasta instead of soba noodles and used olive oil to cook the pancakes. Finally, they applied halal okonomiyaki sauce, processed in accordance with Islamic rules. "About 1,000 local people ate our okonomiyaki, with many of them having liked it and said, 'It's perfect,'" said Ichii.
During his stay, Ichii also visited a local cooking school, where he suggested new ways to prepare the dish that would be liked by locals, such as adding sour cream. "I hope Jordanians will find good ways to eat okonomiyaki pancakes," Ichii said.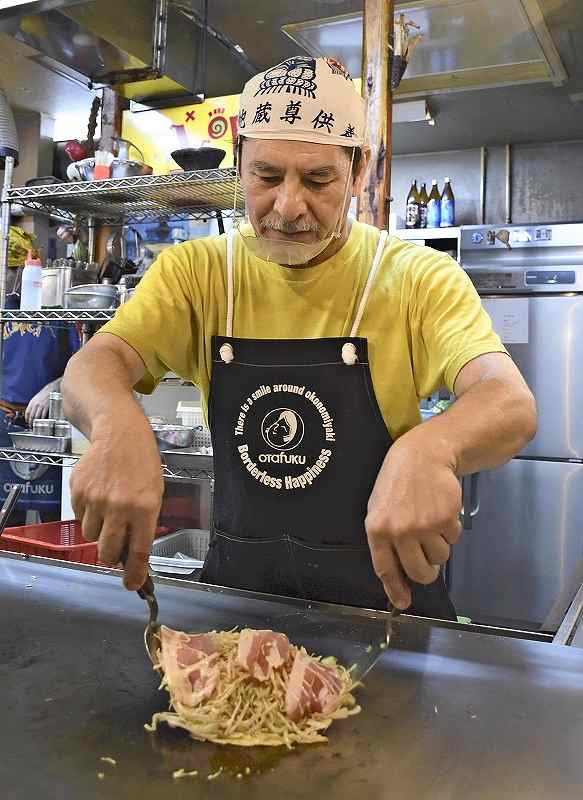 Also in Nishi Ward, Fernando Lopez, 59, from Guatemala, runs the okonomiyaki restaurant Lopez. He moved to Japan after getting married, and thought about opening a restaurant that serves Central American food such as Mexican food. His friends recommended an okonomiyaki restaurant instead because the food was more well known and would attract more customers. Lopez learned how to make the pancakes when working at another restaurant, and opened his own eatery in 2000.
Lopez's specialty is okonomiyaki topped with pickled jalapenos, or green chilis, which are widely eaten in Latin America. He often sees foreign tourists eat the pancakes for the first time. "I hope more people learn about the charms of okonomiyaki pancakes," Lopez said with a smile.
Okonomiyaki literally means "to one's liking." As the name implies, people can enjoy it with flavors and toppings of their choice. The pancakes' appeal may soon spread to people from around the world.
Add TheJapanNews to your Google News feed.