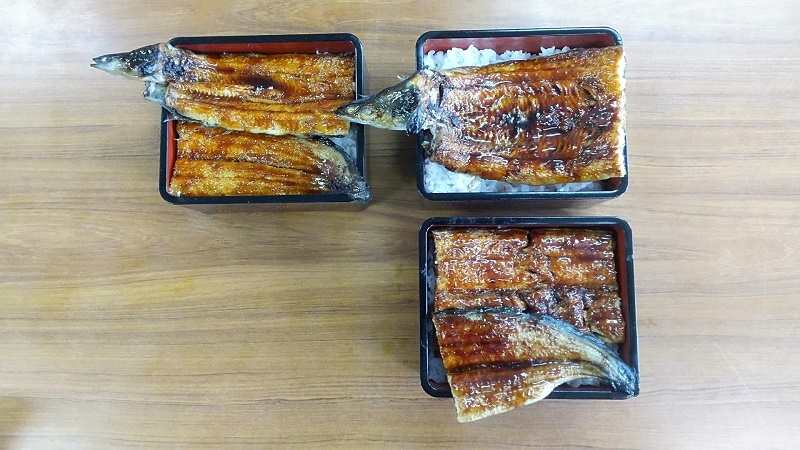 13:53 JST, August 2, 2022
Fishing industry researchers and fishery cooperatives in eel-farming municipalities are working to increase the weight of cultured eels and boost the natural population by expanding their habitats.
In Aichi Prefecture, one of the largest producers of farmed eels in the nation, the Aichi Fisheries Research Institute and Isshiki Unagi Gyogyou Kyoudou Kumiai fishery cooperative in Nishio, among other organizations, have succeeded in breeding Japanese eels that are larger and twice as heavy as "standard" farmed eels. Sales of the fish began on a trial basis in March.
According to the institute, the gender of juvenile Japanese glass eels is determined as they grow, but more than 90% of farmed eels become male — the reason for this is still unclear. When males reach or surpass 300 grams in weight, their meat becomes tough and tasteless. They are therefore shipped at a weight of 200 grams to 250 grams. Females, however, are softer than males, even when fully grown.
In an attempt to turn more juvenile fish into females, the institute mixed soy isoflavone — which reportedly has similar effects to female hormones — into the feed, using a process of trial and error. As a result, most became female, growing to a weight of about 400 grams in nine months or so.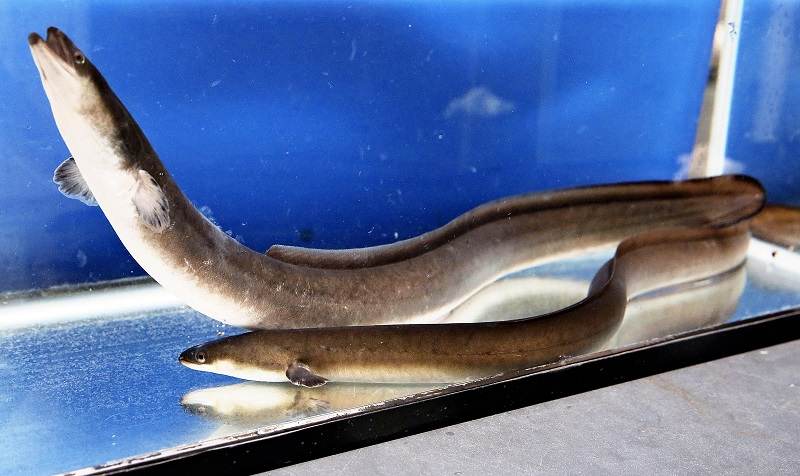 When the fishery cooperative carried out test sales of kabayaki grilled eels at its directly managed restaurant, the product was well received, with customers praising the meat for its taste and tenderness.
"We're hoping to increase awareness of these large and tasty female eels while expanding our brand value," said Hiroyuki Inaba, a prefectural government official who was a researcher at the institute.
In Shizuoka Prefecture, a project has begun to increase the habitat of eels across rivers that run into Lake Hamana. To this end, since 2019, volunteers from the local fishing cooperative have been working to install artificial grass mats at a weir that has no fish passage on the Iinoyagawa river in Hamamatsu. The mats allow Japanese eels to manipulate their bodies across the artificial grass to "climb" over the 1-meter-high weir.
Although there are abundant aquatic insects in the upper reaches of the river, weirs had blocked upstream migration of eels, meaning few made it fully upstream during maturation.
In October 2021, after the mats were fully installed, the Lake Hamana branch of the prefectural institute of fisheries and marine technology in Hamamatsu found eels measuring less than 40 centimeters long upstream, indicating that they had likely migrated using the mats.
"I hope natural eels and their range of habitats will increase," said Tomoki Furuhashi, a member of the Hamanako fishery cooperative association.
A similar project is reportedly planned for a different river this summer.
In Hokkaido, meanwhile, moves are afoot to promote eel farming, a relatively untapped business in Japan's most northerly island. At a data center in Bibai, Hokkaido, snow is stored during winter and used to cool the center in summer. Yukiya Kobiyama Shoten, a company that invests in the data center, aims to utilize the snowmelt for aquaculture purposes.
Company's representative Kota Honma said the firm plans to apply to the Fisheries Agency for a license to operate an aquaculture business.
"Hokkaido relies on eels from the island of Honshu," Honma said. "But we've received many positive inquiries from people who are extremely keen for eels to be farmed in Bibai."
Add TheJapanNews to your Google News feed.